Lexington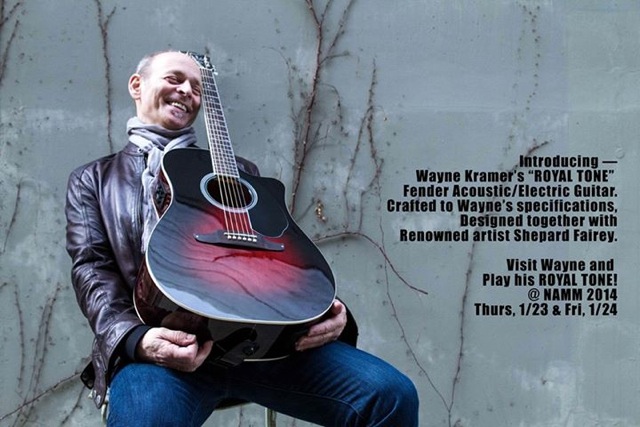 Happy New Year!
This note is to let you know to be on the "look out," for a fantastic new jazz recording by legendary guitarist, Wayne Kramer.
Every artist that releases an album (or single) would like to believe that what they are releasing is an "event." In the instance of LEXINGTON by Wayne Kramer the recording is an event and we'll explain why.
"LEXINGTON could actually be a musical narrative of the second half of my adult life." -Wayne Kramer- January 2014
Wayne Kramer is songwriter whose reputation writing music for film and television risks supplanting him as one of the world's stellar guitarists. Wayne was a teenage greaser and leader of the MC5, widely recognized as the prototype for punk rock and heavy metal. In 1969, the MC5 released the incendiary album Kick Out The Jams on Electra Records. After Electra dropped them due to "radical antics," they released two albums on Atlantic: Back in the USA, produced by Bruce Springsteen's manager Jon Landau and the masterpiece High Time. Between world tours, Wayne scored Gold and The Living Theatre's film production of Paradise Now.
Life came crashing down for the revered guitarist when he did time (1976-1978) at Lexington Federal Penitentiary for some bad decisions he made. While there, he was tutored by fellow inmate Charlie Parker's trumpeter Red Rodney. It was Red who taught Wayne how to read music and the two formed a prison band.
Upon release, Wayne spent many years wondering: "Why did this happen to me?" During some of those years, Wayne medicated his pain with drugs and alcohol, eventually realizing that these substances got in the way of answering the question that plagued him. Now, with a lengthy chunk of sober years, a solid career scoring music for film and television and an enviable personal life, Wayne has largely if not entirely answered the question: "Why me?" In doing so, he can face some of his demons that he encountered at a low point in his life, namely his incarceration at Lexington.
Wayne has often stated that: "prison doesn't change anyone's life for the better," yet he acknowledges that he did go to prison at a time when correctional institutions cared more about rehabilitation. Wayne has mentioned that when he played music in prison, he was in the world of music and liberated from the confines of his reality.
Coming to terms with his past, Wayne has elected to face them head on. In 2009, Wayne co-founded

Jail Guitar Doors USA

with his wife Margaret Saadi Kramer and British troubadour Billy Bragg. The organization provides musical instruments to inmates as a form of rehabilitation. To date, the organization has visited more than 40 prisons and donated more then 400 guitars.
In addition to spearheading hope through Jail Guitar Doors, Wayne has (as mentioned earlier), recorded his first album in 14 years. The jazz recording is entitled: LEXINGTON. It features such jazz stalwarts as:
Dr. Charlie Moore- partner and collaborator
Buzzy Moore-tenor sax and oboe
When asked about the album title, Wayne stated: "I had buried my penitentiary experience in my psyche, but after a few years of sobriety I started looking inward into how I became who I am and found that this was a turning point in my life where almost everything that I had experienced intersected — being a musician, politics, crime, ambition, art — and the effects were profound. Once I started digging. Almost at the same time I was hired to score a film for PBS on the very institution I served my sentence in. So this brought everything to the surface and it occurred to me that this could be more than a film score. That this could actually be a musical narrative of the second half of my adult life."
We'll be serving the album in mid February while the in-store date for LEXINGTON will be on record store day in April of 2014.
Stereo Times Masthead
Publisher/Founder
Clement Perry
Editor
Dave Thomas
Senior Editors
Frank Alles, Mike Girardi, Key Kim, Russell Lichter, Terry London, Moreno Mitchell, Paul Szabady, Bill Wells, Mike Wright, Stephen Yan, and Rob Dockery
Current Contributors
David Abramson, Tim Barrall, Dave Allison, Ron Cook, Lewis Dardick, Dan Secula, Don Shaulis, Greg Simmons, Eric Teh, Greg Voth, Richard Willie, Ed Van Winkle, and Rob Dockery
Music Reviewers:
Carlos Sanchez, John Jonczyk, John Sprung and Russell Lichter
Site Management  Clement Perry
Ad Designer: Martin Perry