The Morel Applause Reference Home Theater Speaker System
There's no Place Like Home
Clement Perry
23 October 2002
Specifications:
130mm + 43 mm mild steel sphere enclosures.
Acoustical damping treated
Drive units:
Woofer 100 mm with OD 54 mm Hexatech™ aluminum voice coil
With rear vented Hybrid motor
Tweeter: 28 mm Acuflex™ coated soft dome, liquid cooled Hexatech™ aluminum voice-coil
With rear, vented Neodymium motor
Nominal Impedance: 8 Ohm
Power Handling: 120 W (1000W Transients)
Operating Power: 15-150 W
Crossover: 6 dB per octave at 4000 Hz
Frequency Response: 60-22000 Hz (-5 db)
Sensitivity: (1W 1M) 89 dB Net weight 0.90 Kg
Price: $2399.00
US Importer:
Allan Warshaw of
Jason Scott Distributors
Phone: (800) 359-9154
Website: www.morel.co.il/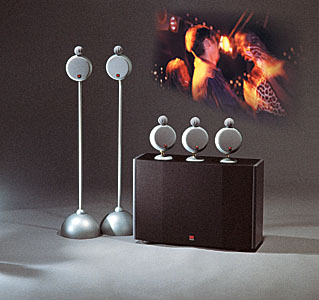 Established in 1975, Morel has manufactured some of the finest high-end raw drivers in the world. Morel has been dubiously linked to numerous high-end manufacturers, most notably, the Eggleston Works Andra II which is currently under my review and is imported into the US by Allan Warshaw of Jason Scott Distributors, whom I believe to be one of this industry's brightest businessmen. Warshaw distributes products like Talon Audio loudspeakers and Electrocompaniet electronics, both of which I think perform near top of their respective classes. So when Warshaw says you've got to hear his newest product, well then… you've got to hear it. The latest to come from camp Warshaw is the top of the line Morel Applause Home Theater loudspeaker system.
The Soundspot system is composed of five model SA-2 grapefruit sized monitors using 4″ mid/bass drivers mounted in a steel outer enclosure. Atop each mid/bass driver sits a 1″ soft-dome tweeter housed in a spherical metal shell about the size of a golf ball. This minimalist 2-way design is built on a first-order crossover that's said to decrease crossover-induced distortions and thus improve transparency. The tweeter's voice coil is a liquid cooled type permitting its frequency to extend down into the mid-band (1000-20,000 kHz) region. In addition, the SA-2 mid/bass enclosure is a ported type said to prevent acoustical coloration and distortions when played at high volumes.
Small in stature yet capable of high volume levels, thanks in part to what Morel calls their External Voice Coil (EVC) design, the unique EVC design places Morel's patented Hexatech™ Aluminum Voice Coil pole piece inside the magnet rather than around it, providing the high power handling ability. Utilizing a lethal blend of Neodymium and Ferrite magnets-up to six times smaller than conventional magnets-they are able to achieve the same driver excursion as conventional magnets, minus the space. "This," the company claims, "leaves more room in the enclosure for the bass notes to build up compared to similar sized satellite designs where the bulk of the enclosure is taken up by the magnet." This novel approach is said to accomplish two things. It makes the voice coil sturdier, which in turn, helps the driver maintain high levels of power handling.
The powered IS-9A subwoofer, which measures 24″ wide, 16″ tall and a very sleek 8″ deep, makes for an easy hideaway. Composed of twin nine-inch Morel patented dual-magnet woofers loaded in an isobaric chamber, the IS-9A, powered by a super efficient 120-watt amplifier (the IS-9 is a non-active option), is rear ported and hidden easily behind the rack supporting my Sampo 16:9 HDTV monitor. The IS-9A offers both high-pass (100 Hz/6 dB) and low-pass input connectors via two pair of five-way binding posts for variable hookup options. Ironically, the IS-9A offers these inputs for its front pair of satellites only. True, the SA-2's behave more like true mini-monitors than as bass-shy satellites due to the copious amounts of bass they can handle. But the IS-9A subwoofer was designed primarily for connection to a surround sound processor or receiver using its internal crossover settings. Due to the substantial low-end capabilities of the SA-2's, the IS-9A's primary function is to supplement low-end information rather than reproduce it solely. In addition to high-pass output speaker terminals, the IS-9A also boasts crossover frequency control, phase control and a subwoofer volume controller. A detachable AC cord that allows for specialty after-market AC cords if tweaking is your delight is also provided. I got noticeably tighter bass when I swapped out the factory AC cord for the highly respected PowerChord from Audience. Lastly, a three-position power switch allows the IS-9A to be set to on, off or auto-on mode. I ultimately chose the auto-on mode since which powers up the sub the moment a signal is detected.
Great Balls Afire
Aesthetically, the Applause system is one of the most appealing I've reviewed. Mine came in black (white is the other option) and seamlessly blended themselves against the backdrop of my living room furniture. Weighing in at about 2 pounds, each SA-2 can be easily hung from your walls. I chose the optional stands, but used the standard base for the center channel since I was placing it directly atop my Sampo 34″ (SME-34WHD5) widescreen monitor. The Applause system is shielded and therefore can be placed atop or next to your TV monitor. Using the Musical Fidelity HTP Home Theater processor partnered to its (HTP-600) five-channel amplifier gave the Applause system a formidable partner at 100 watts per channel and me a real opportunity to see if the technical hype was real. Using the HTP's internal on-screen menu allowed easy user-adjustable loudspeaker size (small) adjustments and low-level crossover options (40 to 140 Hz). For the best overall performance, and after some serious small adjustments with the crossover frequency knob, I stuck with the 80 Hz setting for the SA-2's, which is quite low for this tiny little ball. For a nice acoustic feel of the low-end I chose to overlap the bass with the IS-9A's crossover by setting it to 90 Hz. This gave me the best full-range feel throughout, regardless of music or DVD video material.
Burn-in was achieved in 100-hours or thereabouts with full, tight and authoritative bass about as good as I felt necessary before beginning serious listening observations. Of course, the first thing any respectable audiophile is going to do to find out how good a home theater system is play it first in natural stereo. And my first choice was, as usual, Miles Davis' So What, from the classic Kind of Blue CD[Columbia CS 64935]. My first glimpse at what the Applause system could do in standard two-channel was quite impressive. There existed a freedom from boom and sizzle that I normally associated with the many satellite systems I've heard due to their deficient low-end and midbass, not to mention their typically cheesy made subwoofers. In listening to the Applause system, I noticed immediately a wholesome, high-end quality to the sound that at once becomes undeniable. The Applause system sounded more full-bodied and box-less than a quintet of much larger and very good sounding BMB A8 monitors I purchased from Singapore two years ago. Don't get me wrong, I do enjoy the A8's and think they're very good in the areas of harmonics, imaging and detail. But when it comes to the extreme separation of instruments, and the ability to place them in their own space, I must take my hat off to the Applause system.
There's no getting around the pleasure of a true box-less design when done right. The sound of Miles muted horn, for example, sounded much bigger physically than the grapefruit sized transducers had any right to project-which ain't easy no matter what the size. "This certainly ain't Circuit City sound," was the first thing my friend Terry Smoaks declared since he and I often trek to the local Circuit City store listening to the ever growing supply of so-called high-end surround sound systems while looking at new DVD releases. Personally, after hearing some of pretty bad sound there in a variety of satellite packages, anybody with a good set of ears would believe you had to shell out lots of bananas to get a respectable home theater package that includes a powered sub. After hearing this Applause system, both Terry and I realized, with a sigh of relief, we were both wrong. High-end home theater sound with a sticker price of around $2,500 is real after all.
The first movie I threw into my DVD player was Disney's Monster's Inc. Hey,Monster's Inc. just may be geared toward the kid in us all but its sonics should read For Adults Only. I knew the picture was awesome having seen it in the theater, but I had no idea the transfer would be done in THX super deluxe. Not until I witnessed the THX intro featuring a heard of cows mooing in the front three channels, then sweep around the room to the rear channels did I realize what I was in for. This is exactly the same type of excitement that got me all revved over home theater in first place years ago. At this new level of digital surround, there's no need for me to admit I enjoyed the movie more than my two kids did. Hearing this instant Disney classic again through the Applause system gave my room a sense of space and dimension it never could reproduce prior. The Applause system, due to its incredibly small size, virtually disappeared in my living room once the lights went low and supplied a level of sonic clarity and power that belied their miniature size. Using this diminutive system with the Musical Fidelity processor and five-channel amplifier showed it accommodates dedicated separates with aplomb.
Simple and sleek seem to be the catch phrases for successful home theater products. The Applause system is all of these. A powerfully compact, standout performer that sounds like one of the big guys, yet is small enough to disappear against your living space earning a designated "lifestyle systems" stamp. With LCD's and Plasma's becoming more readily available (and affordable), I can't imagine a more invisible pairing than mating the Applause system with your flat screen TV. The accompanying IS-9A subwoofer, which does an excellent job on its own account and is slender enough to hide behind almost anything, will bring that added dimension to movies and music that only a subwoofer can. That said, I've thoroughly enjoyed the Applause system listening to two-channel stereo or watching my favorite new DVD's in multi-channel mode. It never allowed the action or excitement to slip and easily sounded superior to any lifestyle satellite system I've heard… and I've heard plenty! Highly recommended!
Don't forget to bookmark us! (CTRL-SHFT-D)
Stereo Times Masthead
Publisher/Founder
Clement Perry
Editor
Dave Thomas
Senior Editors
Frank Alles, Mike Girardi, Key Kim, Russell Lichter, Terry London, Moreno Mitchell, Paul Szabady, Bill Wells, Mike Wright, Stephen Yan, and Rob Dockery
Current Contributors
David Abramson, Tim Barrall, Dave Allison, Ron Cook, Lewis Dardick, Dan Secula, Don Shaulis, Greg Simmons, Eric Teh, Greg Voth, Richard Willie, Ed Van Winkle, and Rob Dockery
Music Reviewers:
Carlos Sanchez, John Jonczyk, John Sprung and Russell Lichter
Site Management  Clement Perry
Ad Designer: Martin Perry