QSA Lanedri Infinity series Ultimatum Speaker Cables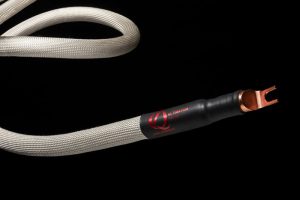 Music playback has been special around these parts since I took a leap of faith and auditioned a mere fuse. The QSA's exquisite sounding series of fuses has been perhaps the most impactful and impressive product to have graced my listening space for one main reason: its effectiveness at ridding my system of Bottle-neck Distortions (BND), says company head honcho Steven Tsang. In addition, Tsang stated that what he calls his "Musical Metal Molecule Alignment Technology (MMMAT) and Metal Active Technology (MAT) produces a more efficient flow of electrons, which then allows for more excellent conductivity. This technology has opened up new panoramas of musical delights that I never believed possible outside of purchasing a 600-watt, 300B single-ended triode amplifier. I have never heard of a 600-watt triode based on a 300B tube, but I believe that if I did, it would sound like my upstairs listening space. This is the best definition I could ascribe to how transformative the QSA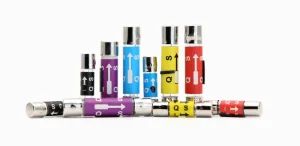 technology can sound when you go beyond their fuses. Curiously, with the purchases of QSA fuses, USB adapters, AC Outlets and receptacles, and Jitter Plugs, the purity-of-signal usually touted by hardened tube aficionados can finally occur in solid-state only systems, too (without any fuss). As a result, three years later and counting, I remain in awe of the QSA magic and the growing arsenal of QSA products now entering the market. Steven Tsang, QSA's chief architect, has continued to improve, enhance, and further expand the QSA brand beyond what I boasted about in my reviews earlier (see review here). 
Of all the new and exciting products that bear the name QSA, the biggest and most promising surprise was the collaboration of QSA and the newly formed line of cables named the QSA Lanedri. 
Like me, businessman and longtime audiophile Anas Lanedri of Belgium gave the QSA fuses a listen (starting with the Silver) and had an experience that mimicked ours. Anas' business senses went into overdrive when the idea of what QSA-enhanced cables could potentially sound like. Excited by his experience with the QSA fuses, Anas wanted to spread the word with others in the hobby. Further, he explained in one of our phone conversations that he began experimenting with QSA-treated wires. With the help of Tsang, Anas tried different types of wires like OCC (Ohno Continuous Cast) and OFC (Oxygen Free Copper), along with various gauge thicknesses and geometry (flat, oval, or round). In just a few short discussions with Anas, to my surprise, also chose Hemingway Audio Z-Core as his cable of choice. In a world where Anas could have chosen a hundred other excellent brands, it was reassuring to know we referenced the same brand. Knowing this, I was now only interested in knowing how improved could this new cable be over my favorite Hemingway. 
In addition, my interest was piqued because I, too, always felt that if the QSA technology could improve a small strand of metal wire inside of a fuse to such a degree, then what potential would it have on a speaker cable? I'm told that a thick (4/0000 AWG), multi-stranded, and multi-tinned (10k) stranded cable best suited the cables Anas chose. It took nearly two years to hear from Anas Lanedri again, but he announced the highest level QSA treatment available in 2023 was used, leading to the official launch of the QSA Lanedri Series Cables. Anas remained silent but did admit that my opportunity would come in the not-too-distant future. Less than six months ago, the QSA Lanedri Ultimatum speaker cables officially arrived for review.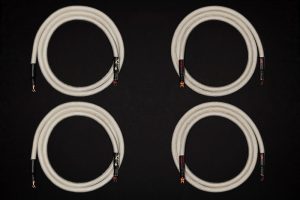 Physically, the QSA Lanedri Ultimatum speaker cables (available only in a satin-white mesh jacket) are a beast in terms of sheer weight. Anas claims they weigh about 25 lbs. They feel heavier. Outside of the Gobel Lacorde loudspeaker cables, I reviewed some years ago, I've not had a speaker cable this heavy—fortunately, they're surprisingly flexible. The company offers three QSA Lanedri cables (Gamma, Spectra, and Ultimatum) within two distinct models (Revelation and Infinity). Starting with the Gamma series as their most affordable, for example, the Gamma Revelation AC cord ($2,500) and the Gamma Infinity AC cord ($4k). Our own Robert Dockery wrote a glowing review on the Gamma Revelation in a world exclusive (here)! The Gamma series also includes a complete loom of interconnects, including XLR, RCA, BNC, HDMI, and Ethernet cables, available in Revelation or Infinity. Their Spectra series, which stands above the Gamma, is reserved for the company's Spectra Revelation and Spectra Infinity model AC cords and Ethernet cables only (sourced by Sablon Audio of the UK). Similarly, the company's Ultimatum series offers the Revelation ($15k) or Infinity speaker cables ($22k), while their Revelation AC cords ($12k) and Infinity AC cord ($18k) complete their product line.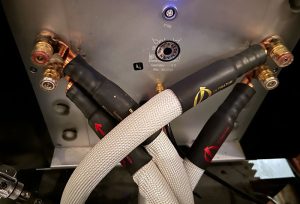 Serendipity
Careful connections to the Sunny Majestic horn loudspeakers and Behold BPA-768 amplifiers are a must due to the QSA Lanedri Ultimatums' weight. Also, carefully follow the arrows as they are directional but in an unusual way. The arrows do not go on both ends of the amplifier; the positive speaker cable (gold) arrow goes to the loudspeaker terminal, while the negative speaker cable (red) arrow goes to the amplifier terminal (photo above). Once completed, I had no problem getting them secured into place. However, I was careful to tighten them more than usual due to their weightiness. I cannot stress that burn-in for this cable can exceed 500 hours, but fortunately, despite their sonic stiffness and lack of dynamic swing, they sounded surprisingly good right out of the box. 
I never intended to replace my beloved Hemingway's since I was first introduced to this South Korean brand in 2015. In this hobby, to own something for eight years is an eternity! Before the Hemingway, I admired the German-made Goebel Lacorde speaker cables and AC cords. These two stand out the most of the many cables I've had in the stable. The Hemingway's speed, delicacy, and overall musicality ultimately won me out (and could only be replaced when the manufacturer introduced a newer model). I was in awe when Anas Lanedri mentioned that he had been designing something he felt would prove superior to the Hemingway. I know many cable designers that use one cable or another as their measuring tool. I believe attempting to outperform the mighty Hemingway is quite a feat.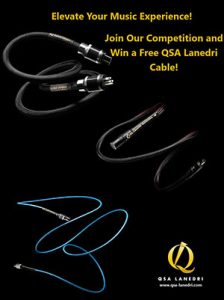 What separates the QSA Lanedri Ultimatums from any other cable I've been fortunate to hear in this system is its uncanny sense of ease, control, dynamics, low-level speed, and density. This allows me to hear more of what's hidden in the music's background and with a more profound sense of appreciation. Again, the QSA Lanedri Ultimatums' natural textures give instruments more horizontal than vertical pop: Instruments pop out at you rather than upward. Shockingly, QSA Lanedri Ultimatums' smoother top end is cleaner, more detailed, and transparent. The top end of the QSA Lanedri Ultimatums' emits the most beautiful high-frequency sheen I've ever heard from my Sunny Majestic super tweeters: a sort of airy mist that casts a special light. 
At first blush, compared to Hemingway or any other cable I've owned, the QSA Lanedri Ultimatums don't appear to have high-frequency sparkle. But the more I listened to their natural feel for voices, strings, cymbals, and brass, the more I found that to be their strength and perhaps the Hemingway's weakness. The QSA Lanedri Ultimatums, having a more relaxed and weightier top-end, allows the music to flow more honestly in tonality and delicately – at high volumes – without sounding loud. This creates this pressure cooker effect, whereas the music fills the listening space without sounding forceful, intrusive, or loud. This pressure cooker effect gives the music more ease, brilliance, rhythmic flow, and pop. You feel as though you're not turning up the volume as much as you're turning up the musicians. Trust me; no editorializing, smearing, or sugar-coating is detected either. This sounds like what I heard when I first auditioned for the QSA fuses: less distortions. Once again, addition by way of subtraction.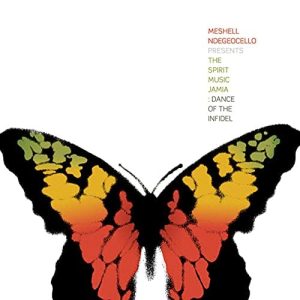 The lower sense of gravity and visceral grip of the electric bass and kick drum on Meshell Ndegeocello's title track, "The Spirit Music Jamia: Dance of the Infidel," proved electrifying. First, the ability to hear all the noted musicians at once in different parts on this panoramic soundstage was a surprise, considering how excellent this feature already was via the Hemingways. Another great sonic virtue of the QSA Lanedri Ultimatums (among many) is its incredible bandwidth. The music emanates from a more expansive, three-dimensional range that gives old songs new life. This also makes my listening space feel more spacious while my 1000 lbs, 6'4" tall, 32″ deep, and 28" wide Sunny Majestic Horn loudspeakers commit the ultimate disappearing act. Adding the QSA Lanedri Ultimatums gives greater meaning to image specificity as the musicians seem to float, locked in a three-dimensional maze. I'm told that image specificity has always been one of the drawbacks of owning horns. I think because they inherently throw such a big soundstage, the image can often appear bigger than they should as compared to their conventional counterparts. However, the QSA Lanedri Ultimatums seem to help mightily in that regard with their enhanced sense of focus and vitality. Via the QSA Lanedri Ultimatums, spatial cues feel far better revealed within the soundstage. Of course, this lends to another of the QSA Lanedri Ultimatums' sonic attributes: transparency.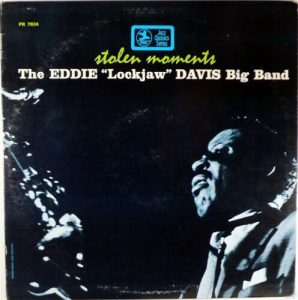 Transparency, in the case of the QSA Lanedri Ultimatums, is the uncanny ability to see into my favorite recordings, unlike before. The ability to hear into the recording's venue was illustrated when I tuned up Eddie "Lockjaw" Davis's The Stolen Moment from his album "Trane Whistle" [Prestige 2206] (here's Oliver Nelson conducting a song that he would record a year later and turn into a timeless classic. This recording is just as rewarding because it features "Lockjaw" in a big band setting. Here's an all-star lineup of musicians: Clark Terry and Richard Williams on trumpet, Melba Liston and Jimmy Cleveland on trombone, Eric Dolphy, Oliver Nelson on alto saxophone, and Roy Haynes on drums! Through the QSA Lanedri Ultimatums' lens, "Lockjaw" and his bandmates are no longer transported in my listening space – I am being transported to Englewood Cliffs, NJ, into Rudy Van Gelder's smoke-filled studio. 
Moving up a decade, I grabbed another favorite in Freddie Hubbard's 1971 Grammy Award winner "First Light" [CTI]. This is probably the first jazz album I enjoyed listening to as a kid when my dad wasn't playing John Coltrane or Sonny Rollins. Somehow, First Light grabbed my attention due to the sweet sounds of the violins and Freddie Hubbard's incredibly melodic phrasings. One of the things I first noticed about this album was when it was released on CD many years later; the sound quality was disappointing at best. I always wished for greater sonics from this legendary recording, no matter what versions I heard or purchased over the years. To be blunt, it sounds dynamically compressed and serves as a reminder of how sometimes terrible early transfers were in the early 80s. However, you enjoy the music with a stable of jazz legends like Ron Carter, Jack DeJohnette, and Herbie Hancock playing alongside Freddie Hubbard. 
However, listening to this original track once again, but this time through the QSA Lanedri Ultimatums, made the music percolate for the first time in a way I found breathtaking. Another pressure cooker benefit of the QSA Lanedri Ultimatums' virtues is that it took this historically flat recording and brought it back to life. Once again, it did this by increasing the musician's volume rather than the system's. This may sound hard to achieve without compressing the signal, but it's the opposite. If there's anything that the QSA Lanedri Ultimatums do better than any other cable I've owned, they seem to lower the volume while turning up the music. The QSA Lanedri Ultimatums neither try to control nor restrain the music. What they do so amazingly well is dissipate noise and distortion associated with the volume. I do not apologize for this phenomenon. Quite the opposite, I applaud it. Getting to appreciate music at this level is the highest accolade I can state on the quality of the QSA Lanedri Ultimatum speaker cables.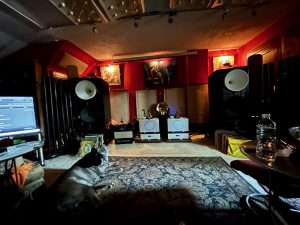 In summary
The Sunny Supreme Majestic Horn loudspeaker is as dynamically alive as any horn I have heard – especially when strapped to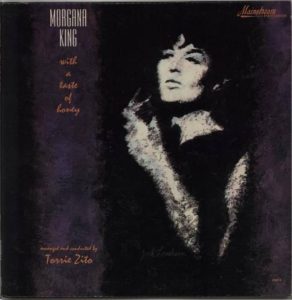 a pair of Behold Audio solid-state electronics. The Behold is solid-state based but doesn't sound like any conventional solid-state component I've heard. The Behold and the Sunnys have been living in sonic bliss since 2007. I've never heard them this dynamically responsive and harmonically alive since being introduced to the QSA series fuses, AC outlets, receptacles, Jitter plugs, and the newly introduced QSA Lanedri Ultimatum line of speaker cables. The ability to introduce more of the QSA technology further into the system, the more distortions seem to fade away. It's the old magical addition-by-subtraction mystery.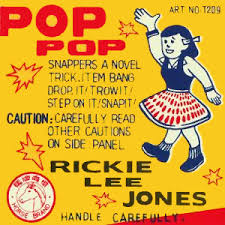 The Stereo Times' is entering its 25th anniversary, and though it requires a lot of day-to-day work, it's been worth it! On many occasions, it's more work than satisfaction. Finally, a product has arrived that's shifted the balance. Their introduction feels like the sonic equivalent of an entire system change. For there exists a sound that I never had or believed possible from these decades-old components. My system has never sounded better regarding harmonic truthfulness, rhythmic flow, micro/macro dynamics, and three-dimensionality. Regardless of the time of day or the quality of the AC in my urban dwelling, the sound is unusually sublime. Returning from my listening room to finish this review, I listened to Comin' Back to Me by Rickie Lee Jones, Midnight Sun by Nancy Wilson, and A Taste of Honey by Morgana King, which only reaffirmed my sonic convictions. Until now, I have never encountered a cable that breathes new life and vitality into Ricki, Nancy, and Morgana as the QSA Lanedri Ultimatums. What higher form of compliment can one offer than that? I'll be lucky to do another round write-up on a pair of QSA Lanedri Ultimatum AC cords, which are slated to come my way.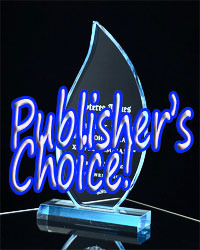 The company offers a 30-day money-back guarantee for an easy audition. As time and opportunity permit, there is no end to what the QSA Lanedri can do. Through further R&D, Anas Lanedri has his future sights set on QSA Lanedri series AC conditioners, Grounding Devices, DACs, preamps, and amplifiers. As of today, the QSA Lanedri Infinity Ultimatum loudspeaker speaker cables are my new reference and Publisher's Choice Most Wanted Component for 2023 
Specifications: 
As reviewed, QSA Lanedri Infinity Ultimatum Speaker cables: $22,000 (per pair 8 ft)
Company information: 
QSA LANEDRI
360 View scs
Lasdinval 1,
4980 Trois-Ponts, Belgium
Website: https://www.qsa-lanedri.com/
Email: Lanedri@qsa-lanedri.com
Stereo Times Masthead
Publisher/Founder
Clement Perry
Editor
Dave Thomas
Senior Editors
Frank Alles, Mike Girardi, Key Kim, Russell Lichter, Terry London, Moreno Mitchell, Paul Szabady, Bill Wells, Mike Wright, Stephen Yan, and Rob Dockery
Current Contributors
David Abramson, Tim Barrall, Dave Allison, Ron Cook, Lewis Dardick, Dan Secula, Don Shaulis, Greg Simmons, Eric Teh, Greg Voth, Richard Willie, Ed Van Winkle, and Rob Dockery
Music Reviewers:
Carlos Sanchez, John Jonczyk, John Sprung and Russell Lichter
Site Management  Clement Perry
Ad Designer: Martin Perry