Munich High End 2013 Part 4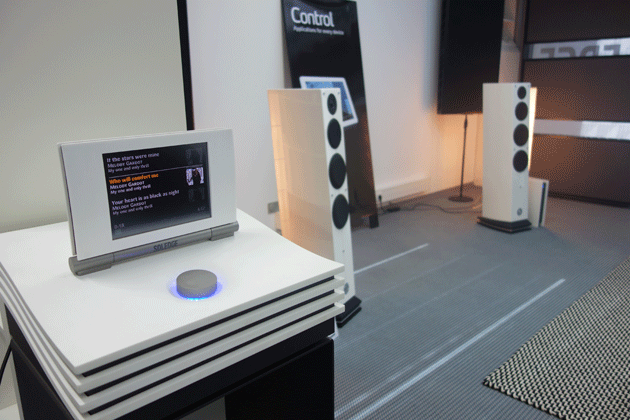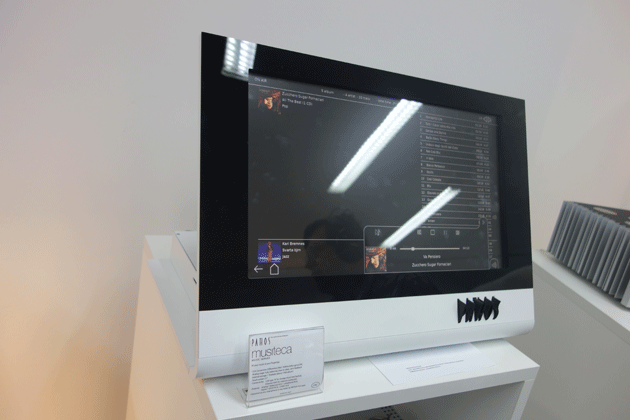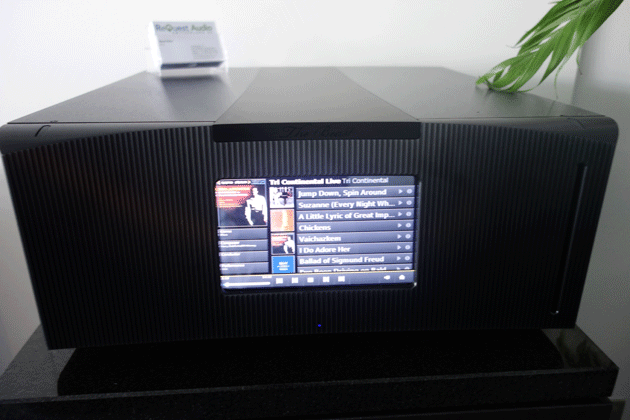 The amount of music servers being used at the High End has grown tremendously each passing show. This year however, the sheer looks and ergonomics of a certain few (above) have really improved.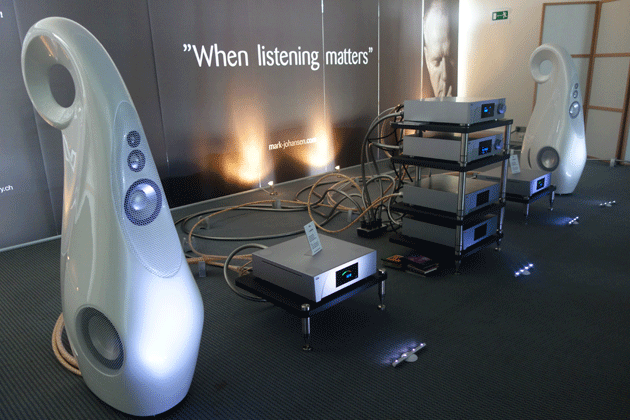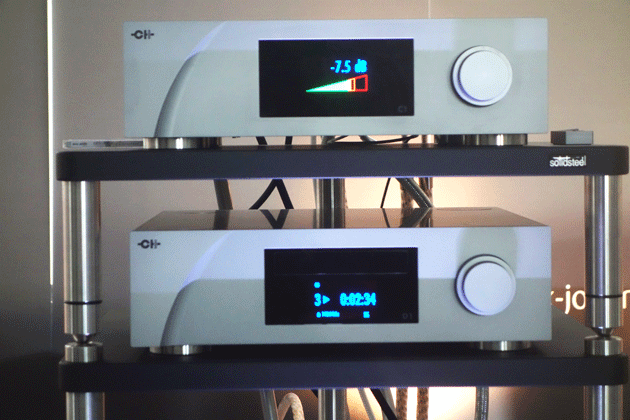 Speaking of which, the looks, sights and sounds coming out of the Vivid/CH Precision room was very impressive: natural and balanced with a remarkable sense of presence. So much in fact, I returned back to this one particular setup almost every day, just to reference my ears against other setups.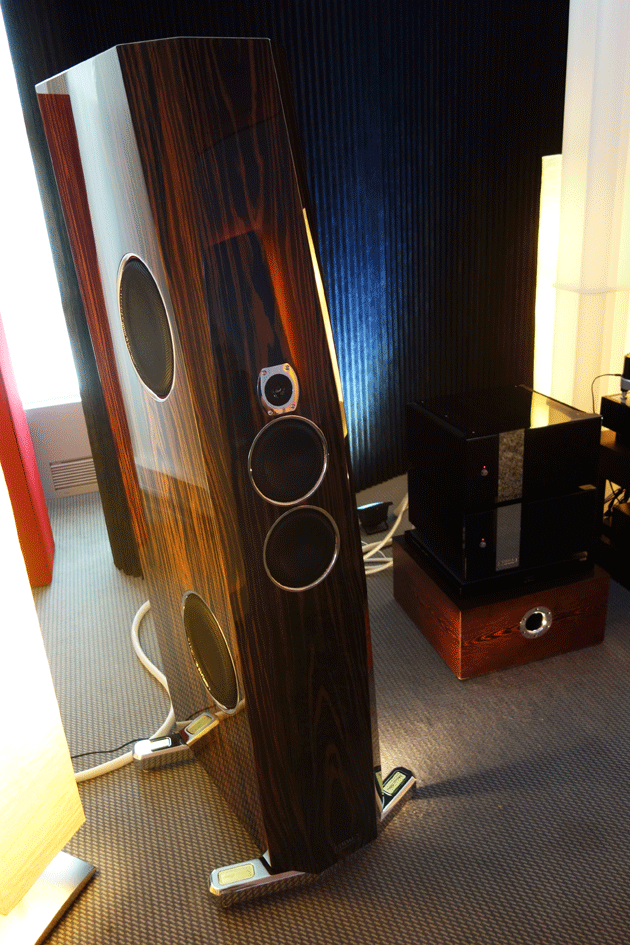 The Agoria loudspeakers sport an absolutely gorgeous finish that no camera can fully capture (and we tried).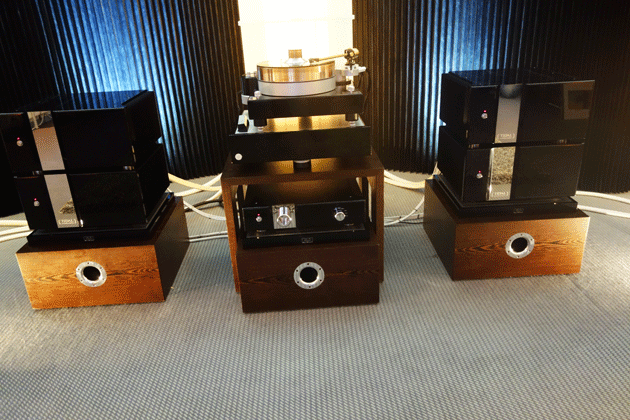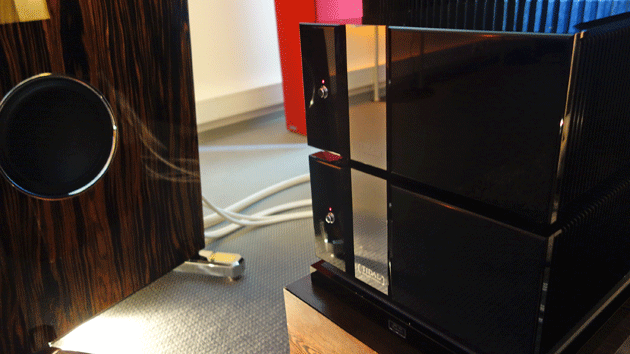 No doubt about it, TIDAL manufacturer and designer Jörn Janczak came to this year's High End show with both barrels blazing. This year, in addition to showing off the gorgeously finished Agoria SE loudspeaker (a mini-Sunray for $125k, replete with diamond tweeter), the company also debuted their newest line of electronics in their Impulse 400-watt mono amps (two pairs!). Vinyl was the choice of source via a Hartvig Signature 'table while the preamp was also a TIDAL Preos. All cabling, as usual was by way of Argento. As usual, it was nice to run into Doug White of The Voice That Is, a US (Philly-based) importer of TIDAL (among other noteworthy brands). White has become a staple at the High End and was right at home detailing all the new products happening in this suite.
Of course, after a warm greeting from Janczak and White, we got down to some serious some listening. Considering these are show conditions, it never ceases to amaze how good this room sounds. What I enjoy most from TIDAL is the amount of sparkle, body and bloom they can create under less than ideal conditions.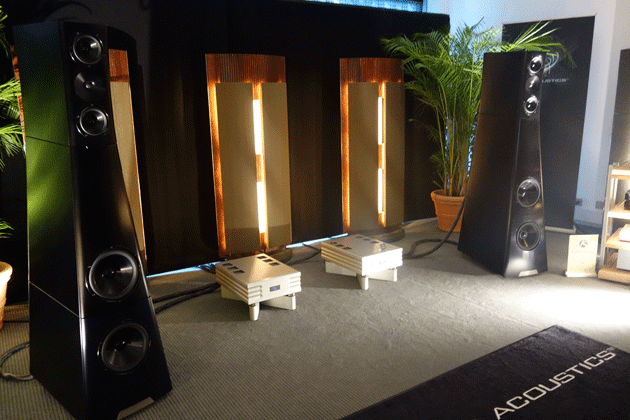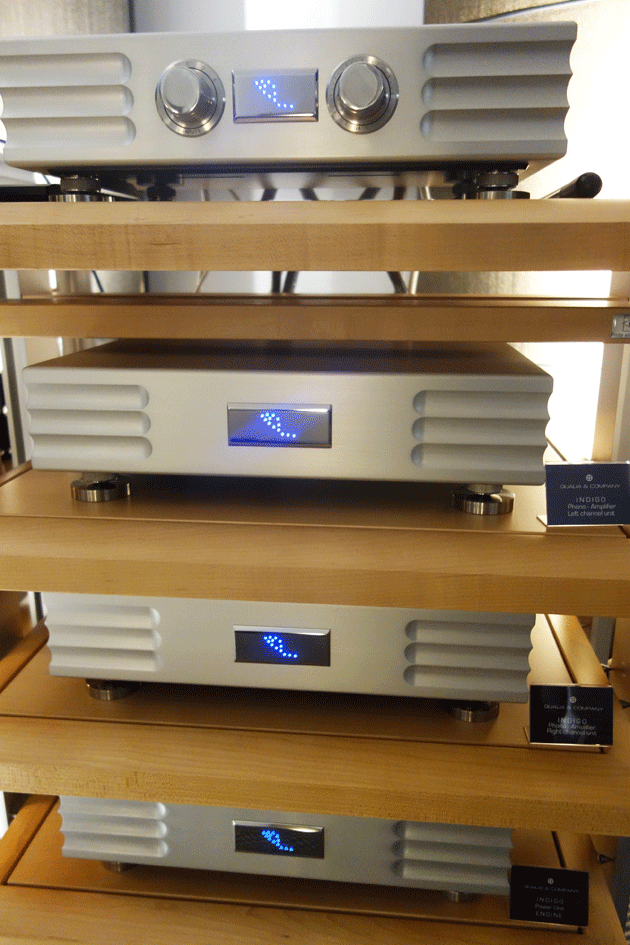 One thing's certain about this High End show is that a lot of work goes into getting these rooms together. And the YG Acoustics/Qualia folks did some job transforming that suite. The ambient lighting and acoustic treatments were understated but enough to notice when walking into this room. The new YG Acoustics Sonja 1.3 sounded quite at home here at the show as well being powered by the new Qualia Indigo stack of solid-state electronics. In addition, the room also featured that three-tiered Kronos turntable that has been getting much attention these days. I hardly got a chance to listen here due all the noise from show goers excited over these new products.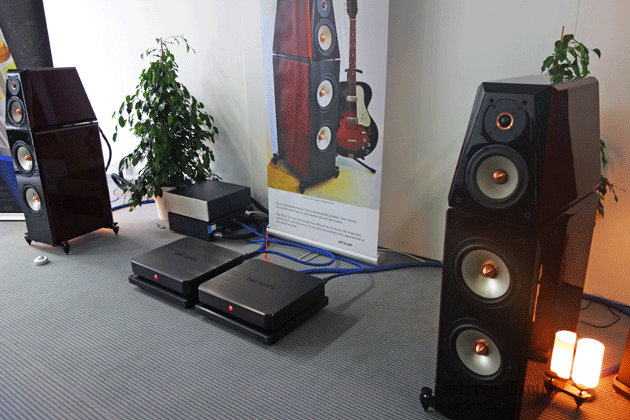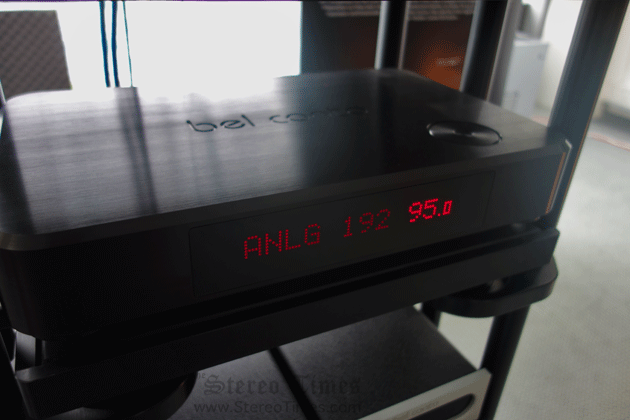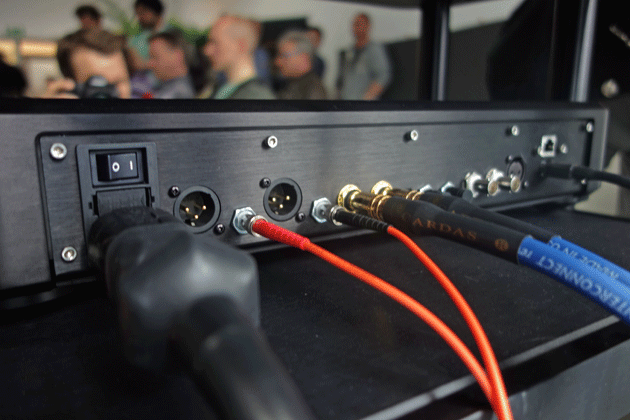 John Stronczer, designer of Bel Canto was proud to announce the all-new cost-no-object Black series of elctronics. These feature the C1 digital to digital Controller preamp feeding via fiber-optic cables a pair of MPD-1 mono amps (or powered DACS as Stronczer would describe them). No price was determined as of this writing but estimates were around $60k (this includes the preamp and amplifiers as one unit). I admit, I was intrigued having been a long time believer of the powered DAC approach. Shucks, when digital was in its infancy, Tact Audio broke new ground when they introduced the all digital Millenium amplifier 1998. The Bel Canto Black system however is built on an entirely different platform I'm told. And the sound was also very promising as well. Powering a pair of Joseph Audio Pearl 3s loudspeakers ($28k) via all Cardas cabling, I was impressed by the quick and nimble bass while the top end sported a resolution that sounded gloriously open and detailed without even a hint of hardness. I think there's a lot to like about the new Black series from Bel Canto and wouldn't be surprised if they caused a major stir in the coming months. Stay tuned….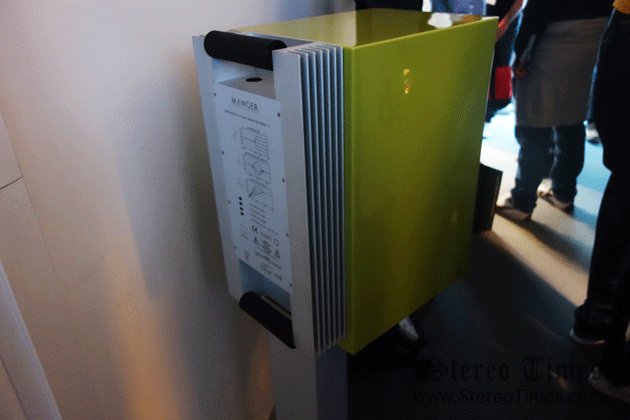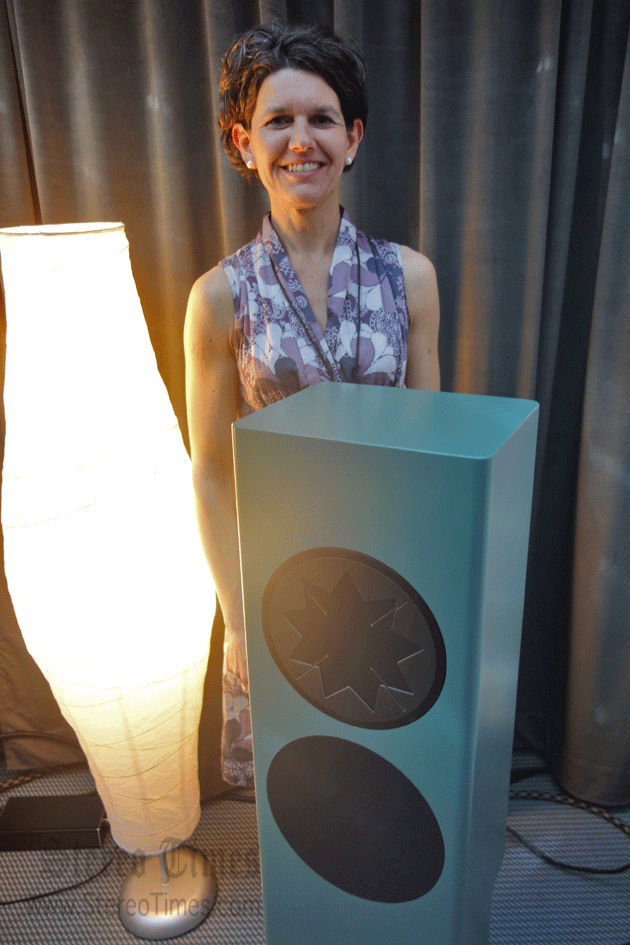 Visited the Manger loudspeaker room where I met Daniela Manger, chief owner and operator of the company (above photo). Was surprised to find the company now builds active speaker system like the model MSMs1 above. The top photo features a rear view of their MSMc1 Reference active monitor as well. Music source was a battery-powered MacBook Pro running off Amarra Symphony and a M2Tech Vaughn DAC, I was pleasantly surprised to hear how vivid and full-bodied this system played.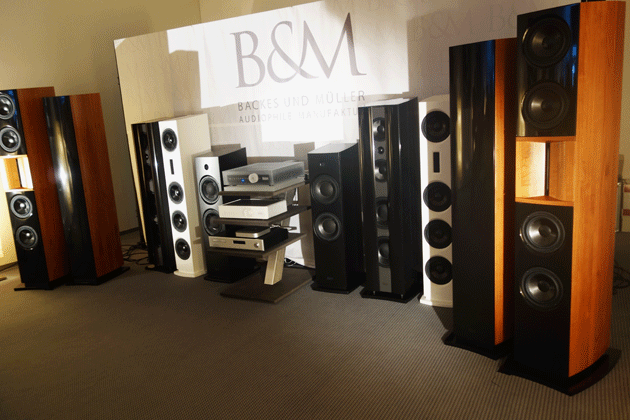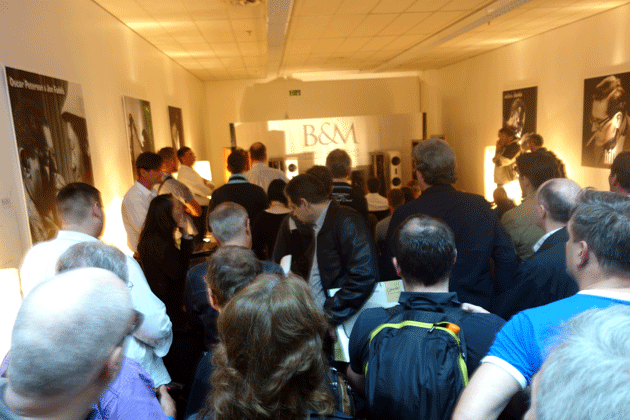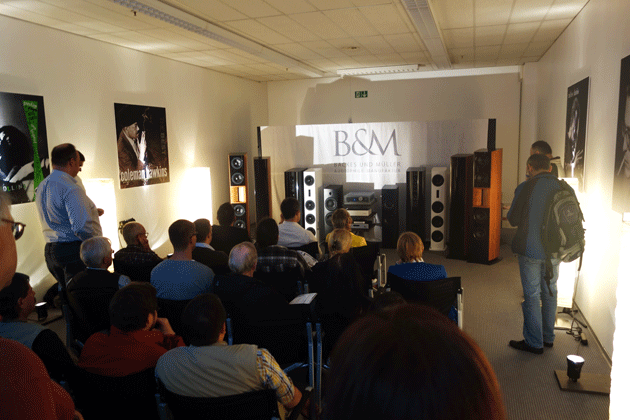 Backes & Müller, German makers of active loudspeakers dating back to 1979, have a huge fan base. Though active loudspeakers have not caught the imagination of audiophiles here in the states they've gained a loyal following in Europe. Believe it or not, this room was one of the most packed at the show. I was fortunate enough to accept an invitation to the Backes & Müller factory in Saarbrücken a few weeks prior to the Munich show. I will publish my report very shortly on that most interesting visit.
Just in case you're wondering what was so interesting about my visit. Finally, got an opportunity to hear the Backes & Müller $500k BM 100 reference active loudspeaker. This most unusual transducer easily represents one of the greatest loudspeakers I have ever encountered.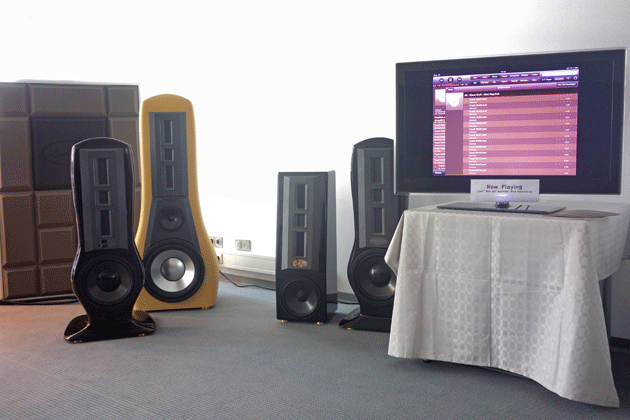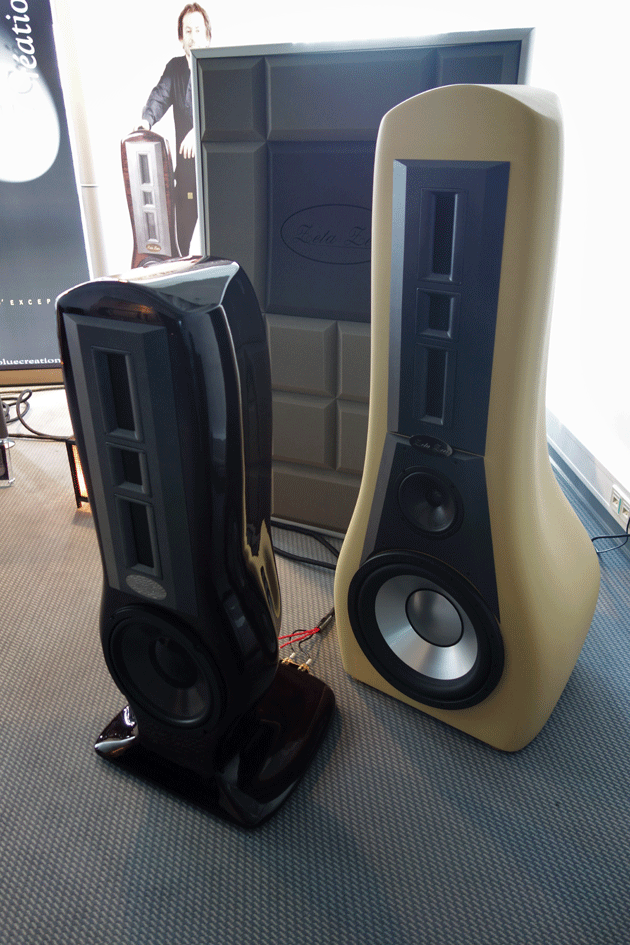 Zeta Zero finally debuted their products here at High End 2013 and did not disappoint. For months, I had been receiving emails of them boasting about their maga-watt electronics and Venus series loudspeakers (they make quite a few models employing ribbon midrange and tweeter). Though short and preculiar shaped, these loudspeakers sounded as effortless as some of the realy big loudspeakers at the show. In fact, I was shocked at how full-bodied and organic these loudspeakers were. I guess it doesn't hurt to have 3000-watts worth of electronics driving a loudspeaker when the designer are one and the same. Sounds like the folks at Zeta Zero know a thing or two about great sound. I was quite surprised to find the isolation rack of choice at this year's show was the Artesania Exoteryc Shelfless of Spain that we reviewed recently right here. I must have noticed it in a dozen rooms without even trying. Pretty amazing considering this is only the company's second appearance at the High End.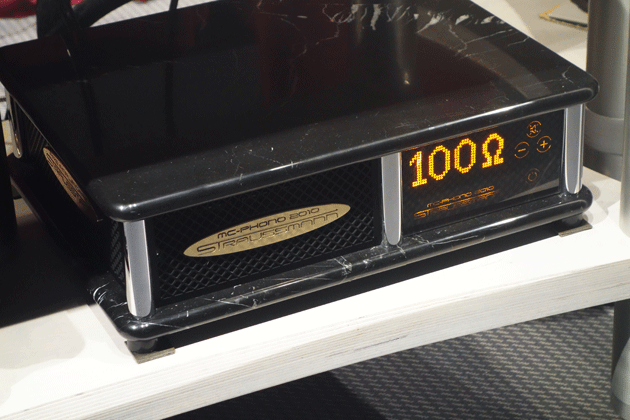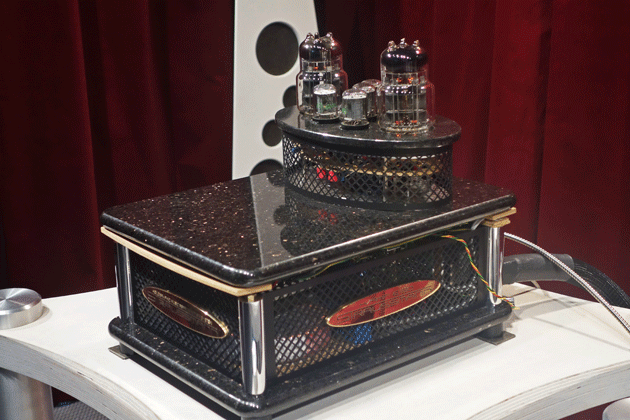 There were tons of outlandish looking gear at this year's show. This room was featuring loudspeakers from Engleholm Audio and some really funky looking stone-carved electronics from a Straussmann and Tone Tool – all manufactured in Germany.
Other sights at this year's show that I thought were worth sharing were…..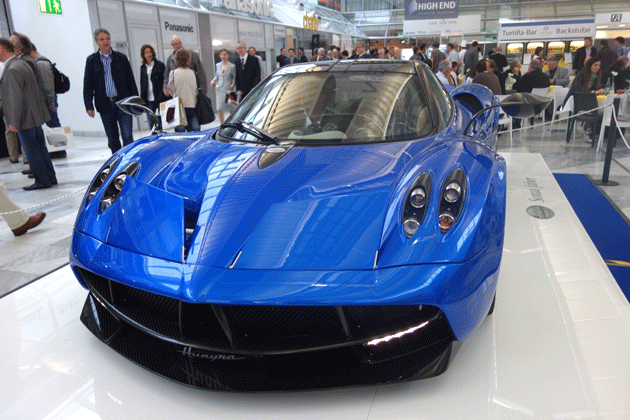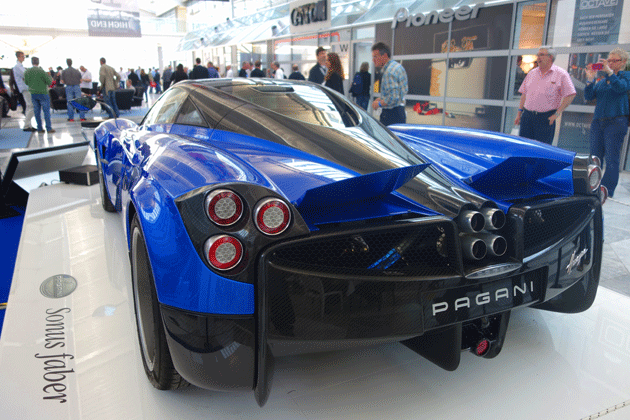 Question: Do you think anyone lucky enough to drive this Sonus Faber equipped, 720- hp, 6.0 liter twin-turbo V-12 Pagnani Huayra, would marvel more at the music coming from the speakers or from its engine?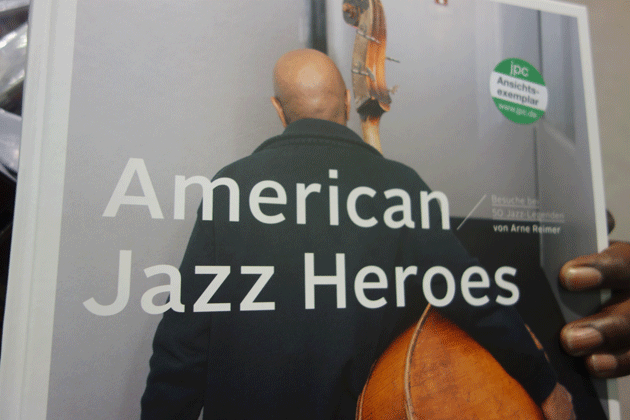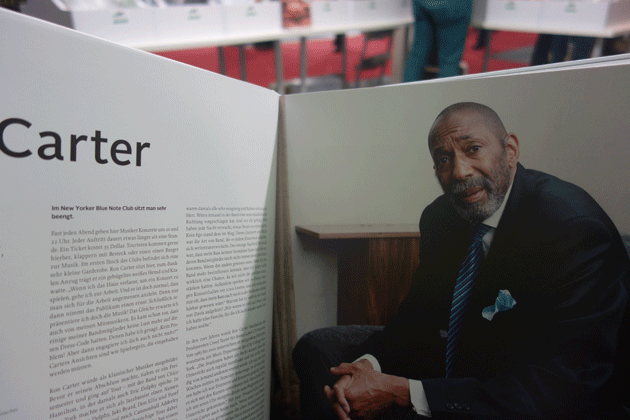 While looking for some rare jazz LPs, I saw this this huge hardcover book entitled American Jazz Heroes. First thing I did was find me a seat and pour through each page before even realizing it was written in German. Didn't matter. I was just glad to see my friends Ron Carter (above) and Cedar Walton listed, since they just so happen to be audiophiles too.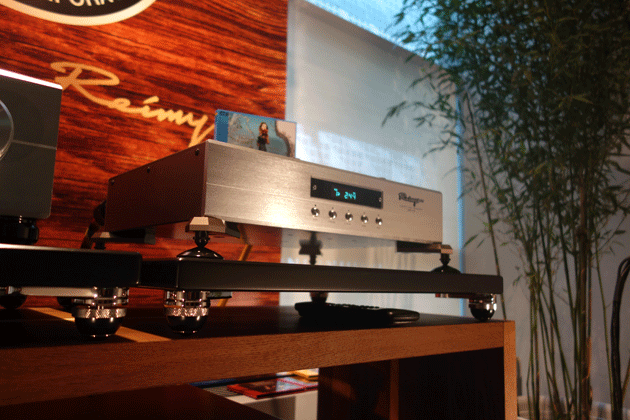 Reimyo: Always looking and sounding its best.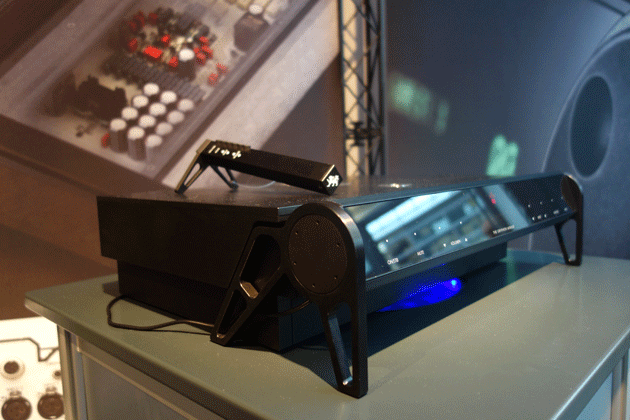 Gryphon in all its futuristic glory.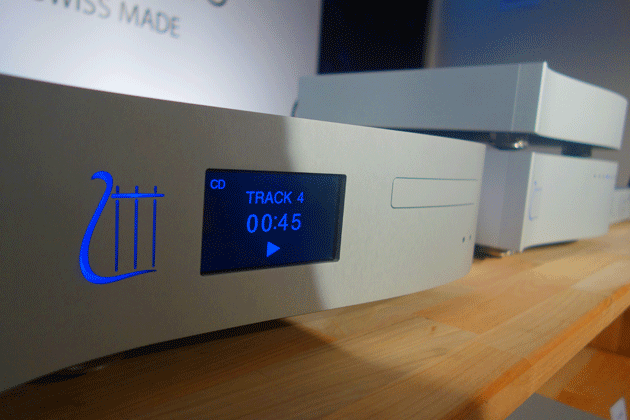 Orpheus. True audio artistry.
High End Audio at its most basic…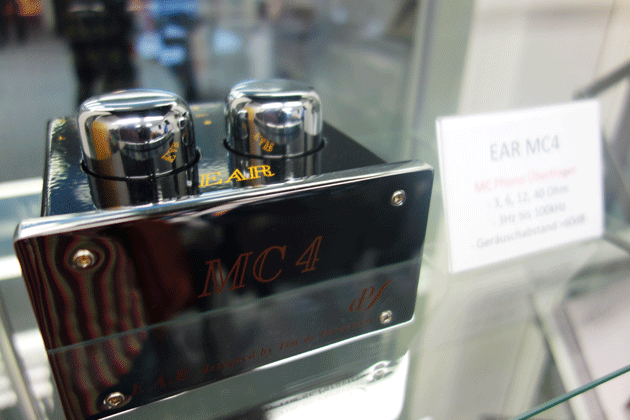 And sometimes its tiniest.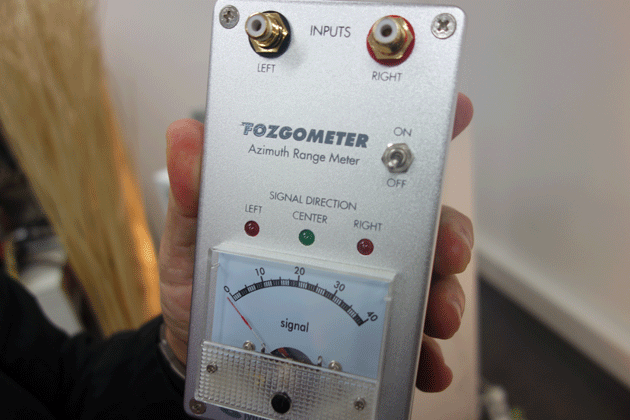 The one and only Fozgometer: what every self-respecting vinyl lover owns.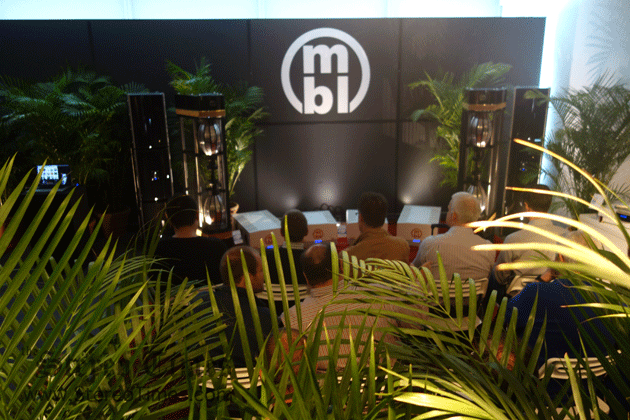 The MBL room was literally like a jungle….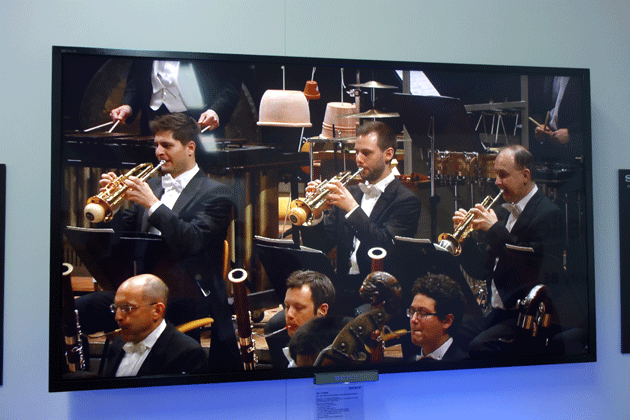 Sony's new and exciting 4k flatscreen in all its glory.
Stereo Times Masthead
Publisher/Founder
Clement Perry
Editor
Dave Thomas
Senior Editors
Frank Alles, Mike Girardi, Key Kim, Russell Lichter, Terry London, Moreno Mitchell, Paul Szabady, Bill Wells, Mike Wright, Stephen Yan, and Rob Dockery
Current Contributors
David Abramson, Tim Barrall, Dave Allison, Ron Cook, Lewis Dardick, Dan Secula, Don Shaulis, Greg Simmons, Eric Teh, Greg Voth, Richard Willie, Ed Van Winkle, and Rob Dockery
Music Reviewers:
Carlos Sanchez, John Jonczyk, John Sprung and Russell Lichter
Site Management  Clement Perry
Ad Designer: Martin Perry