Most Wanted 2022 Page 2
AfterDark Project ClayX Giesmann OCXO 10m Hz Reference Master Clock Emperor Double Crown and Linear Power Supply ($2974 reviewed here)
The "Emperor Double Crown" master clock is said to fall within the sweet spot of the Project ClayX Giesmann OCXO 10m Hz Reference Master Clock line, which consists of 10 models with varying phase noise as measured at 10 and 1 Hz. With the AD Master Clock, I heard much further into the recording, with a surprisingly significant increase in microdynamic contrasts and bass articulation. Instruments displayed a greater sense of space and depth within the soundstage and possessed a more natural tone. There was also an added weight to the music while the music took on a greater sense of realism. The AD Master Clock brought me closer to the essence of music with my digital front-end's sonics transformed in ways not felt with the many past upgrades – some that had much higher price tags (Mike Girardi).
AfterDark Project ClayX Roon Karmann Music Server x Handhartilo Series ($3470)
This handmade Roon Music Server design is a work of art with superior parts selection and implementation that far exceeds the performance of the Roon Nucleus Plus. The fanless Roon Core consists of an Intel i7 Gen10 processor Quad Core 8 Threads (Base Frequency 1.80GHz, Max Turbo Frequency 4.90GHz) 8M Cache, Mircon 32GB DDR4 2666 RAM (34.1 GB/s) (Dual Channels), Samsung 512GB OS M.2 SSD NVME PCIE 4.0, high current version Project ClayX linear power supply, Project ClayX Triple Crown Internal dc cable employing Duelund Silver, Intel 2.4G + 5G WiFi + Bluetooth 4.0, optional SATA SSD drives up to 18 TB, more than six simultaneous zones, and all DSP functions available. The chassis is mainly built from carbon fiber being engineered for EMI suppression and anti-resonance. This all results in a digital signal that displays a wall-to-wall soundstage of vibrant colors against a dead silent, deep black backdrop with astounding realism. A significant upgrade to my previous tweaked-out reference music server (Mike Girardi).
AfterDark Project ClayX Giesemann Rosanna Network Bridge x OCXO 10M Master Clock x Roon Ready ($1393)
Like the AfterDark Project ClayX Roon Karmann Music Server, this unit is a work of art in superior parts selection and implementation. This unit included a custom-built add-on board that allowed the interface and conversion of the AfterDark Project ClayX Roon Karmann Music Server Ethernet output to the I2S digital input on the non-Roon compliant Ayon Audio S-5 Network Player. I was afraid that adding another component in the signal path would raise the noise floor, but if the AD Network Bridge raised the noise floor, I couldn't hear it. The AD Network Bridge using the I2S connection to the Ayon Audio Network Player, unlocked the full potential of the internal tube-regulated Ayon DAC and punched far above its price point. The competition in Roon-based interface components will take notice of this newly released device (Mike Girardi).
     Audio Note (UK) DAC 4.1 Balanced Signature ($37,700 reviewed here). Last year I reviewed the smaller brother to the 4.1 Signature DAC, the 3.1 Balanced, and found it to be the best DAC I had ever had in-house. To my amazement and delight, the DAC 4.1 Balanced Signature took the superlative timbres and colors, effortless silky-smooth presentation, 3D imaging, and a sense of space, usually only provided by analog-based systems, to an even much higher level. (Terry London) 

Aurender N20 Digital Output Network Transport ($12,500): Aurender's N20 hits the sweet spot between performance and price by incorporating much of the technology of the more expensive flagship N30SA. With up to two 8TB user-installed SSDs or HDDs there is room for all your hi-res files. Not only does it sound great with ripped music, it streams all the popular formats. The Aurender Conductor app is elegant and fun to use. Setting up the N20 is easy but if support is needed, support from Aurender America is the best I have encountered. Support is available via telephone, email, remote access, or an excellent on-line knowledge base. (Review in the works, Don Shaulis)  
Bricasti Design M3 Digital to Analog Converter ($5,500 + $1,000 optional network card, + $500 optional remote): The M3 DAC incorporates much of the technology of the more expensive Bricasti models at a modest price. Performance as a DAC is excellent. Music is detailed with a rich harmonic structure. I found the results to be totally engaging with an excellent flow. I did not try the streamer function but I can testify the preamplifier function is excellent, rivaling many dedicated preamplifiers. An M3 with remote is a perfect foundation for a simple but satisfying system while still having the chops to be worthy of much more expensive companions. My M3 is paired with an Aurender N20, various amplification, and Sound Lab speakers. (Don Shaulis)
Bricasti M21 Dual Mono Digital to Analog Converter ($16,000 – reviewed here)
The Bricasti M21 DAC is an exquisitely crafted state-of-the-art DAC with network capability. Its outstanding musicality output is based on a pair of universal DSP-controlled discrete resistor ladder 32bit/384kHz audio DACs and a 24-bit delta-sigma 8x oversampling DAC. The unit features conversion with reconstruction filters at the DAC output, providing the cleanest possible output signal. The M21's ability to resolve subtle musical information is excellent. The musical production of the M21 conveys a beautiful lushness and richness that takes on a more sophisticated feel, demonstrating intense audiophile realism. The overall performance of the Bricasti M21 is beyond what I expected. I experienced laser focus in clarity, sound staging, and transparency. Music flowed like clean running water, thus enhancing my appreciation for good music like never before. (Moreno Mitchell) 
Denafrips Terminator II ($4400 reviewed here): The Denafrips Terminator II is an excellent performer with a natural and pure sound, which is articulate and extended at both ends of the frequency spectrums. I get the sense its development was skewed in favor of raw performance rather than the user interface. I am not the type to shrink from a technical challenge and did not necessarily hate having to jump into the user manual to figure out how this piece of equipment worked, though I could imagine some users wishing that the user experience was a little more intuitive. However, this is a single-purpose DAC with a "set it and forget it" type functionality. (Richard Willie)
Pro-Ject CD Box RS2 CD transport ($3000). This small petite but well-built CD transport uses the same internal boards/transport mechanism as two other transports on the present market, which cost more than $12,000. It offers the most musical/engaging presentation compared to my much more expensive reference-level transports. (Terry London)
Taiko Audio Extreme Music Server ($33,000.00 with enhanced USB card and Extreme network card):  The Taiko Audio Extreme is a State-of-the-Art Music Server created to render music as realistic and life-like sound from stored music files and streaming.  The Extreme resolved tremendous amounts of detail without sounding overwhelmed, etched, or analytical.  Sonically speaking, in my system, the Extreme is good as it gets.  Taking off its massive top cover, I gazed inside and was blown away by the artistry and parts used and the impeccable construction.  It's a NASA engineering.  Review in the works.  (Key Kim)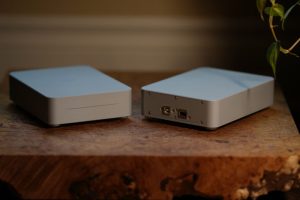 Waversa EXT Reference LAN Filter ($4950 reviewed here) Waversa EXT Reference LAN Filter is a products that remove RFI and impulse noise carried by the Ethernet cable and external sources with patented electromagnetic technology The use of electromagnetic fields in the Waversa EXT Reference LAN filter bridges the gap between CD playback, which inherently has inferior digital specifications, and computer audio streaming, and analog. The speakers completely disappear and the center image has a complete fill with improved image placement accuracy. After optimizing the location in one's system, one can hear every note, the silence between notes, and the decay of individual notes, Musical involvement to the Max. So much of the detail, image depth, and resolution of micro dynamics is lost without the EXT Reference. I know no other component that does what Waversa Systems EXT Reference LAN does to improve network audio streaming (Mike Girardi).

Waversa EXT Reference Plus ($14,250)
The Waversa EXT Plus was unknown to me until I read my colleagues Mike Girardi's review late this year on StereoTimes. I built my home network music streaming system piecemeal. Upon researching the best music streaming components on the market, I could go no further at the time. The results were astounding. I always read reviews posted on StereoTimes to gain knowledge and insight into what new technologies are out there concerning audio. Waversa was an unfamiliar product that Immediately caught my interest due to its affiliation with music streaming. After reading about the EXT Plus, I contacted the dealer at Kevalinaudio, who was kind enough to ship a unit to me for an audition. Afterward, the rest was history. The Waversa EXT Plus added an addition to my system that I did not think possible, especially streaming digital music. Surprisingly, the fake digital music air that comes with digital music was no longer present. Soundstaging became more natural, ridiculously alive, much more pronounced, and with increased articulation. The Waversa EXT Reference Plus is not a filter, nor does it perform like a filter. Filters compromise dynamics; this unit doesn't come close to suppressing dynamics; it enhances the music by allowing more air separation, increased staging, and an analog feel. Pricey but well worth every penny for the serious audiophile. Streamers take notice. (Moreno Mitchell)
Audio Note AN-E/SPe HE loudspeaker ($12,460 pair): At 95dB efficient, this huge stand-mounted two-way has outperformed almost anything I have heard in the areas of musicality and sheer purity of signal. What's most striking about its ease and flow is that once under its magical gaze, you just sit and enjoy the music as opposed to pulling out a mental checklist measuring strengths and weaknesses. (Clement Perry)
JERN 14EH Cast Iron loudspeaker and MJ Acoustics Reference I MkIV Subwoofers ($5k and $3,500 ea – reviewed here)
With the JERN® 14EH cast iron speakers specifically developed to work with high-quality subwoofers handling low frequencies, their U.S. distributor delivered them with a pair of MJ Acoustics Reference I MkIV subwoofers. The vertical standing Reference I subs took up a small footprint and doubled as speaker stands, simplifying the setup., thanks to the dark tinted 1/4" thick glass top plate mounted above each unit's up-firing woofer. The JERNS 14EH is both elegant and small, but at nearly 30 lbs. each, they made an early impression, both physically and musically. The 14EH delivered High-End audio quality sound, with razor-sharp imaging and an impressive three-dimensional compelling soundstage. The MJ Acoustics Reference I MkIV subwoofers are self-powered and provide a multitude of adjustments with its rear panel controls and remote adjustment using the Smart Remote app. The presentation delivered by these speakers and subs has stayed with me.
Musician Audio Knight 1 Loudspeaker ($1,900 – reviewed here). This stand-mount speaker was one of the most pleasant surprises of my reviewing experience this year. Covering its drop-dead gorgeous red horse eye veneer with 18 coats of hand-painted layers of lacquer and in-house built drivers (28-core/layer silk dome tweeter and a polymer midrange/woofer). The Knight 1 delivered a musical presentation that offered a sweet top-end, midrange details, and excellent extended bass that rivaled its beautiful appearance. All this for less than $2,000. (Terry London)
Sendy Audio Apollo Planar Magnetic Open-Backed Balanced headphone
The Sendy Audio Apollo is an immediately engaging headphone. Its lightweight design, comfort, and craftsmanship handily won me over. The Apollo is now my daily driver (I bought the review pair after finishing my review). Paraphrasing the Apollo white paper, Sendy Audio's three years of dedicated R & D produced a planar magnetic driver with, in their words, "the best magnetic circuit and the best magnetic distance to balance the resonance." The Apollo's construction results in excellent electroacoustic energy efficiency conversion, extremely low distortion, and consistency, with a high ability for music reproduction. They did an admirable, even remarkable, job rendering dynamics during the hours of music I played through them. The planar magnetic tech inside brings fluidity and musicality to the ears without being "show-offs." The Sendy Audio Apollo Planar Magnetic Open Backed Balanced over-ear headphones have an impedance of 16 Ohm +/- 15%, placing them in the low impedance camp (designated as below 50 Ohm), allowing them to work easily with portable devices, hence the use of a 3.5mm jack as standard. My iPhone 8 delivered instant musical satisfaction at ample volume when adapted using a mini jack-to-lighting dongle for play. With the LSA Discovery DPH-1 used as a headphone amp, the Apollo gave me plenty of substance and offered quality in both extremes, with sweet highs and abundant low frequencies. (Greg Voth)
XSA Labs Vanguard Bookshelf Speakers ($799 – reviewed here)
Viet Nguyen designed the LSA Discovery Warp 1 Amplifier, the LSA Signature 50 Speakers, and, this year, the XSA Labs Vanguard Bookshelf Speakers, a reinterpretation of the BBC-licensed Rogers LS3/5a. The Vanguard Bookshelf Speaker is a sealed box design, like the original, and matches the original's height and width dimensions. Still, Nguyen added a full 8" depth, bringing a bolder and considerably deeper frequency response to the ear of the listener. The front profile is the same, with a 5.25" paper cone driver and 28mm silk-domed tweeter. Nguyen says a paper cone driver "gives more definition and a natural sound." You don't get the reflex bass with a sealed box as with a ported design, but you get a nice, tight bass. Master cabinet makers finely craft each Vanguard cabinet to exacting standards and materials for an heirloom-quality speaker. Each cabinet is made of solid bamboo, with internal bamboo battens, and features nickel-plated 5-way binding posts, a removable front baffle, and a cloth grill held in place with magnets for a clean look. The Vanguard units I tested were finished in high-quality Russian Baltic birch. A play of Boz Scaggs "Desire," from his album Dig (2001 Virgin), was a shocker with the Vanguards on stands in my main rig; surprisingly, full-throated driving bass came into the room from these 8" deep small wonders. Vocals were rich, with great body – the entire presentation was extremely well-rounded and enjoyable. They throw a broad, deep phantom channel image, and the speakers disappear. I highly recommend it. (Greg Voth)
Tekton Design Nebo loudspeaker ($4,200): The Tekton Design Nebo speakers are a triumph. They deliver a level of detail and immediacy that is truly rare, combined with a rich and smooth tonality that is both engaging and emotionally satisfying. Whether you're a lover of music or simply looking for the best speakers available, the Nebo's are a must-hear. The patented midrange speaker array, combined with the deep and nuanced bass, creates a soundscape that draws you in and immerses you in your music. And all of this is available at a price that is far lower than the competition; I will be purchasing the review set. Highly recommended. (Review in the works – Richard Willie)
YG Acoustics Sonja 2.2i Loudspeakers ($88,000)
The YG Acoustic Sonja 2.2i Loudspeakers are by far the best high-end speaker I have had the pleasure of owning and listening to in my home. I previously used the YG Acoustics Hailey 2.2, which has to be considered one of the best-sounding pairs of speakers for the money; however, Hailey's big brother Sonja 2.2i is in a different league. Sonically, the Sonja does it all and then some. The Sonja's deliver life-like, natural sound, evident by YG Acoustics' latest technologies. The newly upgraded crossovers, billetDome Tweeter, and the BilletCore midrange driver produce an astonishing performance unequaled for the asking price. These speakers demonstrate the ultimate in accuracy and musicality. Marrying the technologies of the YG Acoustics flagship Sonja XV results in a stunning sonic performance coupled with sheer second-to-none build quality. The YG Acoustic Sonja 2.2i will be my end-of-the-line speakers…. For now? (Moreno Mitchell)
Stereo Times Masthead
Publisher/Founder
Clement Perry
Editor
Dave Thomas
Senior Editors
Frank Alles, Mike Girardi, Key Kim, Russell Lichter, Terry London, Moreno Mitchell, Paul Szabady, Bill Wells, Mike Wright, Stephen Yan, and Rob Dockery
Current Contributors
David Abramson, Tim Barrall, Dave Allison, Ron Cook, Lewis Dardick, Dan Secula, Don Shaulis, Greg Simmons, Eric Teh, Greg Voth, Richard Willie, Ed Van Winkle, and Rob Dockery
Music Reviewers:
Carlos Sanchez, John Jonczyk, John Sprung and Russell Lichter
Site Management  Clement Perry
Ad Designer: Martin Perry