Furutech FPX-(R) Receptacle and Blue Circle Audio "Puck" AC Conditioner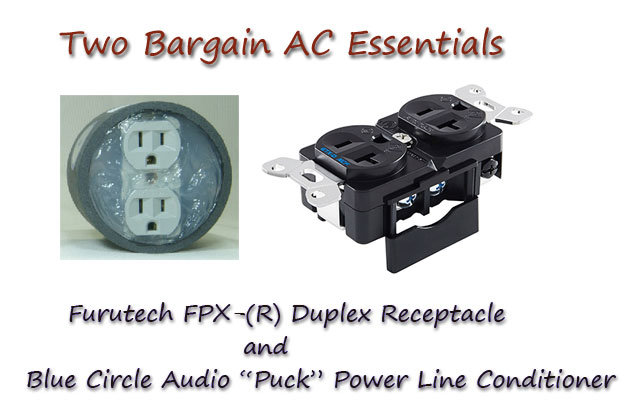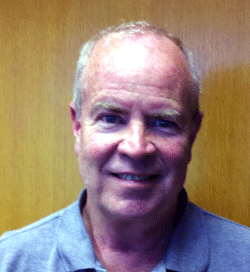 For many years, my system's power line conditioning has started with the Silver Circle Audio PurePower One 5.0, a massive 5 kVA transformer with AC filtering, fed directly from a dedicated 20-amp breaker. More recently, the AC from the Silver Circle has fed power to a complete Nordost/QRT setup – Qb4 power strip, and two each of their Qx4, Qx2, and Qv2 Quantum products – which has added delicacy and detail to the PurePower One 5.0's powerful music presentation.

Last year the addition of the Entreq Minimus, Tellus, and Silver Tellus grounding boxes showed me there was more to be gained by improving the AC feed on all legs. And that got me started on my most recent audiophile journey: Several internet sources, including Greg Voth's review of the Core Power Technologies Equi=Core products indicated that balanced AC (60 volts positive/60 volts negative instead of 120 volts positive/0 volts negative) is beneficial especially for digital components because of its elimination of common-mode noise on the power line. This is a verifiable fact, not some wacky audiophile theory. Google it.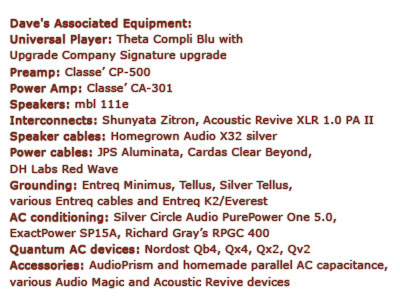 So, I pulled from the closet a long-unused ExactPower SP15A (discontinued), another transformer-in-a-box that feeds balanced AC to whatever's plugged into it. A little rewiring at the breaker box and in the house, gave me a second dedicated line to power my CD player only, using the ExactPower as the go-between. Separating digital equipment from the rest of the system's AC feed is always a good idea, keeping the digital noise from polluting the analog equipment.

These changes alone gave me a surprising uptick in sound quality, making the music sound more alive, with greater detail. The improvements were along the lines of what Greg Voth noted in his Equi=Core review (here). Even though the ExactPower is discontinued, Core Power Technologies and a few other manufacturers supply balanced power units – I recommend you give one a listen!

Now the wheels were really spinning! It occurred to me that the somewhat elderly ExactPower unit might benefit from the upgrade of its internal AC receptacle (a Hubbell) used to feed the CD player.

Surprisingly, The Stereo Times' archives do not show any Furutech products reviewed. Time to remedy that right here. Furutech has a reputation for high quality in its cables, connectors, power distributors, and accessories. My local Furutech dealer, Vu Phan, at Hi-End Audio and Theater in Plano, TX, believes that power delivery is the best "bang-for-the-buck" tweak you can make to your system. So, I forked over $125, and took home the Furutech FPX-(R) duplex receptacle. I could have bought two – the second for the wall receptacle – but I had a decent FIM outlet bought about a decade ago for that location. And I figured replacing the outlet inside the ExactPower, the outlet supplying balanced AC to the CD player, would make the bigger difference.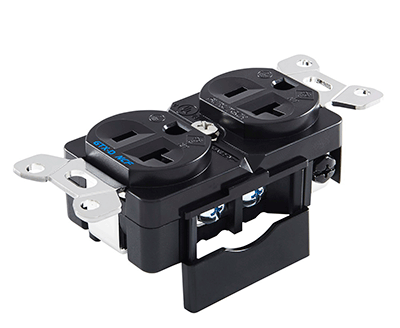 The (R) in the Furutech's model number stands for "rhodium," which is the metal used for the pins inside the unit that grip your power cable. The FPX also comes with gold and copper plating, which I have not tried. (Rhodium is the one my dealer recommends.) Furutech also manufactures the GTX series of receptacles, which are about twice as expensive as the FPX, in rhodium and gold. So, feel free to go crazy!

Taking a look at how the FPX is built compared with the garden-variety wall plug is educational. Furutech obviously takes care and pride in every aspect of the design, materials, and production of their products. This receptacle will outlast you and me, no matter how we abuse it.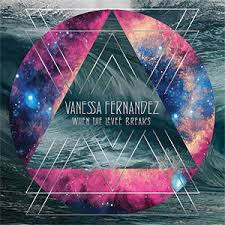 Sonically, the improvements that the replacement of just one AC receptacle made in my system are sufficient to call the FPX a bargain. Many good products can bring out the small details in the music so you can get a more complete sonic picture of what's going on. But harder to find is the component that can do this without a concomitant increase in brightness or harshness. Vanessa Fernandez's 2016 tribute to Led Zeppelin, When The Levee Breaks [Groove Note SACD], has some audiophile credentials: mastering by Bernie Grundman, and even Kubala-Sosna cable used in the recording session. Rock veteran Jim Keltner does some great drumming as Vanessa's powerful voice knocks it out of the park on "Ramble On." As the volume increases, things can harden up with the wrong system. But you won't find the FPX contributing to that. At the same time, all the intricacies of Vanessa's voice and her guitar accompaniment are wonderful to behold. For those of you who have read online that rhodium sounds "hard," don't worry – it doesn't in this product.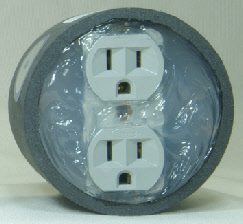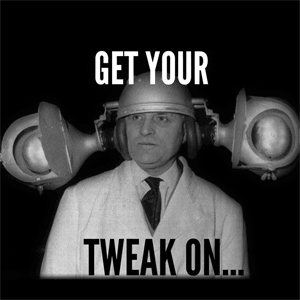 Wow! What more could I ask for? Well, one more thing occurred to me: There was no AC filtering on this second dedicated line except for the very rudimentary filter in the ExactPower unit. So, online I went, and found Blue Circle Audio, a company in Ontario owned by one Gilbert Yeung, who appears to be one of the most prolific audio designers in the world: Blue Circle makes amps, preamps, power filters, cables, DACs, and speakers – whew! Browsing through the site brought me to one of Mr. Yeung's more recent creations, the "Puck" power line conditioner (PLC). It utilizes the trickle-down technologies from Blue Circle's more expensive AC products (anywhere from $160 to $4495), and it costs…one hundred dollars! The Puck is a plug-into-the-wall PLC that is encased by ABS pipe (think PVC – only slightly different) about four inches in diameter. The circuitry is potted inside the pipe using silicone sealant, with a duplex receptacle on one side, and a three-pronged AC plug on the other. That's it! The Puck can be used by itself, or you can plug your present PLC into the Puck, and the Puck into the wall (as I did). There's no current limiting – all circuitry is in parallel to your AC line.

But here's what makes the Puck different from almost all power conditioners (excluding Blue Circle's own): Aside from the usual high-frequency filtering, the Puck has an additional circuit for lower frequencies…and I mean frequencies well within the audio band! How low can you go? Mr. Yeung says only that as long as you don't filter out the 60Hz AC, you're OK. This, I believe, accounts for the differences I hear between the Puck and most other PLC's.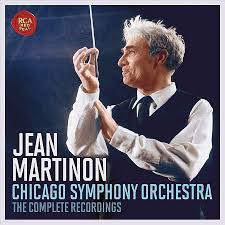 I have a confession: I HATE the clichéd reviewer's phrase "music emerged from a blacker background." However, … the Puck was causing that very thing! On Bizet's Symphony In C (Martinon/Chicago Symphony, RCA CD), second movement, when the solo oboe begins, the effect is startling. The instrument seems alive, along with the air around it – and yeah, that background is silent! Same effect with the individual instruments on Miles Davis' Kind Of Blue (Columbia SACD). And this from a $100 power line conditioner! With the quality of our AC feed getting dirtier all the time, Mr. Yeung is onto something with his low frequency filter.

Stereo Times' own Mike Wright has reviewed a couple of Blue Circle's more expensive AC conditioners (during his days with SoundStage), and he says they're remarkable too. But the Puck was perfect for my situation. Don't worry about the way it looks – listen to what it does!

I paid retail for both of these items – no reviewer discount – and I couldn't be happier. For the grand total of $225 plus tax, my system has taken several steps upward. If you haven't replaced your AC receptacle(s) yet, pick up any of the fine Furutech FPX or GTX models. And if you've not yet gotten into power conditioning, or if you want to add more, you can't go wrong with the Blue Circle Puck PLC.
Be a big spender – get 'em both!



dave allison
Specifications:
Furuitech FPX-(R)
Non-magnetic 24k Gold-plated Phosphor Bronze conductor (t: 0.8 mm)
Accommodates cable diameters from 10 AWG to 24 AWG.
Dimensions: 104.2mm×33.5mm (L×W), 28.2mm thick.
Materials: Main body-Nylon and Glass Fiber Cover-Polycarbonate White for FP-15A-N1(G)and Black for FP-15A-N1(Cu)
Connections: Set-screw
Price: $125.00
Blue Circle Audio Puck Power Line Conditioner
Number of outlets: 2
Dimensions: 5″ dia x 4″ long
Shipping weight: 2 lbs.
120v/240v support
Price: $100.00
Address:
FURUTECH CO.,LTD.
Furutech Bldg., 3-9-1 Togoshi, Shinagawa-Ku, Tokyo 142-0041, Japan
+81-(0)3-6451-3941
Website:www.furutech.com
Blue Circle Audio
RR2
Innerkip, Ontario
Canada N0J 1M0
(519) 469-3215
Website: www.bluecircle.com
Stereo Times Masthead
Publisher/Founder
Clement Perry
Editor
Dave Thomas
Senior Editors
Frank Alles, Mike Girardi, Key Kim, Russell Lichter, Terry London, Moreno Mitchell, Paul Szabady, Bill Wells, Mike Wright, Stephen Yan, and Rob Dockery
Current Contributors
David Abramson, Tim Barrall, Dave Allison, Ron Cook, Lewis Dardick, Dan Secula, Don Shaulis, Greg Simmons, Eric Teh, Greg Voth, Richard Willie, Ed Van Winkle, and Rob Dockery
Music Reviewers:
Carlos Sanchez, John Jonczyk, John Sprung and Russell Lichter
Site Management  Clement Perry
Ad Designer: Martin Perry