Capital Audio Fest 2013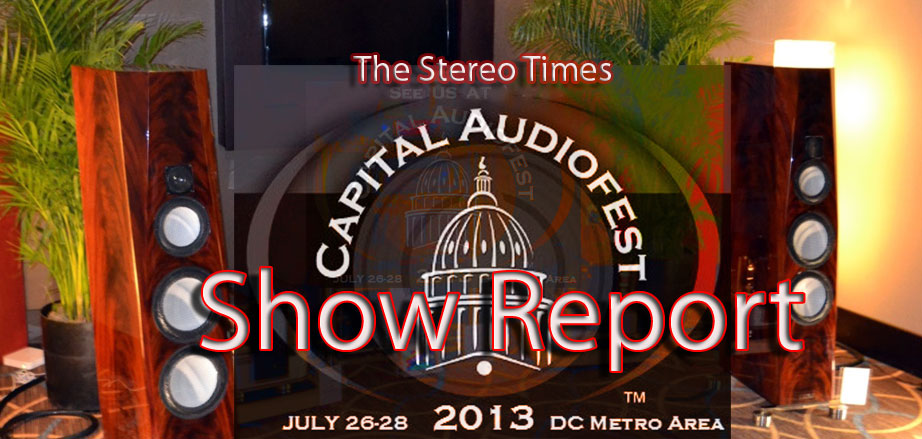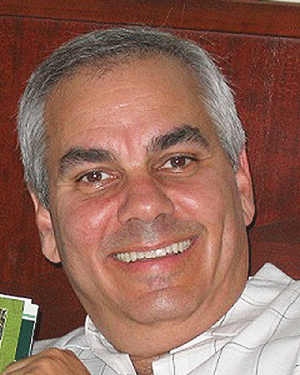 Ok… I had been to this show several times before. It was fun from a audiophile nerd's perspective, close to home, and an easy truck down 95 South and around the Capital Beltway, so why not volunteer to cover the show again. I was sure it would be another pleasant experience. BUT, hold on to your cables my good friends because this year's show was IMHO much more than just pleasant. It was AWESOME!!! Even perhaps for a non-audiophile nerd.

The 2013Capital Audiofest, held July 26-28th at its new venue at the Sheraton Hotel in Silver Spring, Maryland, was more like a musical adventure. I was shocked by just how many good sounding rooms I staggered into. I say staggered not because I was drinking heavily, but because one of the elevators was out, so steps were a more viable option, unless you wanted to spend your time waiting for the next electronic lifting system.
While quite a few vendors were repeats from the prior year, the room setups were vastly more enjoyable and musical to these ears. I am not saying that the prior two shows were not good, they were. But, this time I was admittedly taken aback by how much better room after room seemed to be, especially given the constraints of room size and general show limitations. My expectations, and those of my buddy Joe, who also attended the show the past two years, were relatively tempered, given the repeat of many vendors. Like many shows, not having your own room of choice to tweak for months obviously has its inherent limitations, so I generally have no expectation of consistently good sound in a show environment.
As I ventured from room to room, I kept looking at my cohort and we both shook our heads in disbelief over the consistently impressive sound. I don't want to sound like an audio geek, but it was actually a pleasure to spend 8 hours (minus a short lunch buffet break) perusing the exhibits and before I knew it the day had flown by. While I missed the audiophile music vendors from the prior years, there was a nice batch of used vinyl to choose from, and I managed to pick up a few nice things to take home with me. So life was good.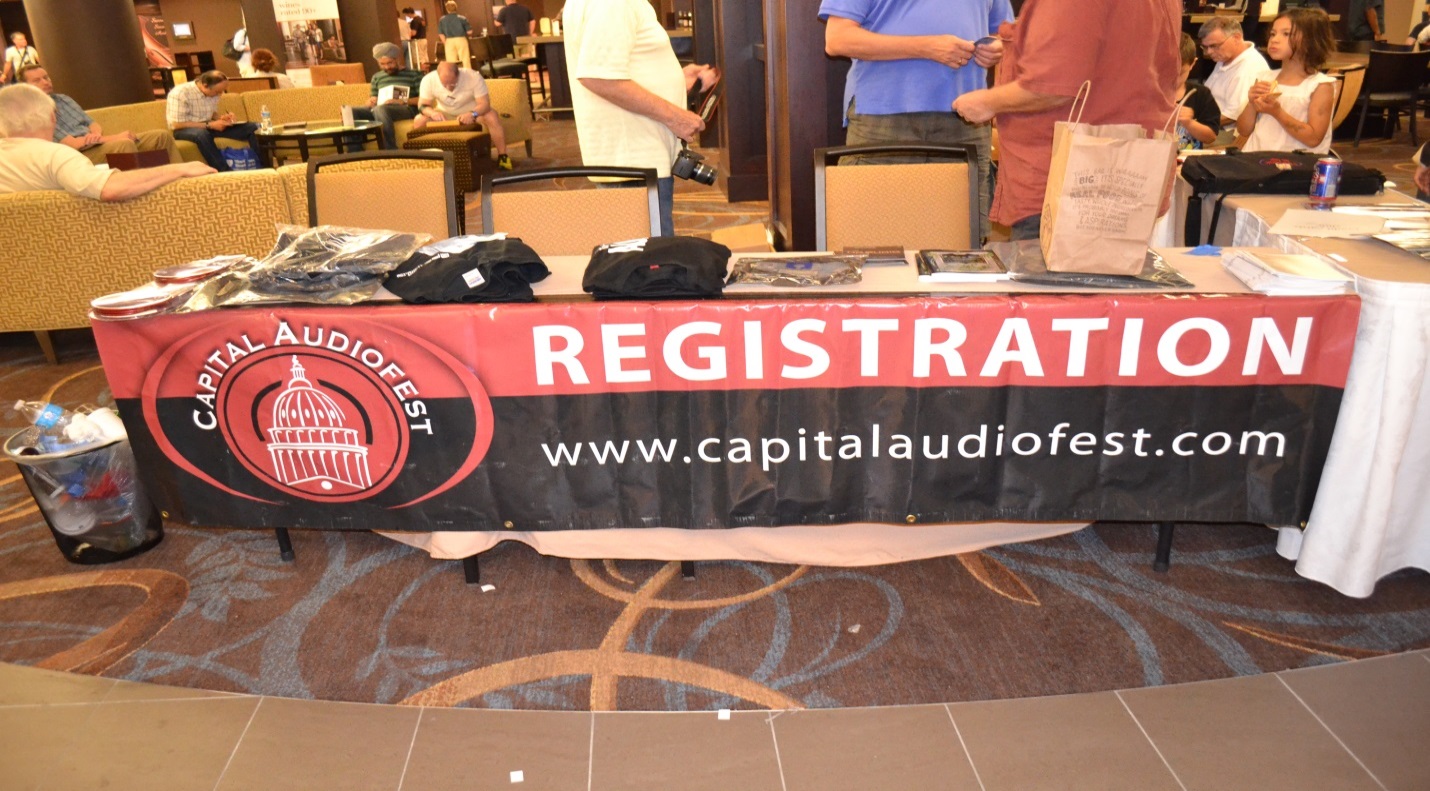 First up on my agenda, not by choice, but simply because it was on the first floor in front of me, was Pennsylvania based audio dealer The Voice That Is, who was setup at the last Capital Audiofest, and provided a nice warm up for a day of listening pleasure.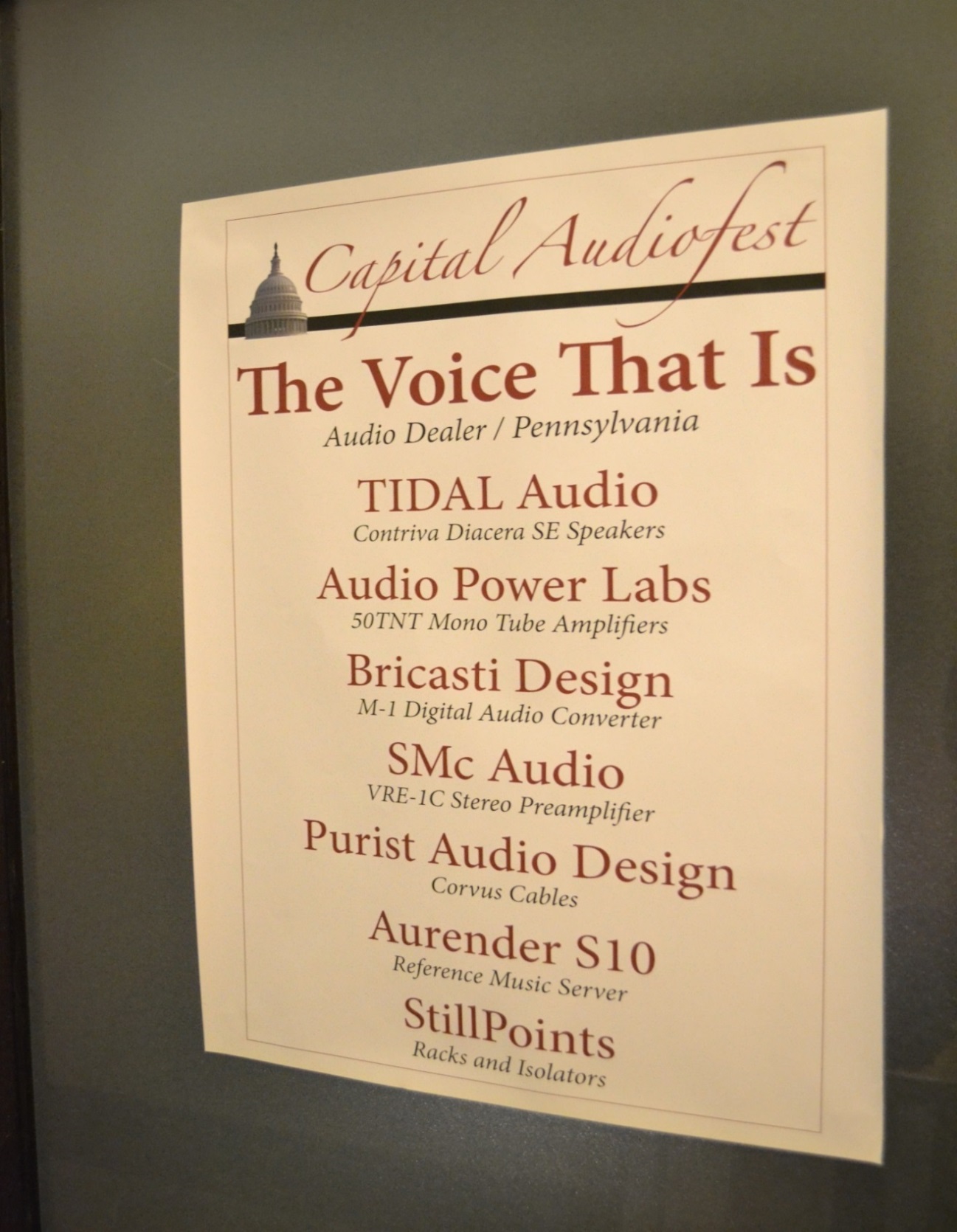 The The Voice That Is lineup was not only beautiful to behold (as show below), but presented a very realistic musical presentation that was smooth, yet sufficiently detailed that subtle nuances in the music were easily discearnable.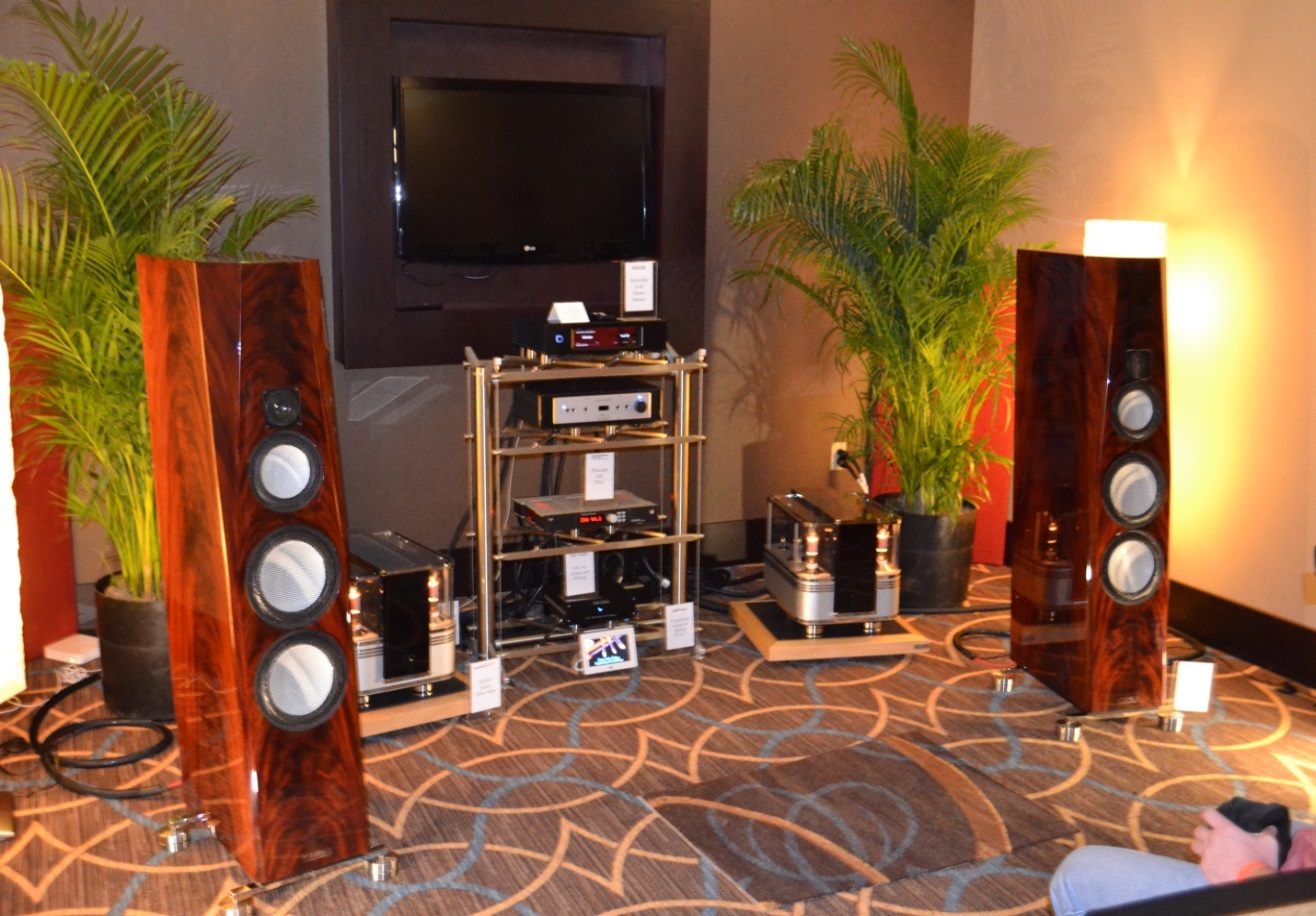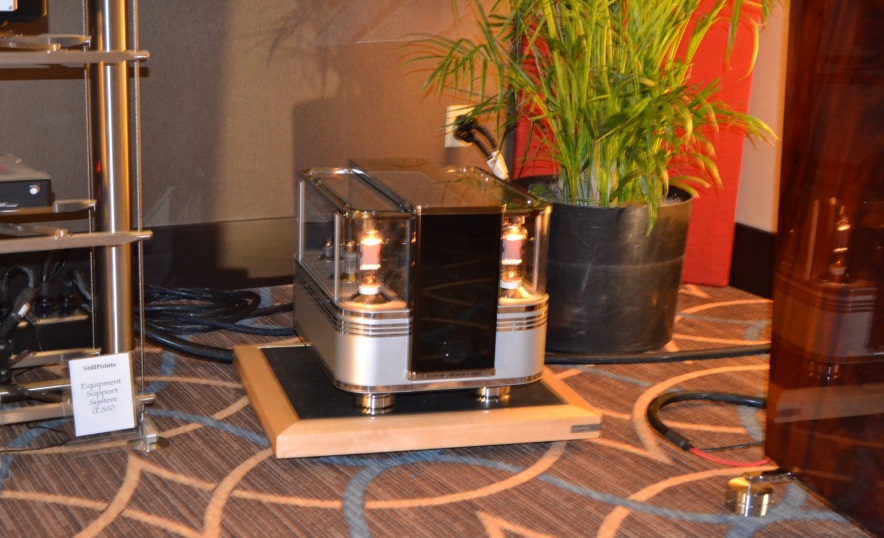 The Tidal Audio ContrivaDiacera SE speakers not only sounded great, but the fit and finish was first rate. They were a match made in heaven with Audio Power Labs 50TNT mono tube amps.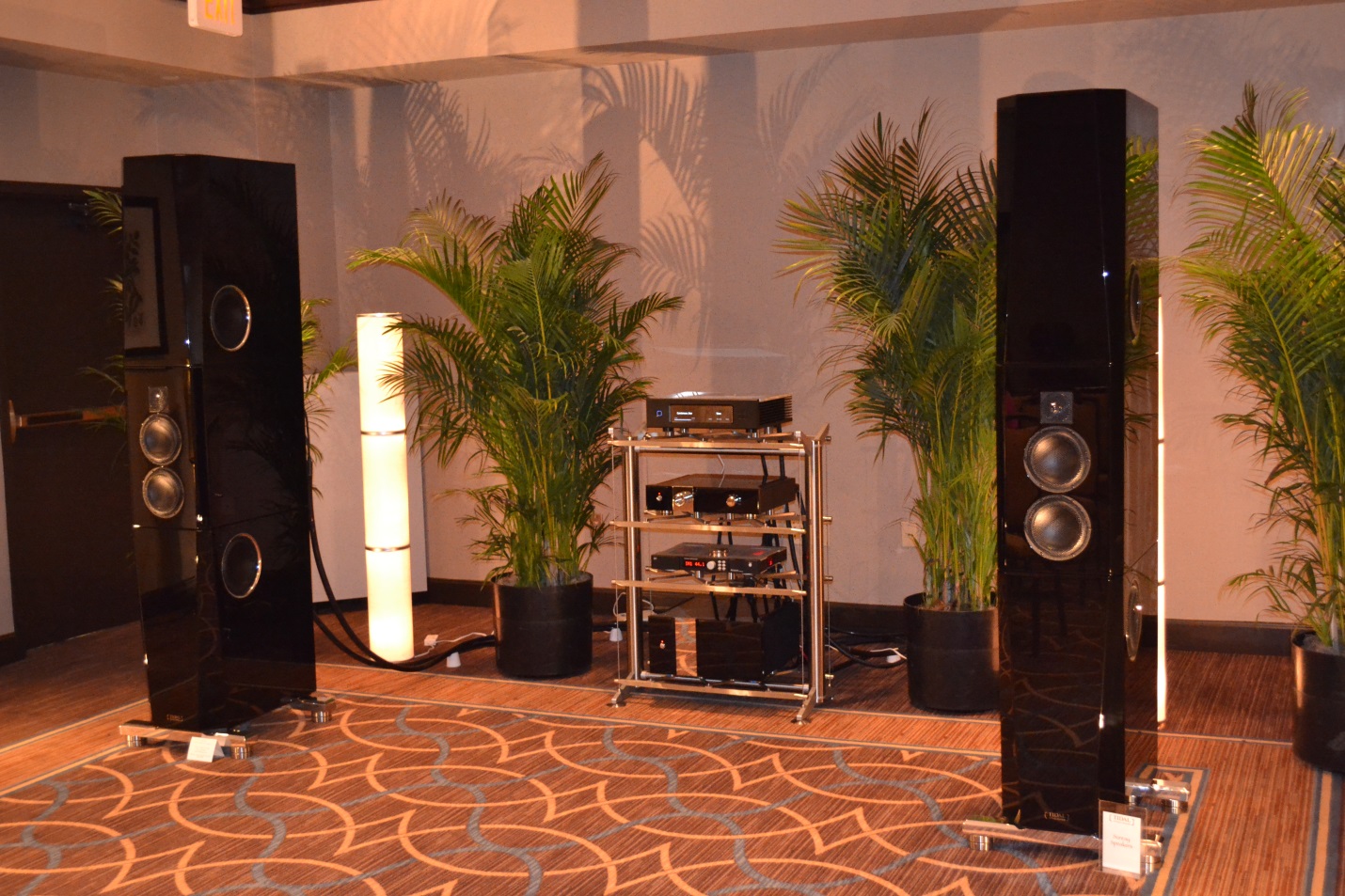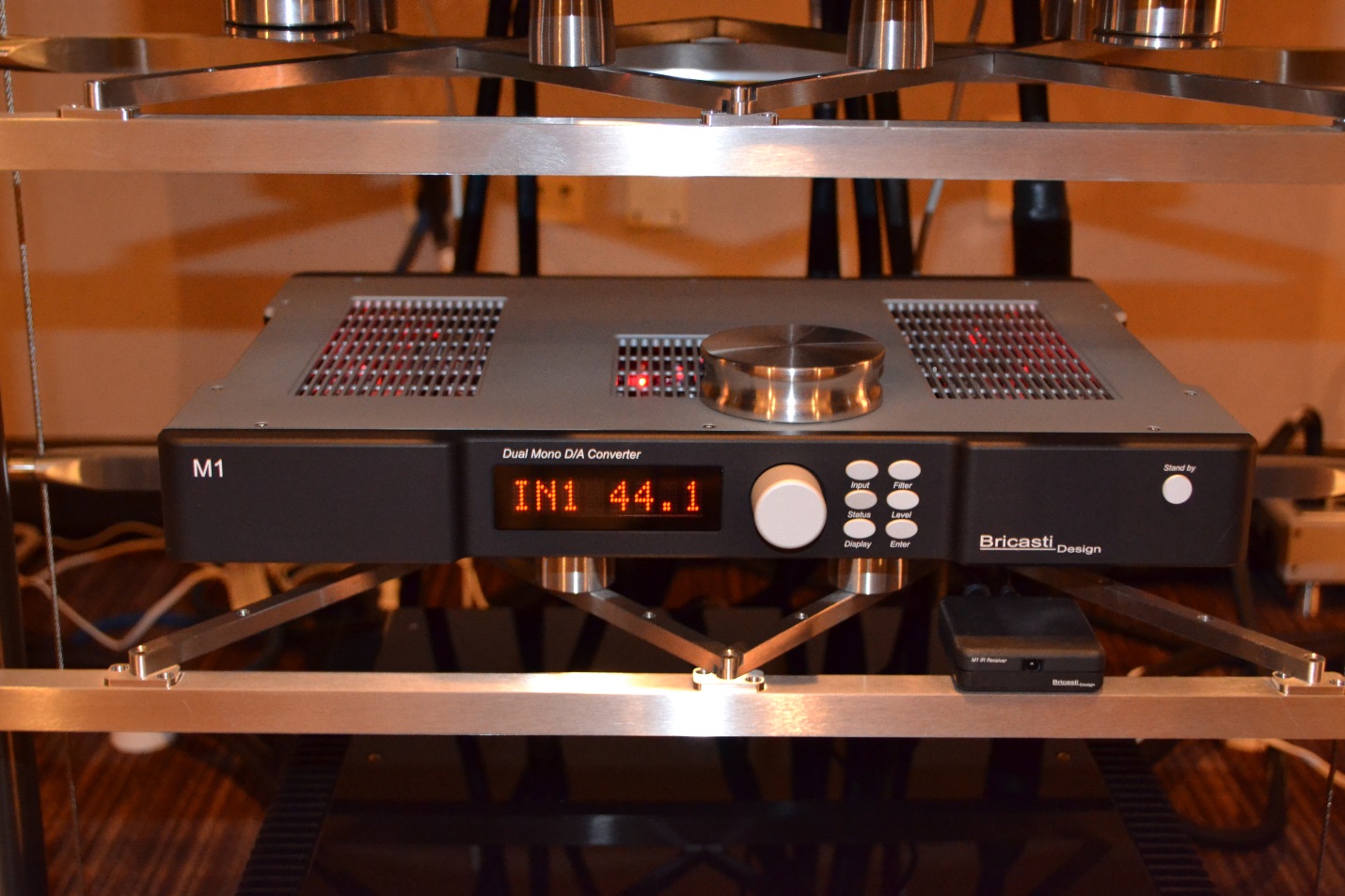 The Voice That Is also presented the awe inspiring Tidal Sunray speakers ($154,900/pair), using the Aurender W20 music server ($16,800) and Bricasti M1 ($8595 photo above) D/A processor. I wish I could get the Sunrays into my listening room without being noticed, but I suspect not. Thank goodness each speaker consists of three pieces that bolt together, or a crane would be mandatory to get these babies into the house. A ladder is definitely required to dust the tops. However, it may be worth the trouble given the goose bumps that I experienced when listening to Shelby Lynne sing Just A Little Lovin through the Sunrays. Amazingly realistic.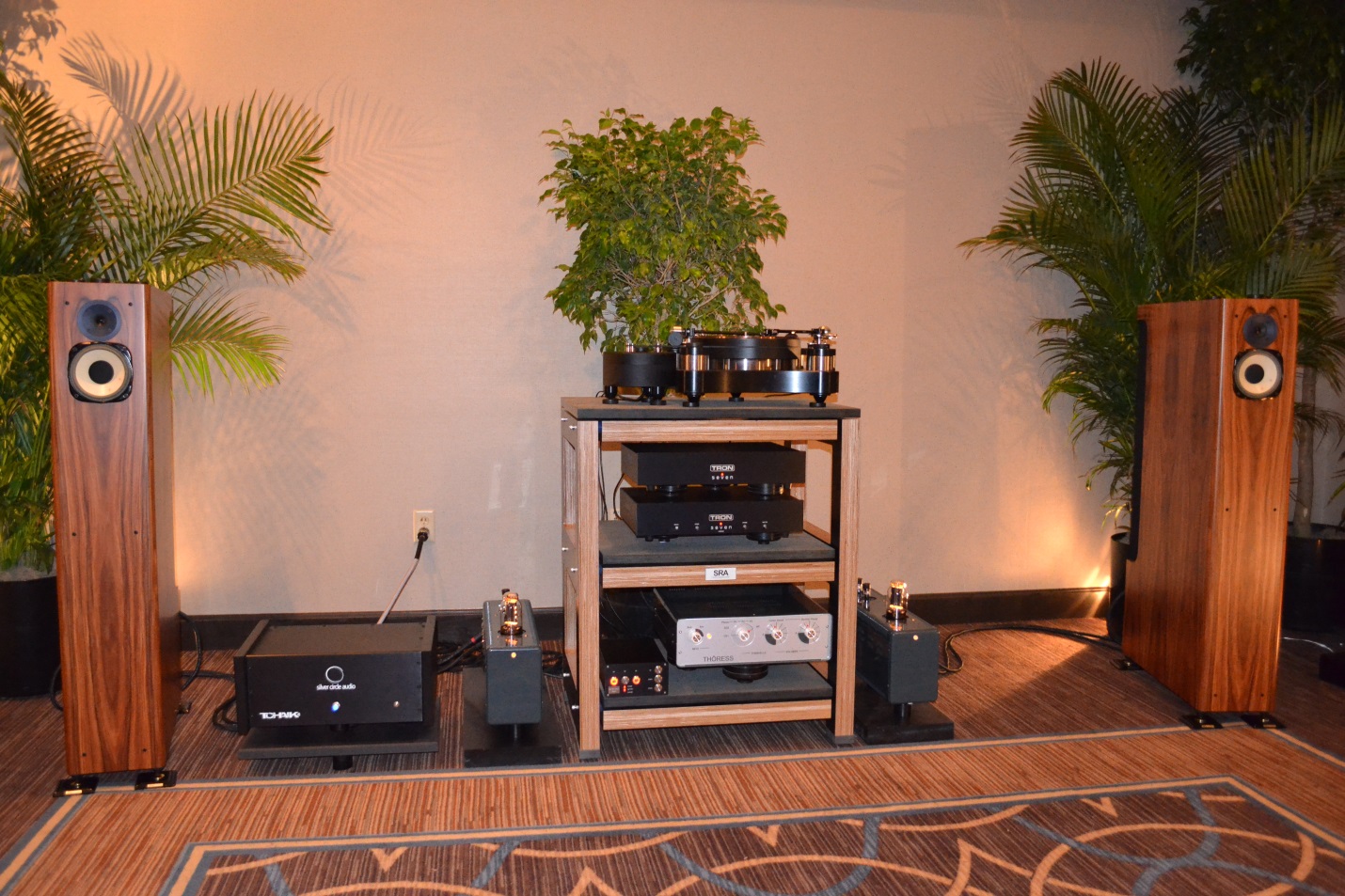 Jeff Catalano of High Water Sound, who always seems to provide a top-notch setup of vinyl-sourced listening pleasure, yet again had an outstanding system setup. Jeff managed to top his prior year's offering. Matching Horning EufroditeZigma Plus speakers ($24,000) with aT.W. Acustic Raven AC w/3 motor system vinyl front end, T.W. Acustic 10.5 tonearms w/ Miyajima Shilabe stereo ($2,600) and Miyajima Zero mono ($2,000) cartridges, Tron Seven GT Phono Stereo and Mono Preamps ($18,000, each), Thoress Systems 845 SE Mono amps ($14,000) and Thoress preamp (unnamed, $9,000), this system drew me into the performance with its huge sound stage and musical presentation. While Jeff said he had a tough time setting up the room properly, he must have done a good job because I had trouble pulling myself away.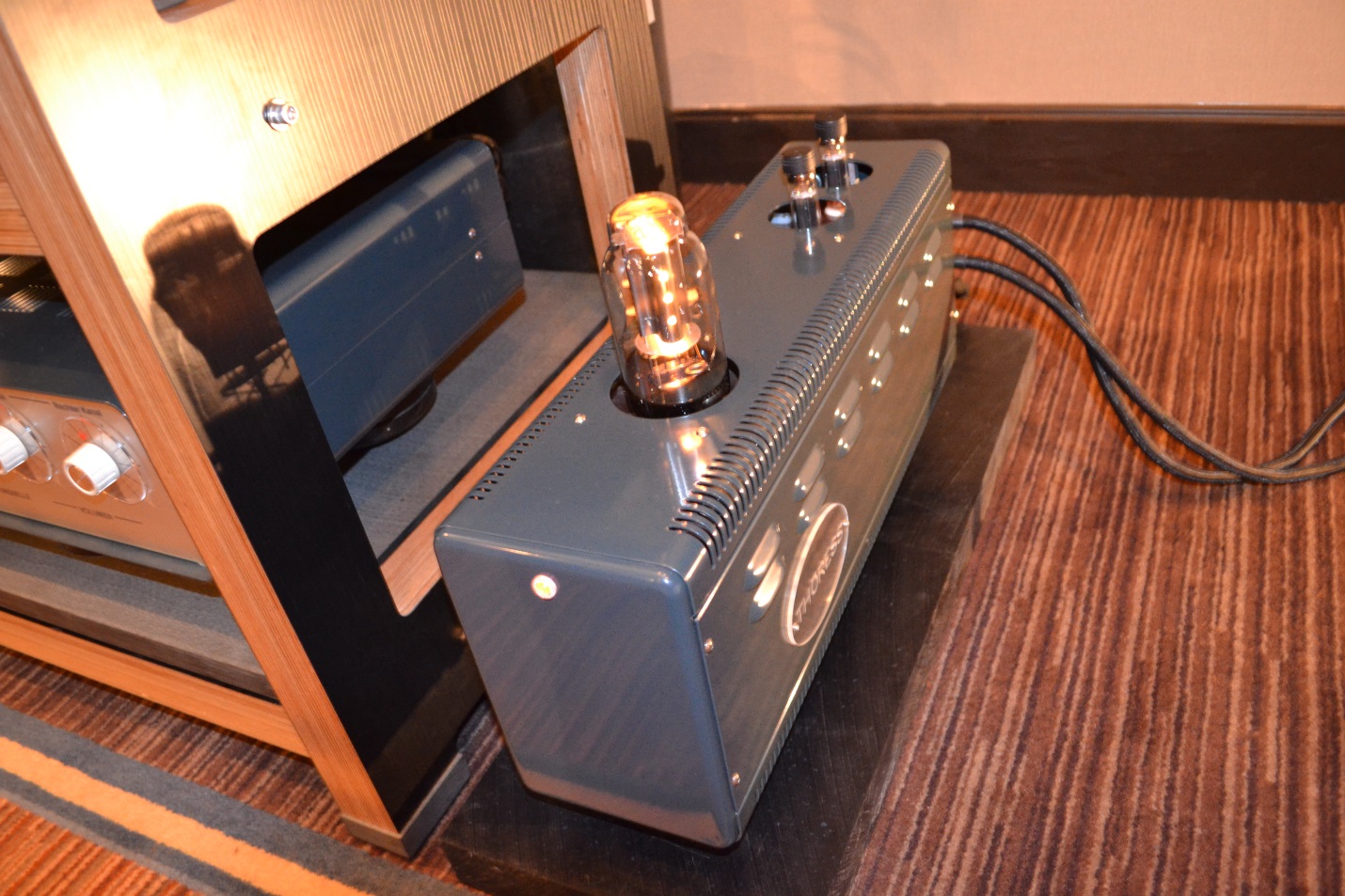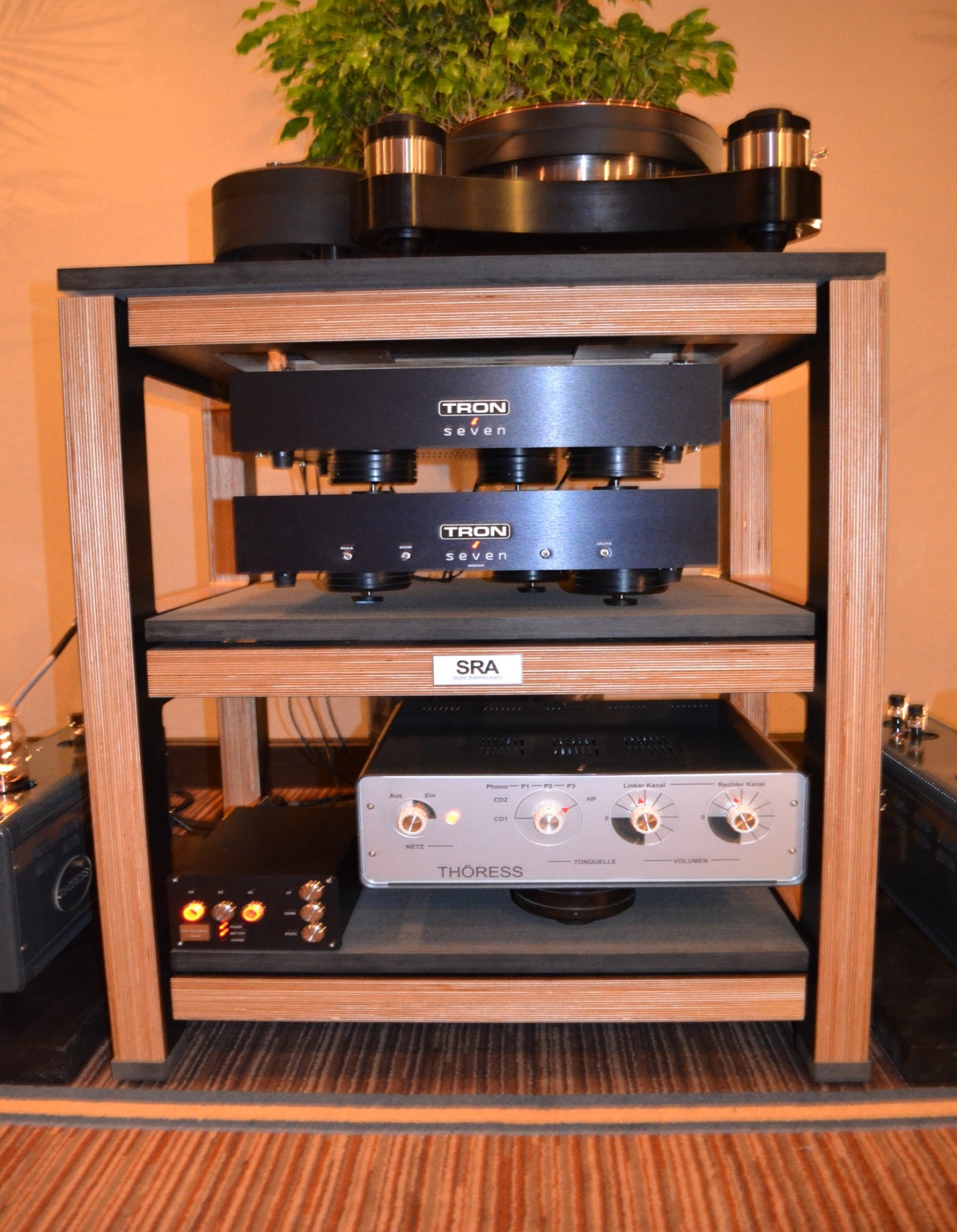 The Thoress Systems 845 SE was not only extraordinarily musical, but also had a really cool vintage look.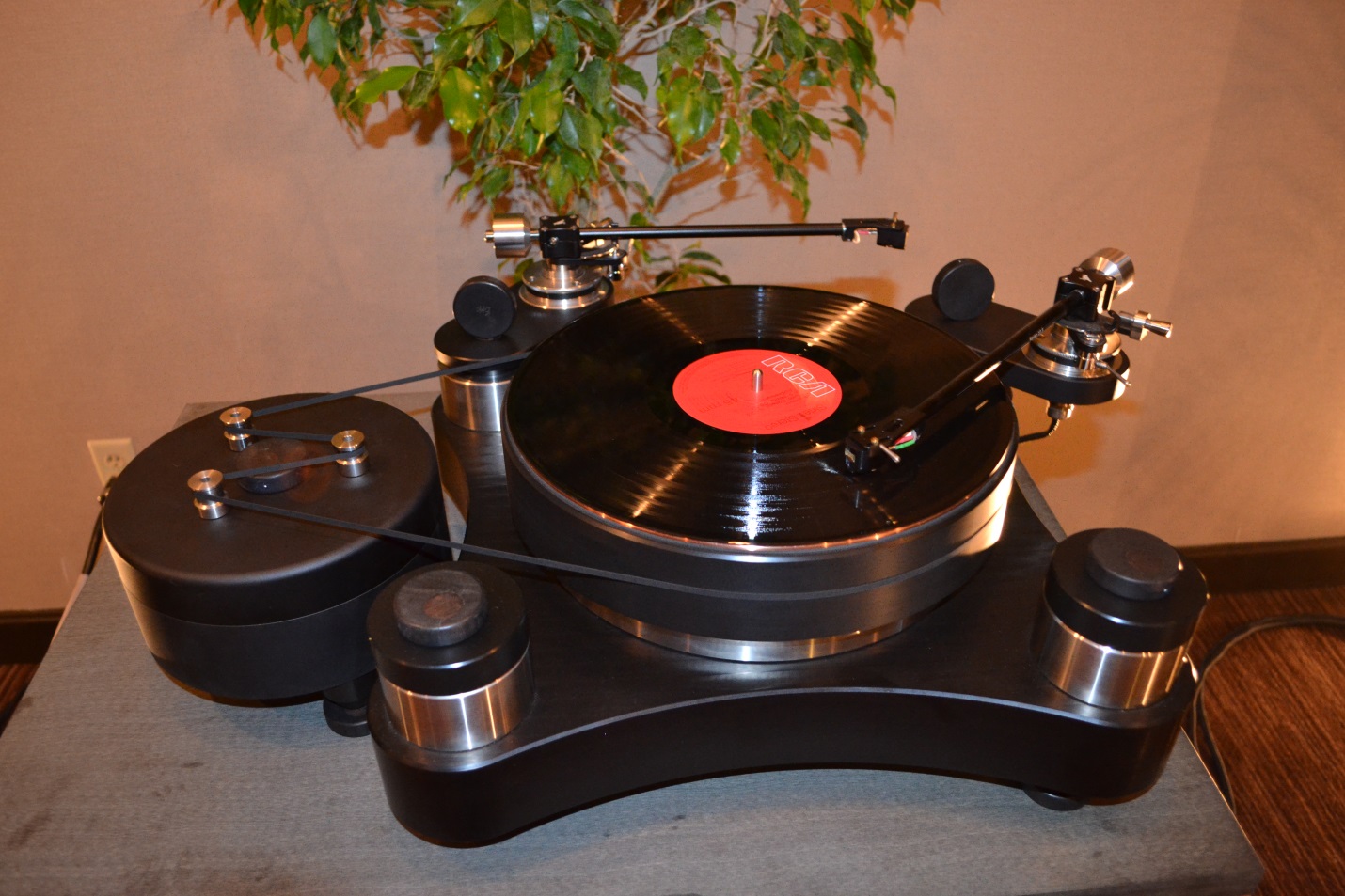 I wanted to pack up the T.W. Acustic Raven AC along with its 3 motor system and take it home with me to see just how much better it is than my Raven One.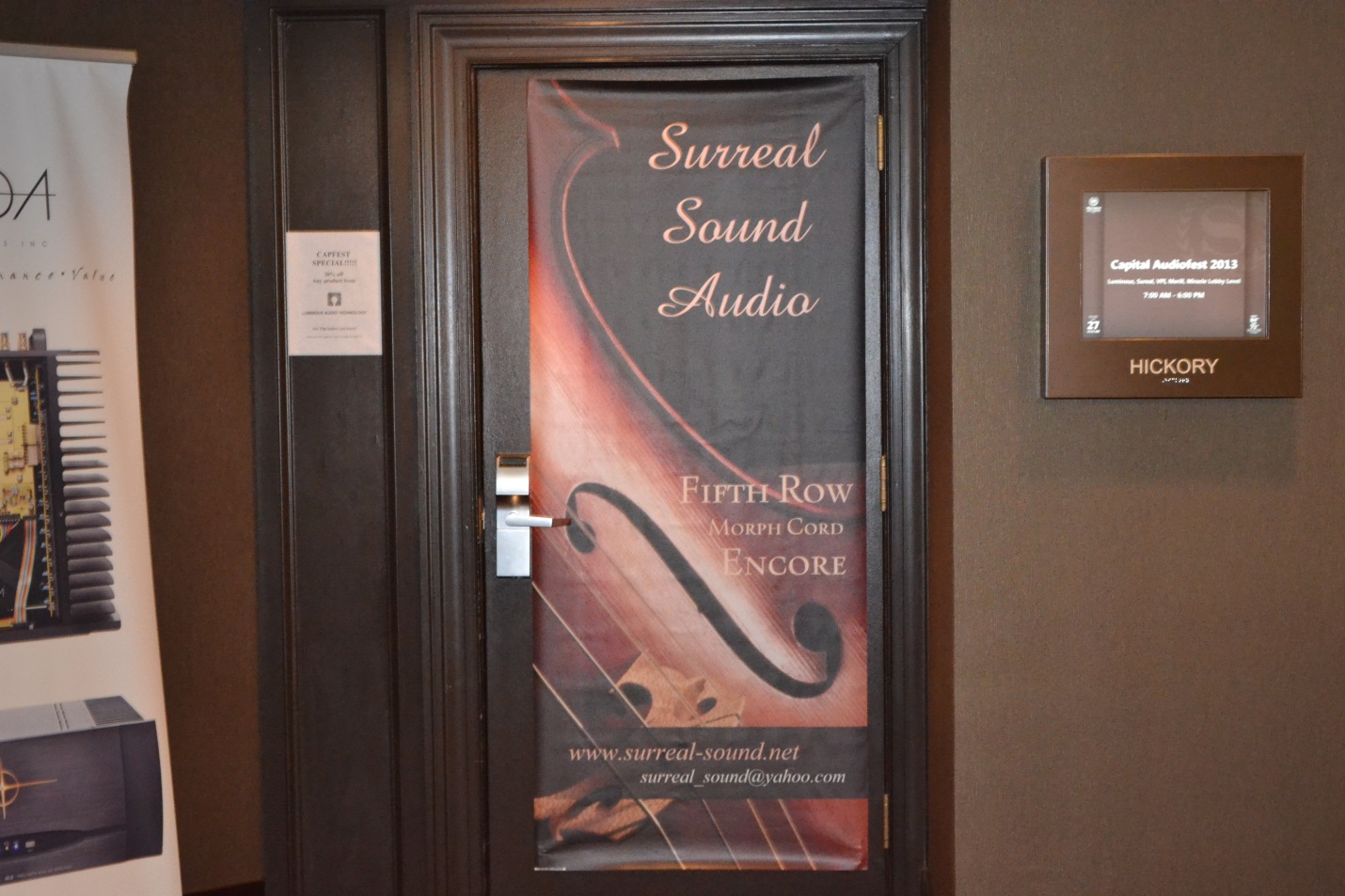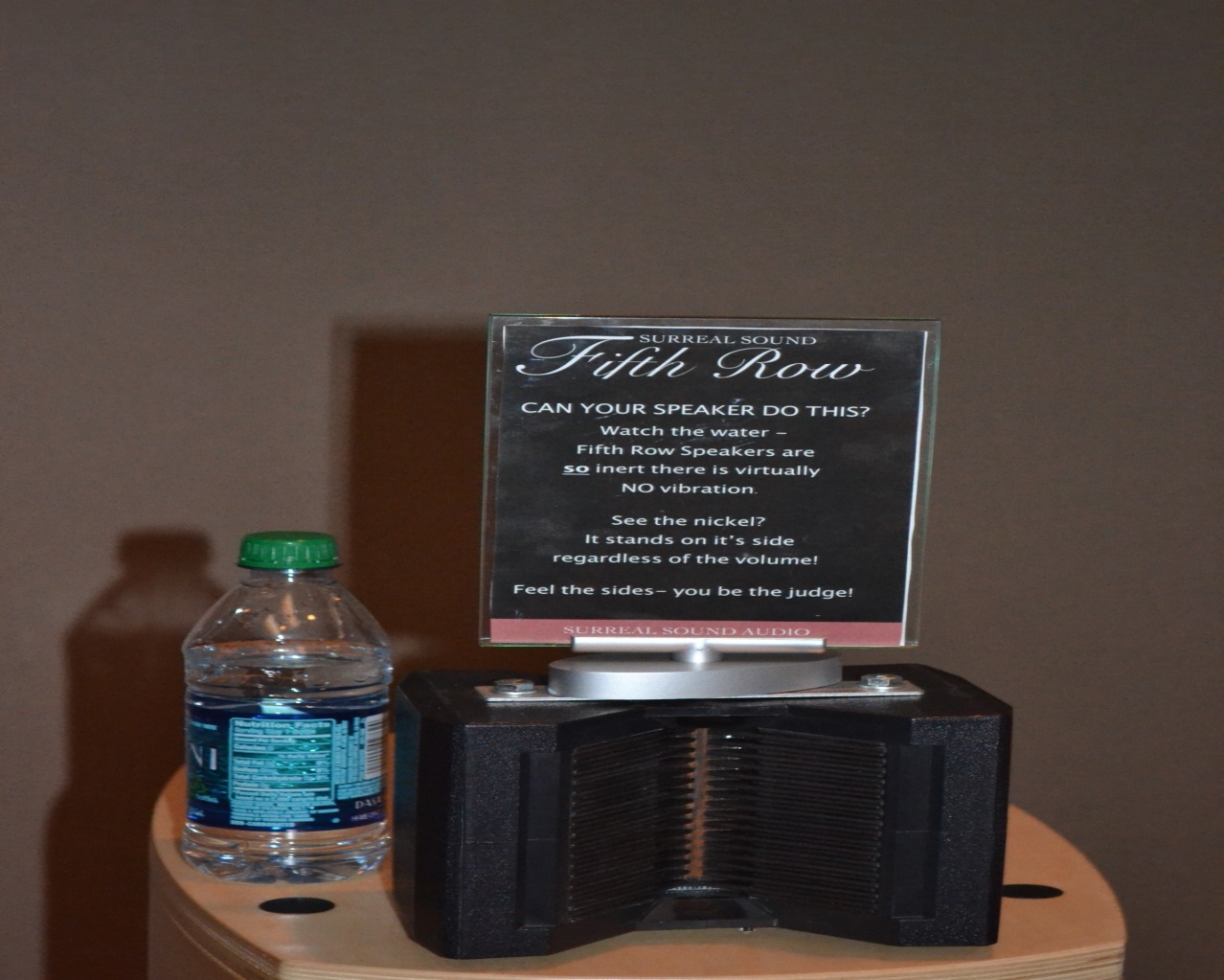 Surreal Sound Audio was another vendor that stepped up its performance over the prior year. The customizable Fifth Row speakers ($27,000) driven by Merrill Audio Veritas mono blocks ($12,000/ pair) sounded and looked much better than last year's system. According to Surreal, some significant improvements were made to the speakers. The ESS Tweeter sitting on top of the speakers, which was not present last year, definitely brought out details in the top end, which helped to add balance to the Fifth Row's extrodinarily full and powerful bottom end. When the needle of the VPI Direct Driveturntable ($30,000) dropped on Muddy Waters Folk Singer album, Muddy definitely sounded like he was in the room.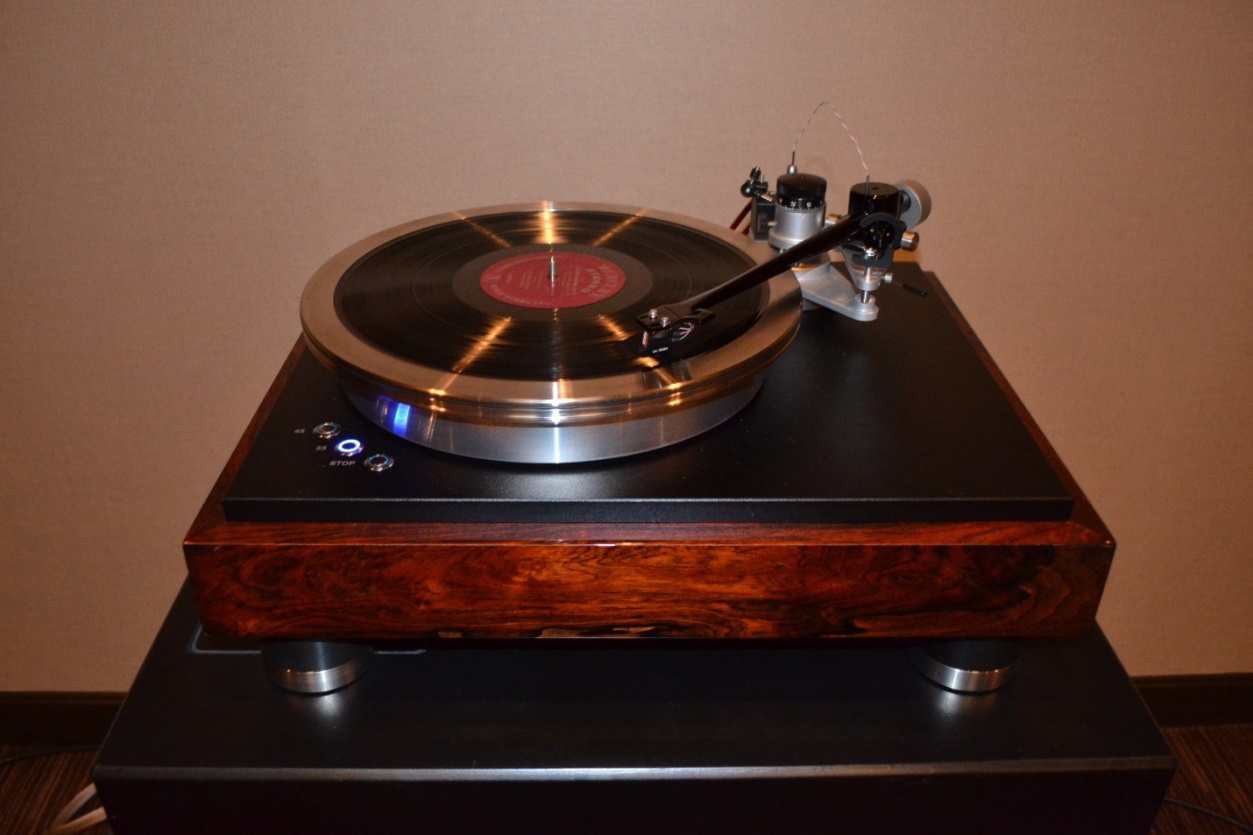 The sound of the VPI Direct Drive turntable was definitely as fine as its looks.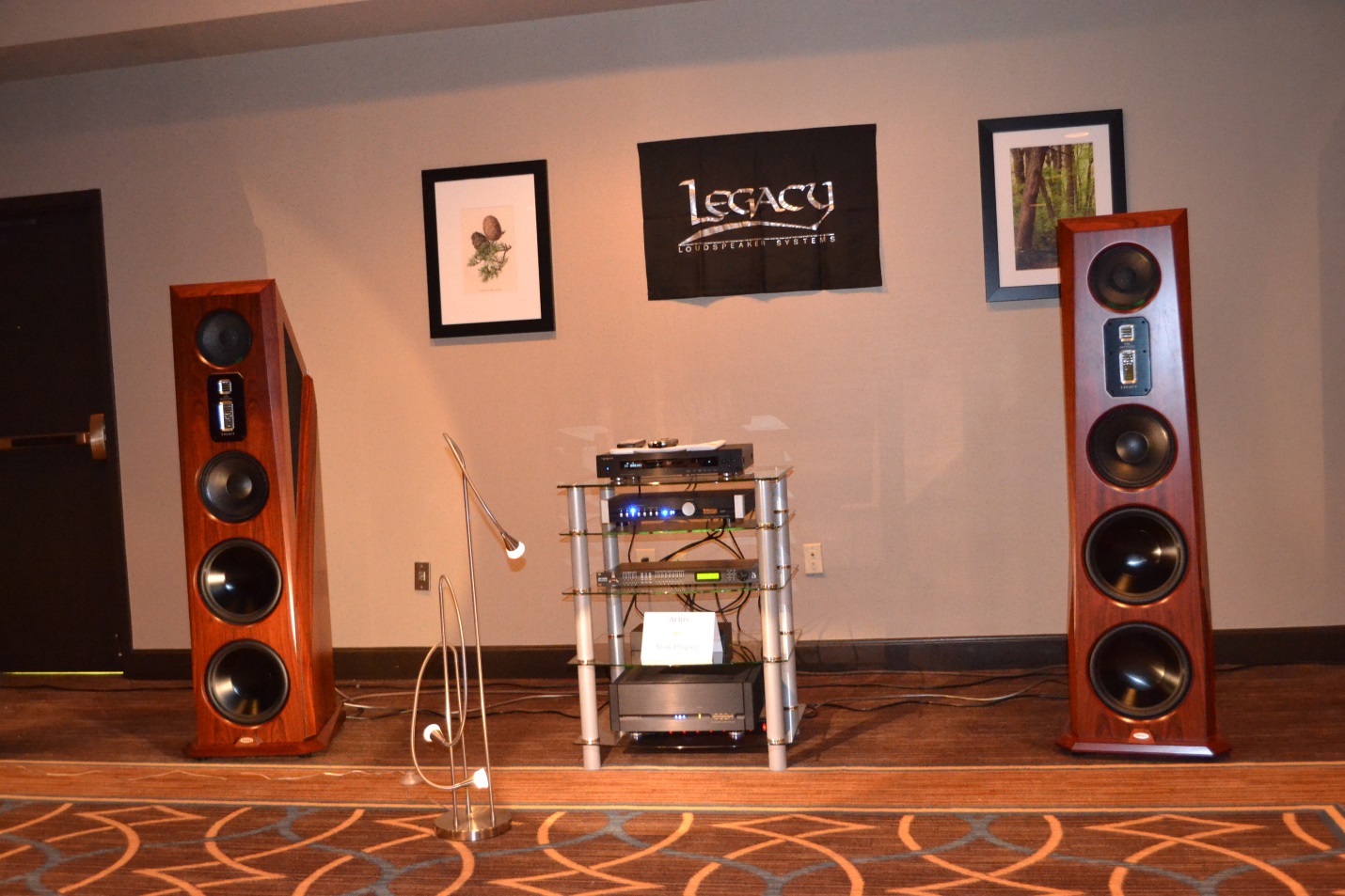 I was anxious to get to the Legacy room, having remembered Legacy as a top performer at the last Capital Audiofest. This year was no different.The Legacy Aeris speakers ($17,750 to $19,500 depending on finish) (shown with Rosewood finish), with its 1000 watt internal amp for the bass drivers, was one of the most realistic sounding speakers at the show. The Aeris was driven by a Coda TS Amplifier, Coda CP preamp, with an Oppo 93 CD player on the front end. The cutouts on the side allow you to see into the speakers, but more importantly, these speakers definitely allowed you to see into the musical performance.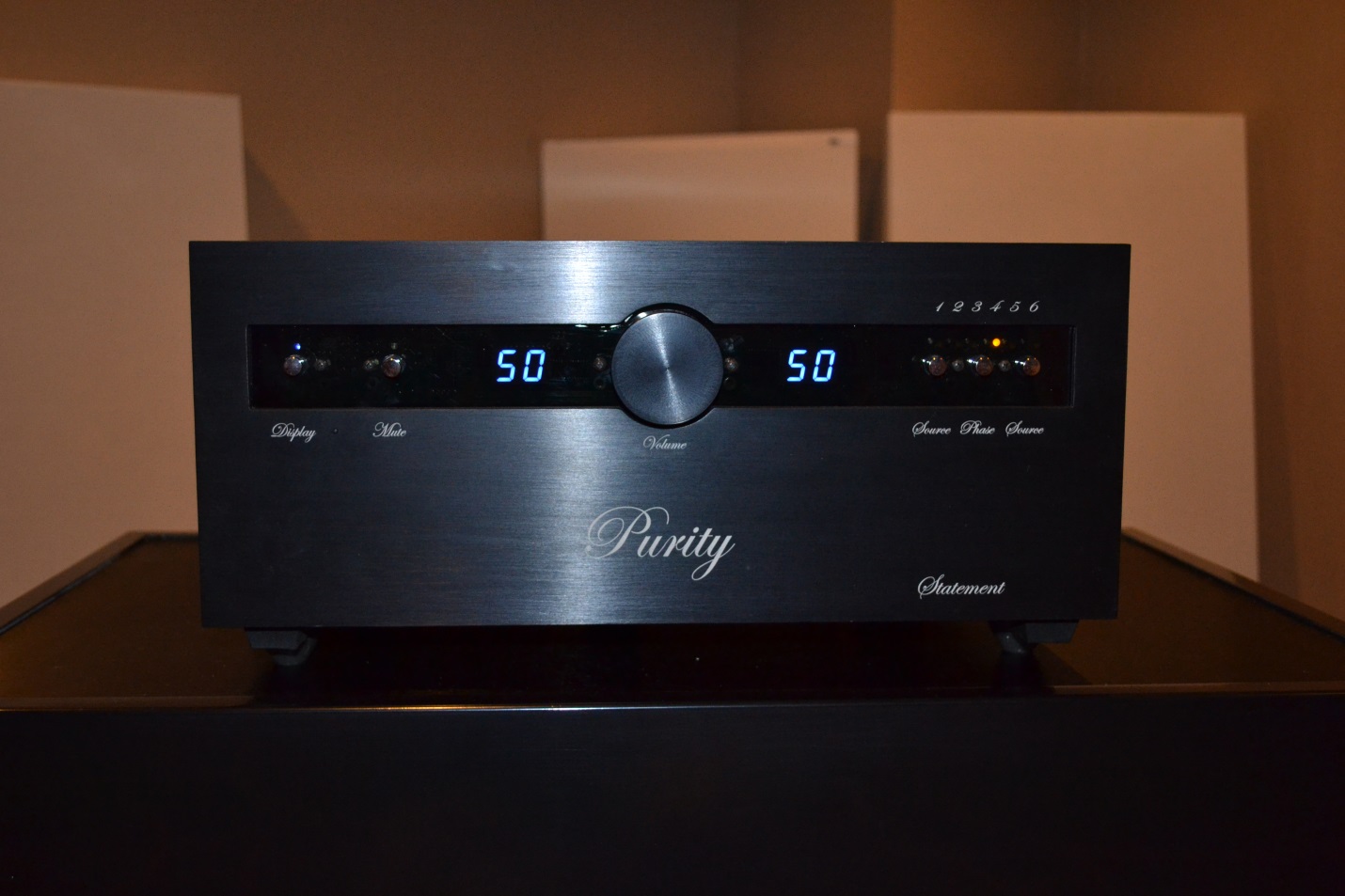 Daedalus Audio's latest version of the Argos speakers ($12,950) presented a deep and wide soundstage driven by ModWright's KWA 150 Signature Edition amp ($8495), using the megabucks Purity Audio Silver Statement Line Stage ($31,995).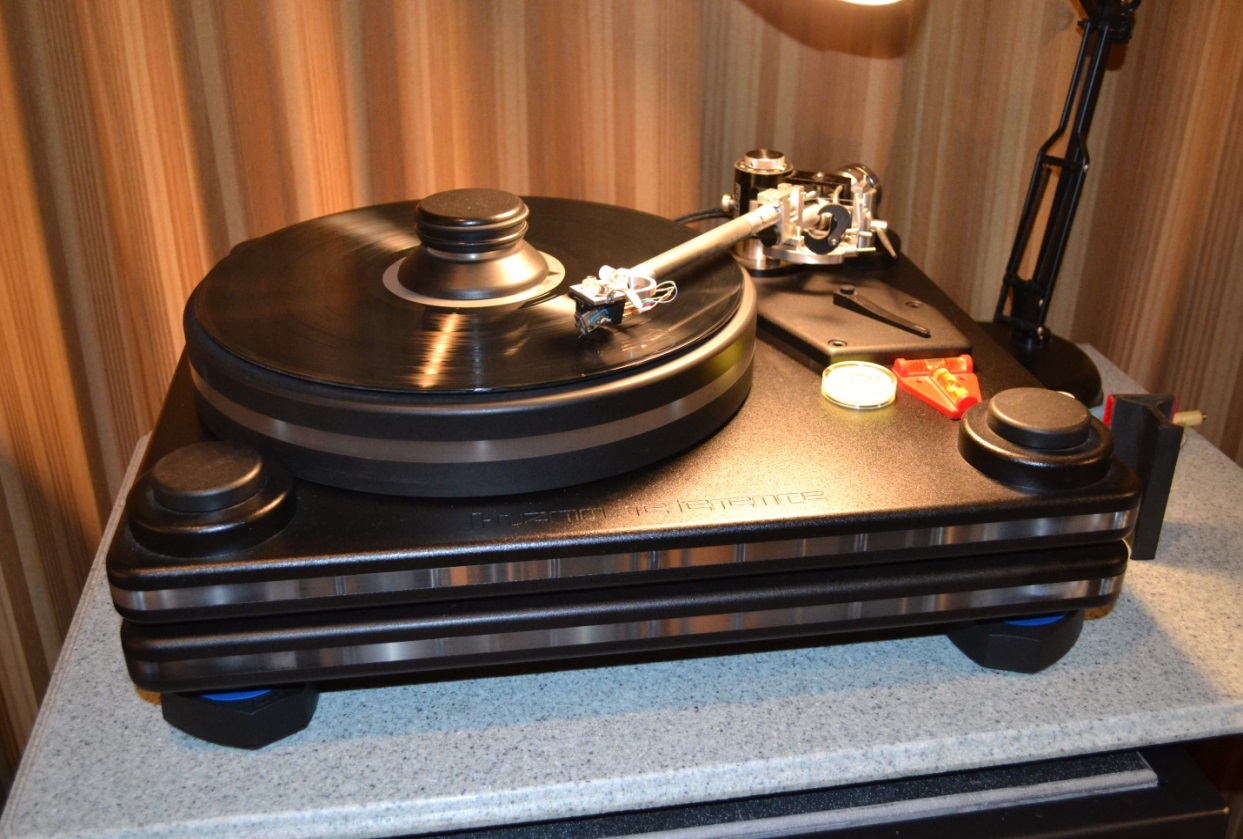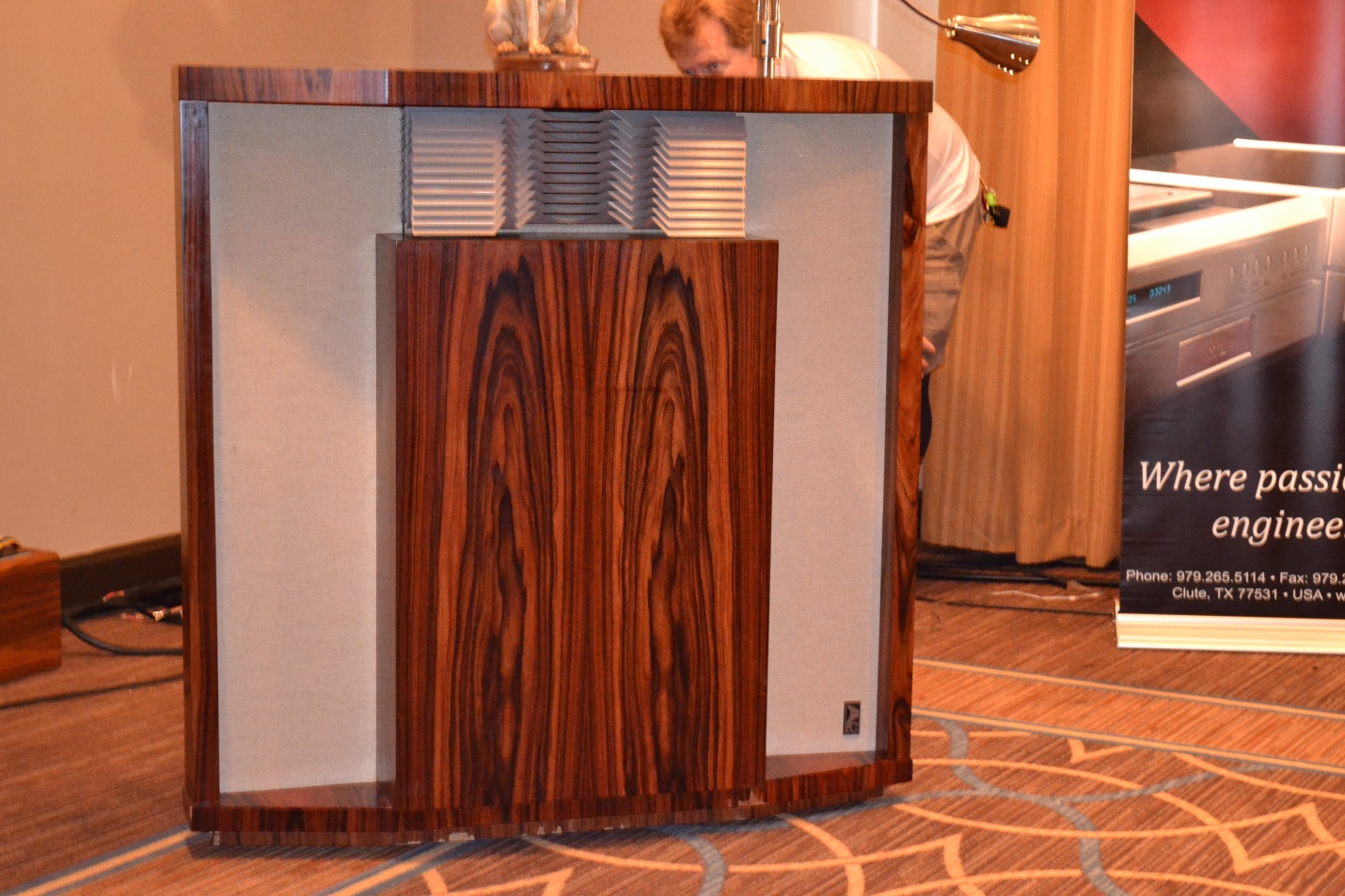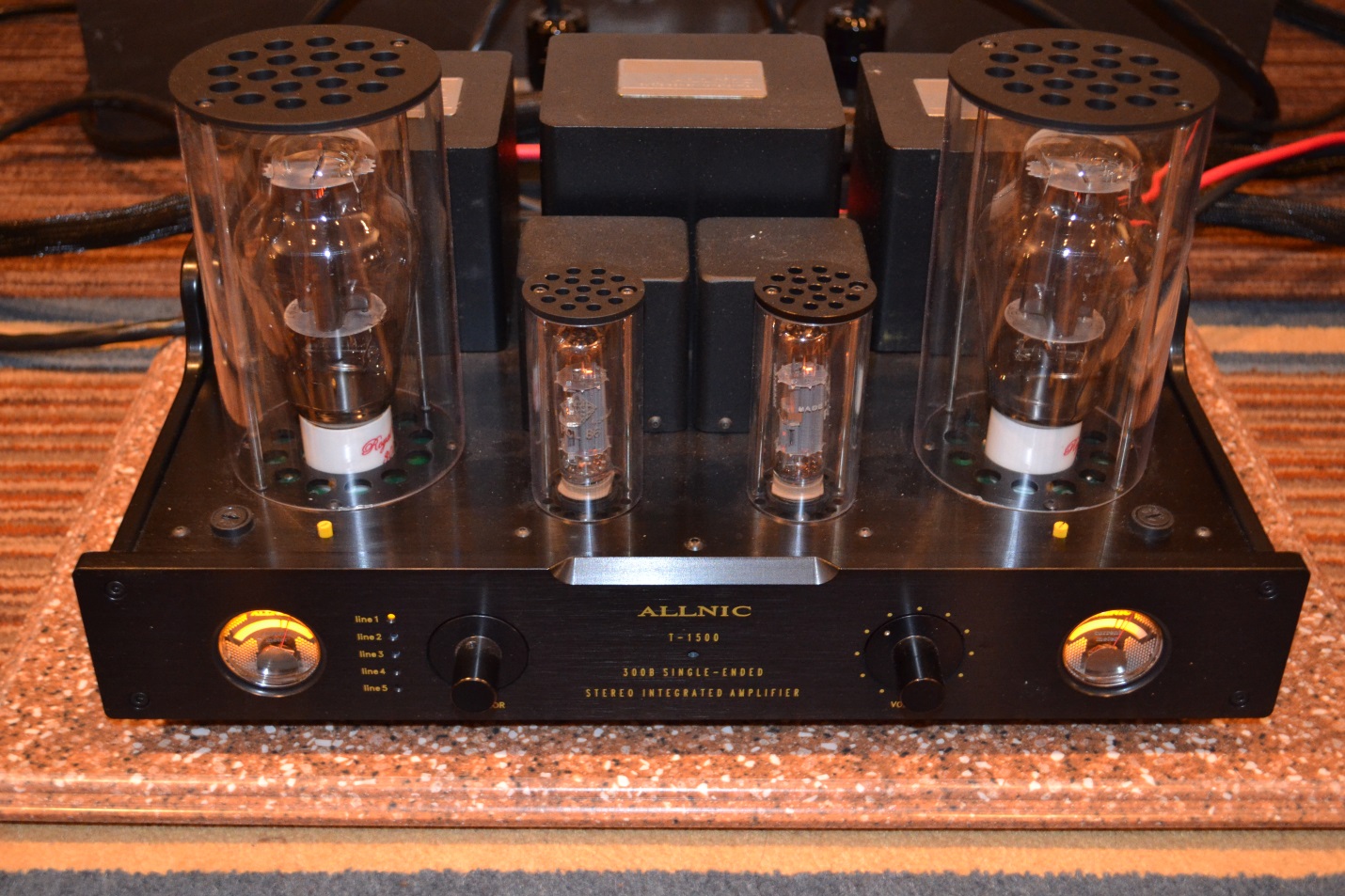 The Kuzma StabiReference turntable mounted with a Tri-Planar arm sounded amazing with the Hartsfield speakers ($36,500) driven by an Allnic T-1500 Stereo SET ($7,950)amp. I own a Reference and love its linear smooth performance. The hand built Hartsfield speakers sounded like live music, and seemed to be a bargain, especially at the $27,500 show special price. I have seen hand built speakers using a lesser magnitude of quality parts costing quite a bit more. The Hartsfield is essentially a reproduction of the original Hartsfield speaker system that was introduced in 1954 by the James B. Lansing Sound Company (according to company literature). In 1988, Classic Audio Loudspeakers introduced its first reproduction. I never had the opportunity to listen to the originals, but let me tell you, these babies can sing. So musical and easy to listen to, that I could have spent all day in the Hartsfield room.The Hartsfield has an approximate shipping weight of 400 lbs., so you may want to rent a truck and take a drive to Brighton, Michigan to pick up a pair.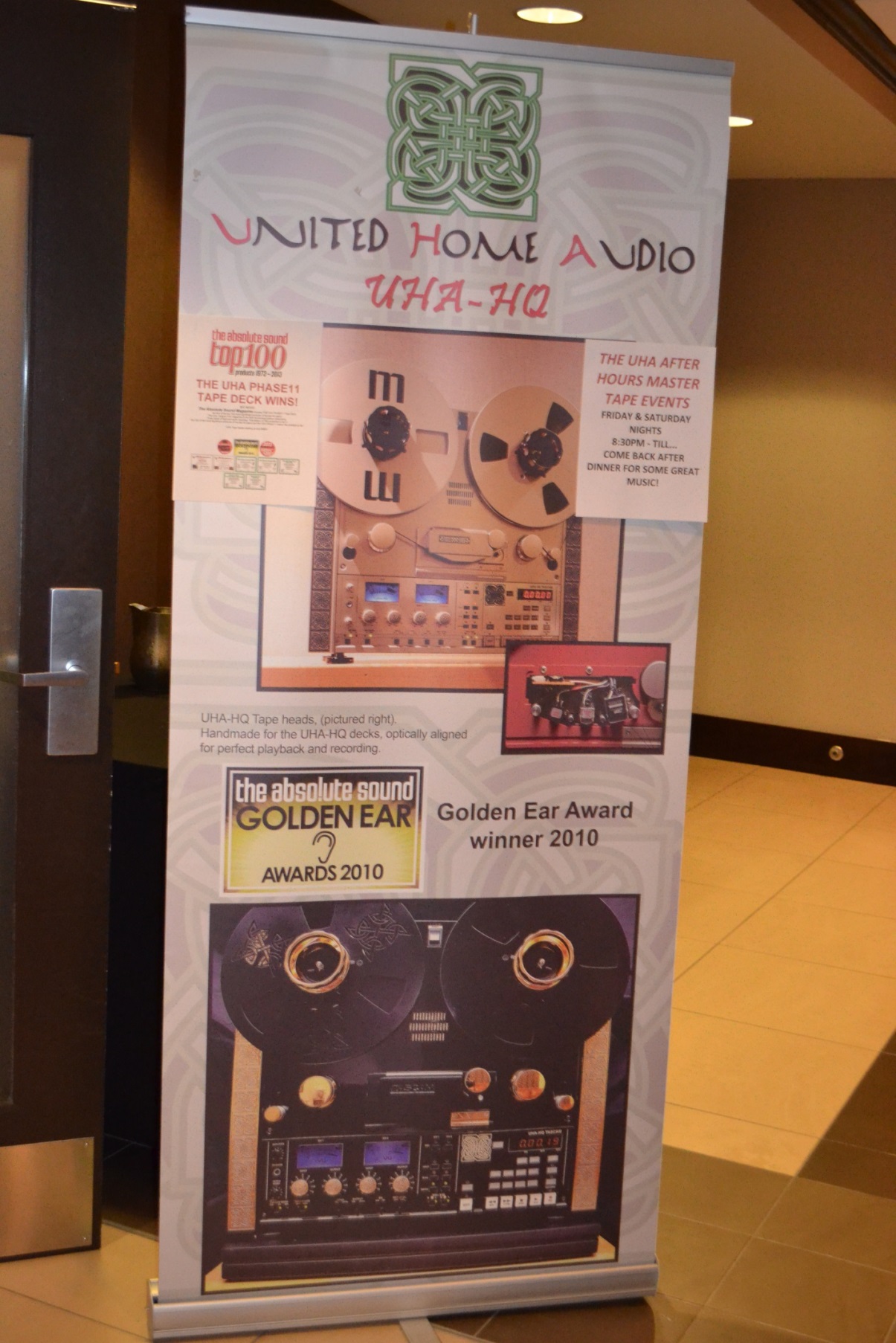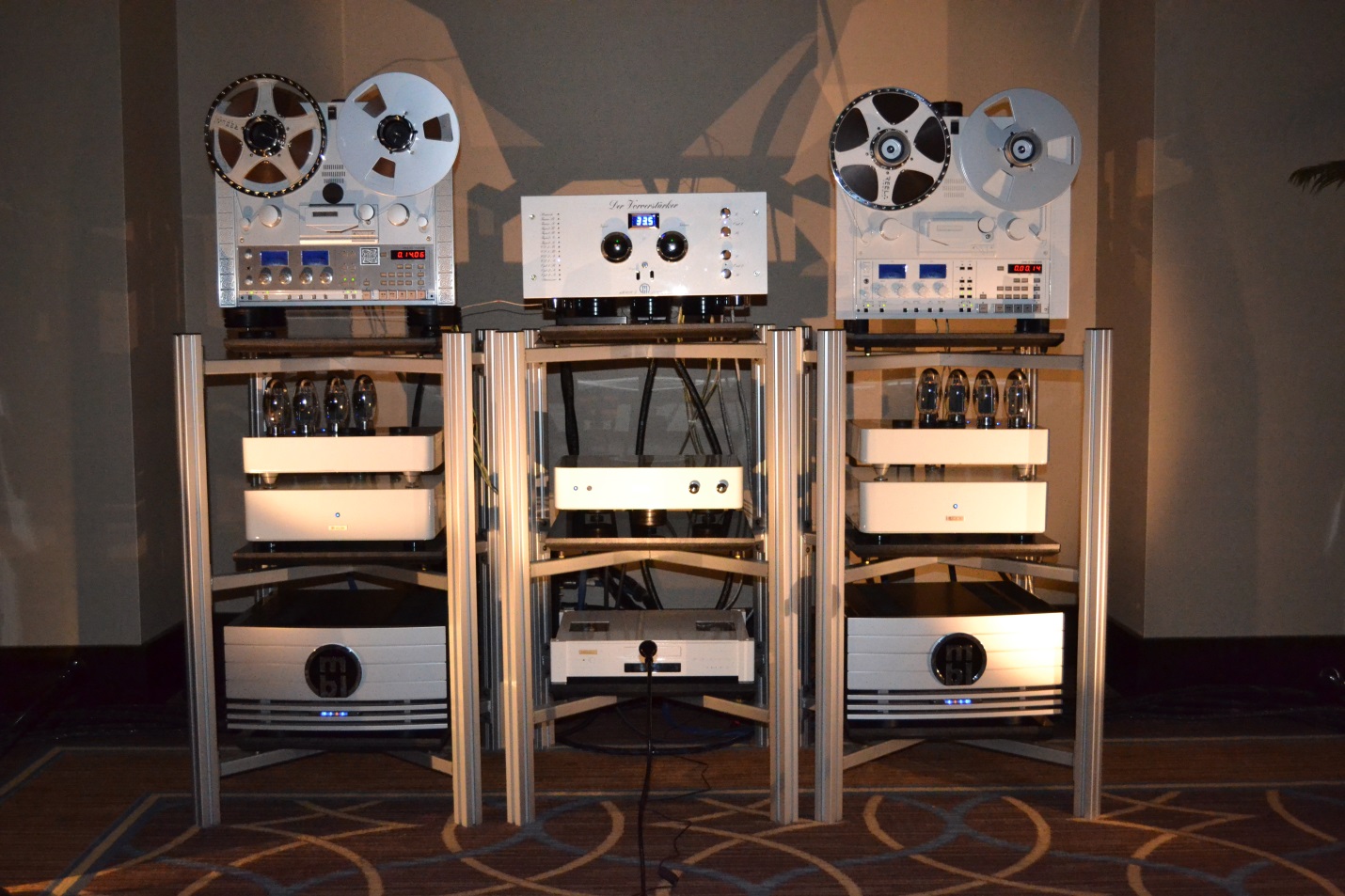 United Home Audio (UHA) presented its usual array of fine sounding products using its fantastic modded reel to reel decks on the front end with MBL electronics and speakers. This was another room I could have perched myself in for the entire day. Fortunately, UHA is driving distance from my house, so a visit is feasible and always a pleasurable experience.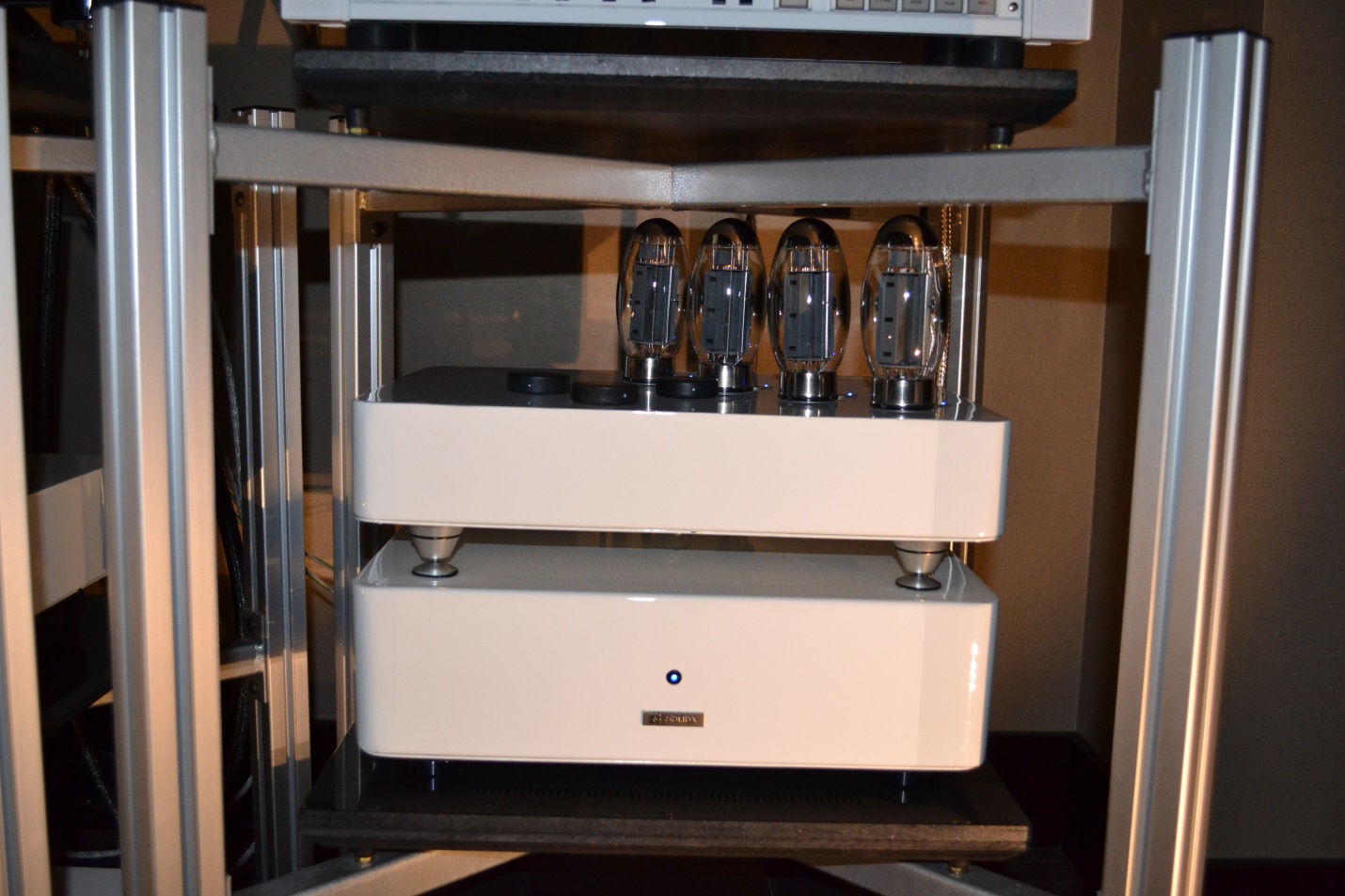 The UHA room also displayed a prototype of the new Jolida Luxor Monoblock Amps ($8,000/pair), capable of cranking out 100 wpc at 8 ohms. If they sound as good as they looked, I am in for another pleasurable experience during my next visit to UHA. I inquired about perhaps snagging a pair for review once they are in production. Stay tuned…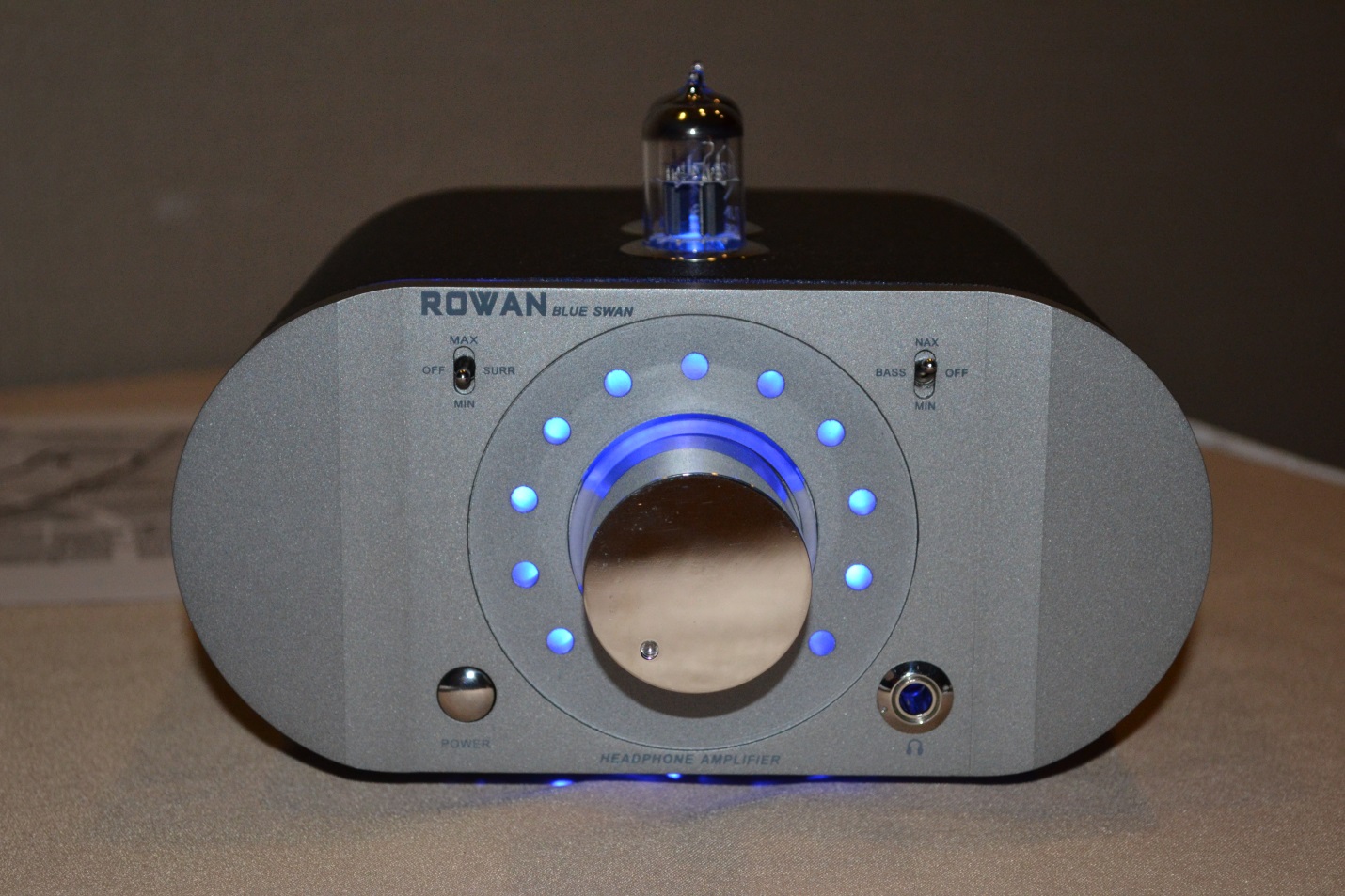 Jolida was showing off this cool looking Rowan headphone amp in the UHA room, named after the designer's granddaughter.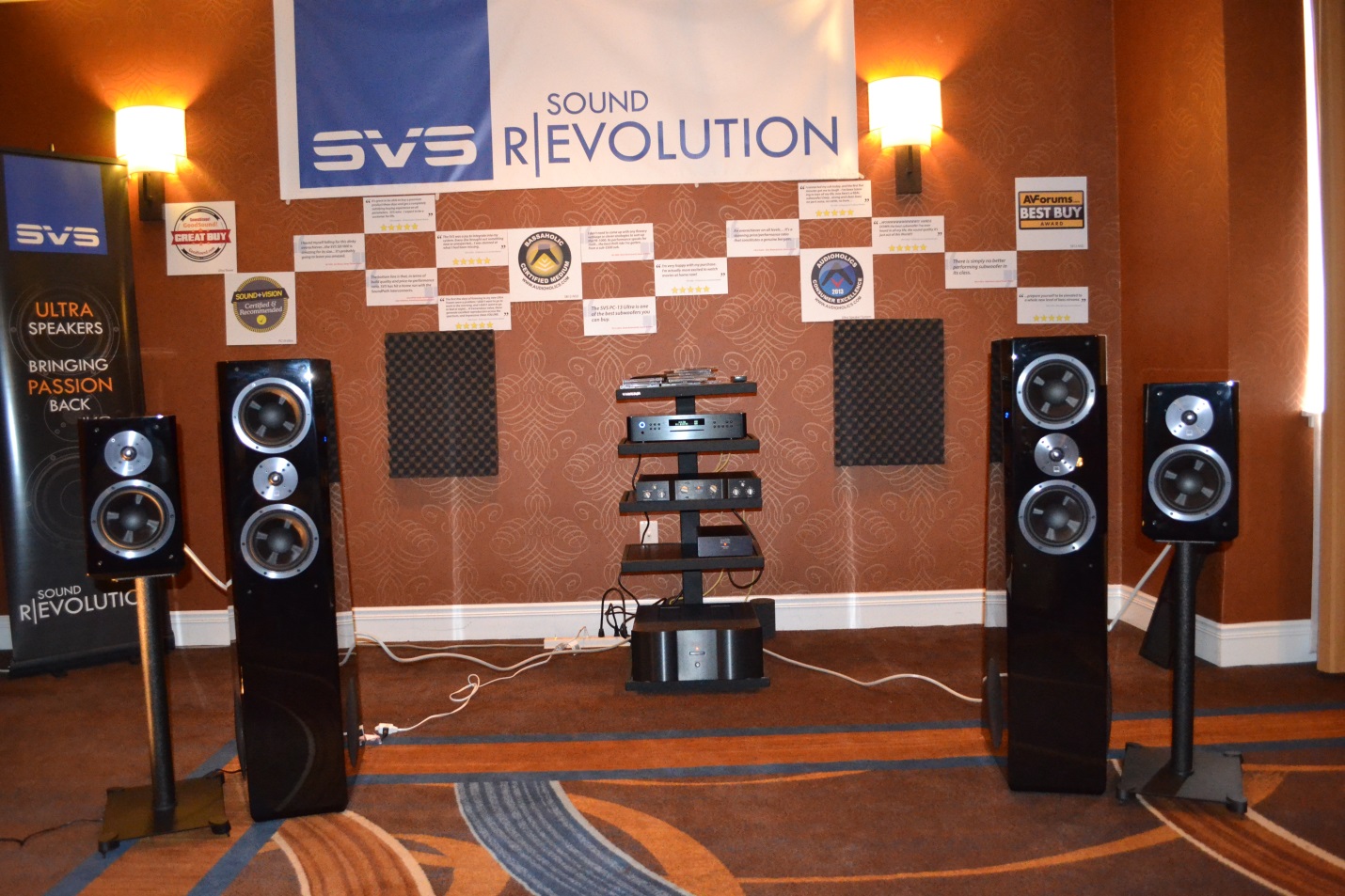 When I first walked into the SVS room I thought I was listening to the floorstanders, and was surprised when I moved closer and realized that the big sound was emanating from the smaller stand mounted Ultra Bookshelf speakers ($499 each). I couldn't resist the urge to ask to hear the bigger Ultra Towers ($999 each), which were clear and full-bodied with plenty of bass kick, with their dual side-firing 8 inch woofers. Mozart was beautiful on these big-boys driven by Mark Levinson electronics, with a Rotel CD player on the front end. You may not have to resist the temptation to try a pair in your home with the 45 day free trial offer, which includes shipping both ways.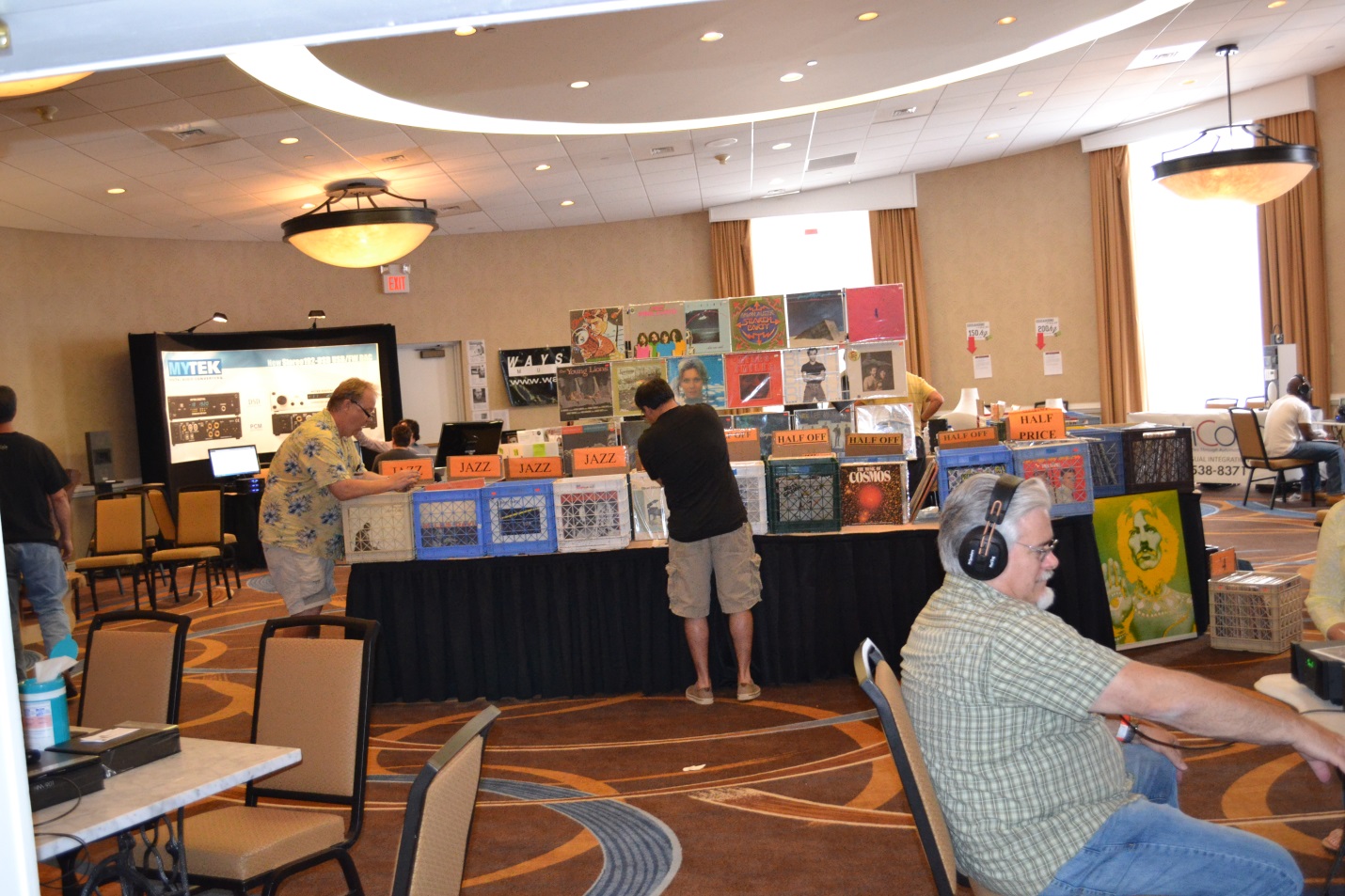 I was happy that I found a few minutes to explore the Magnolia Ballroom that included plenty of used vinyl and other fun items. Not only was I able to find some goodies to take home with me at a reasonable price, but had the pleasure of meeting Bob Sattin of Bob's Devices, who was kind enough to loan me one of his phono step up transformers for an upcoming review. Stay tuned… I was also able to explore other cool stuff in this room, including a unique recording cleaning system that cleans up to 8 albums at one time. This is an extremely important potential option for me, since the albums seem to be taking over my house.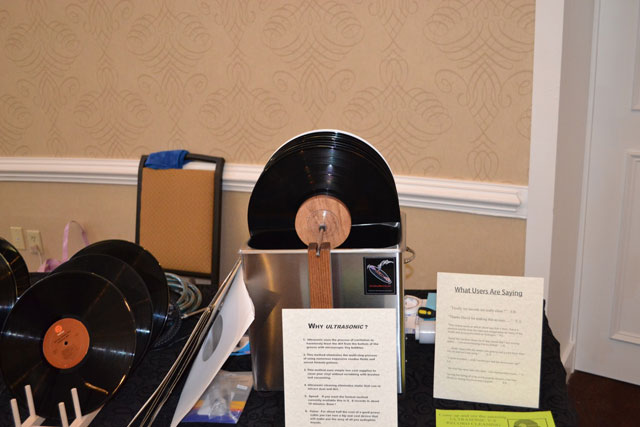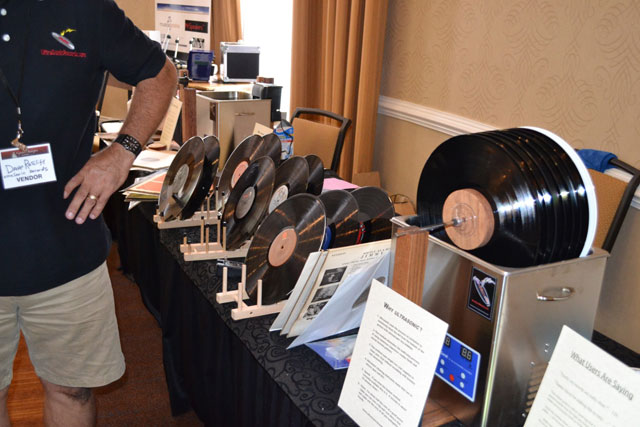 The Ultrasonic Record Cleaner displayed by its inventor, Dave Ratcliff of Ultrasonicrecords.com, uses a modified medical cleaner to deep clean records. According to the company's website and instructions I received but didn't quite remember, you simply load up a simple solution of distilled water and some 91% isopropyl alcohol, plus a few drops of Photoflo and you are ready to clean both sides of up to 8 records at once in 10 minutes. Then you just hang them out to dry on the stand shown on the left above.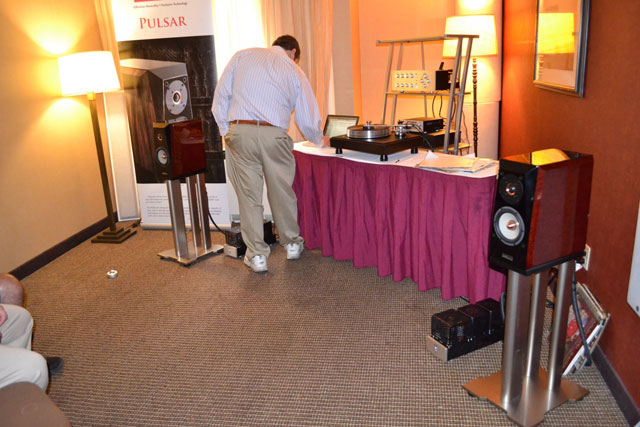 Joseph Audio Pulsars ($7,000/pair) never cease to amaze me with the extent of impact they generate from such a small package. Every time I have had a chance to hear the Pulsars I have been astounded by just how big, deep and musical they sound. This time was no exception. They sounded like a much larger speaker and just drew me into the musical performance with a VPI turntable on the front end.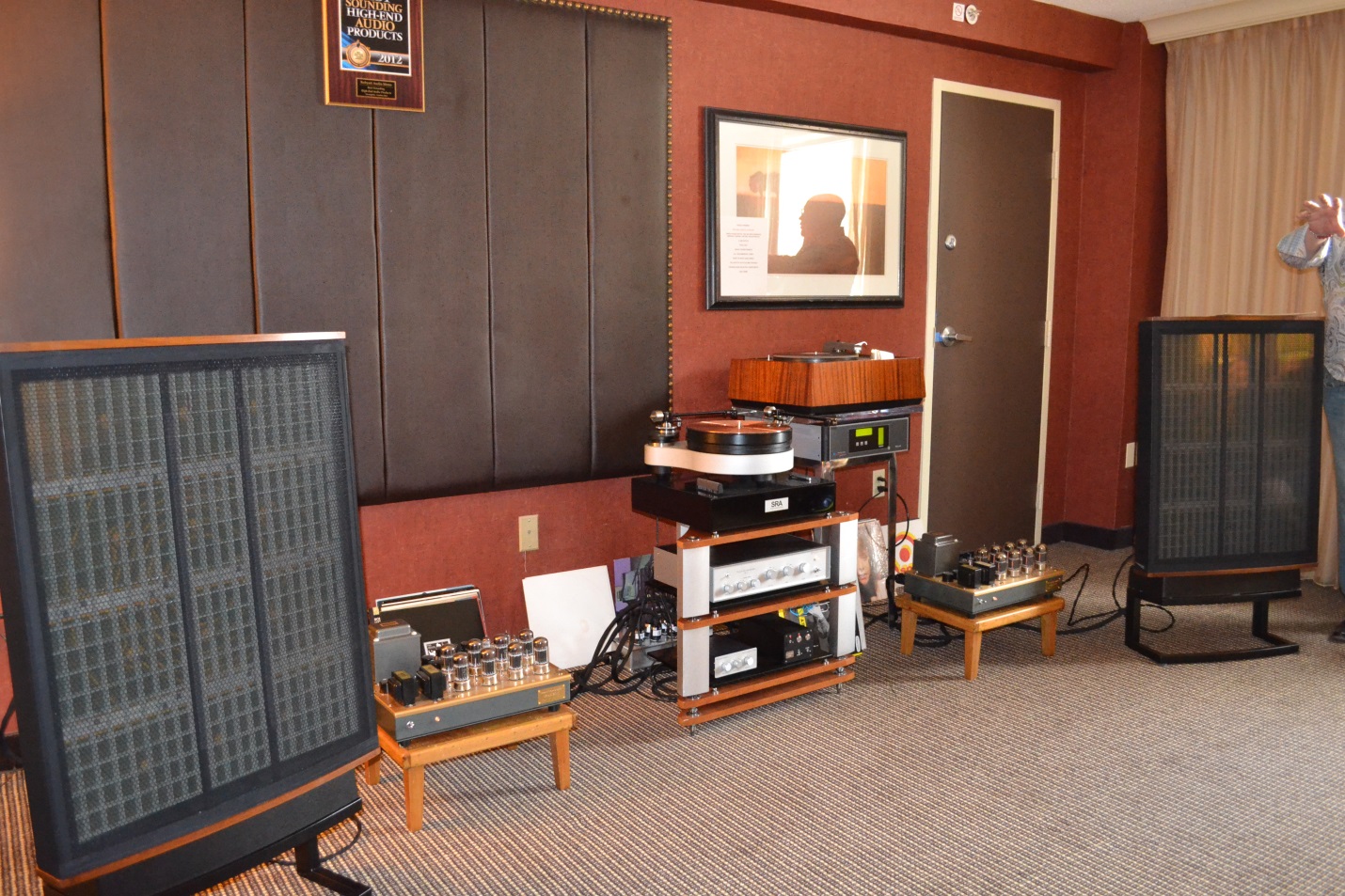 Robin Wyatt of Robyatt Audio not only offered a really cool shirt on display by the man himself, but also a pair of Quad ESL 63 speakers that were rebuilt by Kent McCollum of Electrostatic Solutions, and sounded amazing. I am quite familiar with Kent's talents when it comes to improving the sound of quads, since he has been at my house to do some upgrades on my Quads.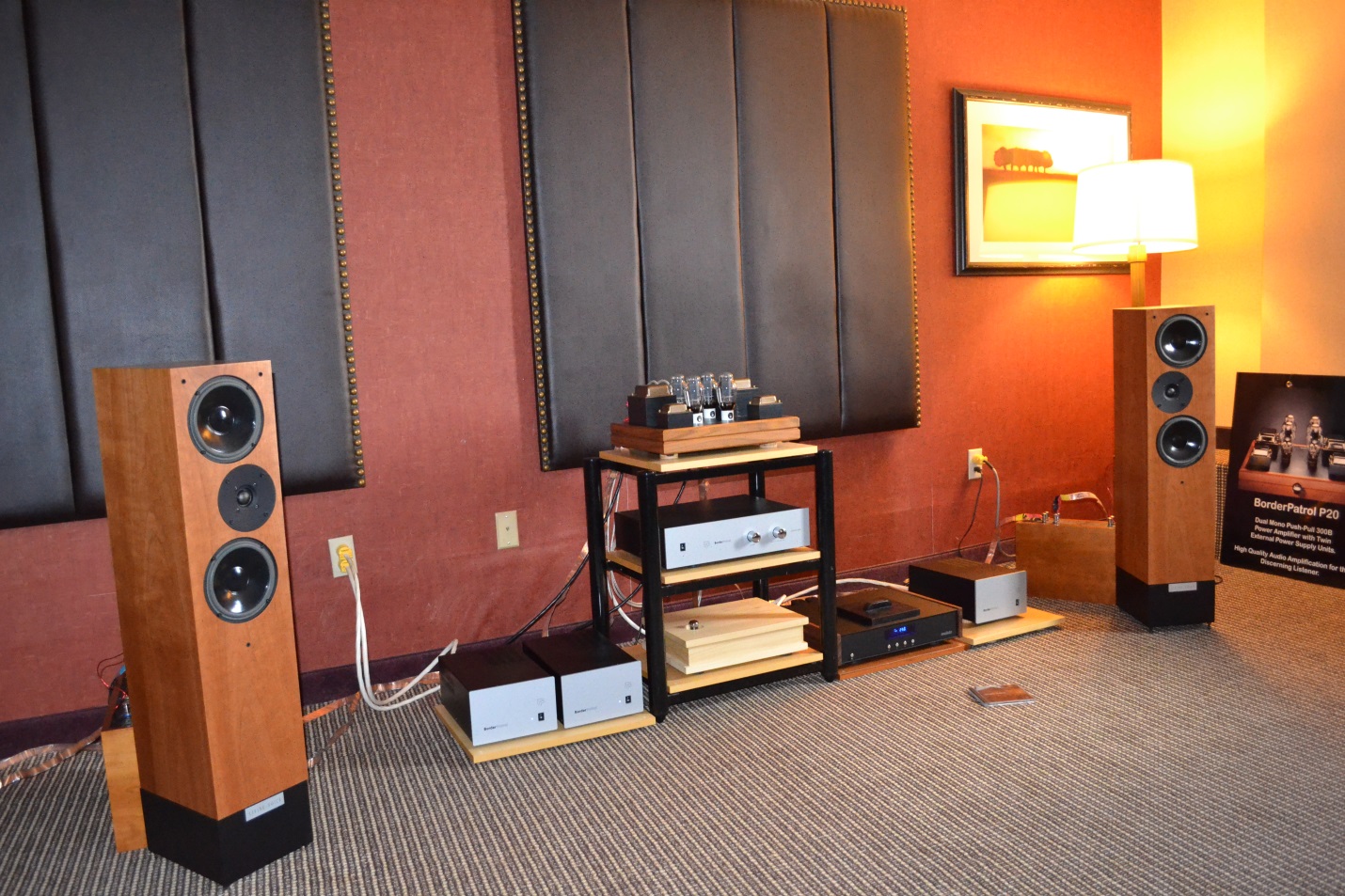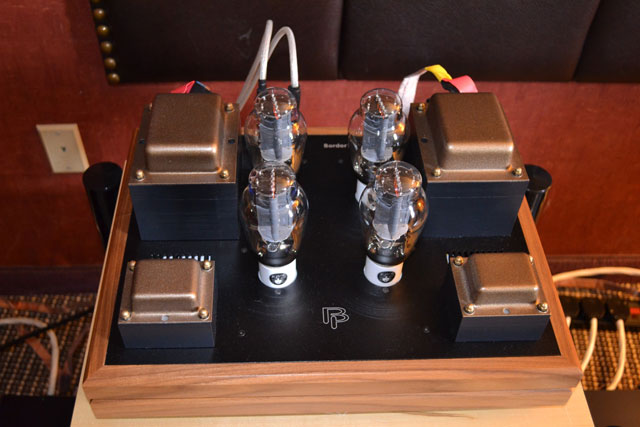 Border Patrol teamed with Living Voice with great results. The Border Patrol P20 SET amp ($13,750) drove the Living Voice OBX-RW loudspeakers into musical nirvana. This combo produced deep articulate bass with a weighty textured midrange.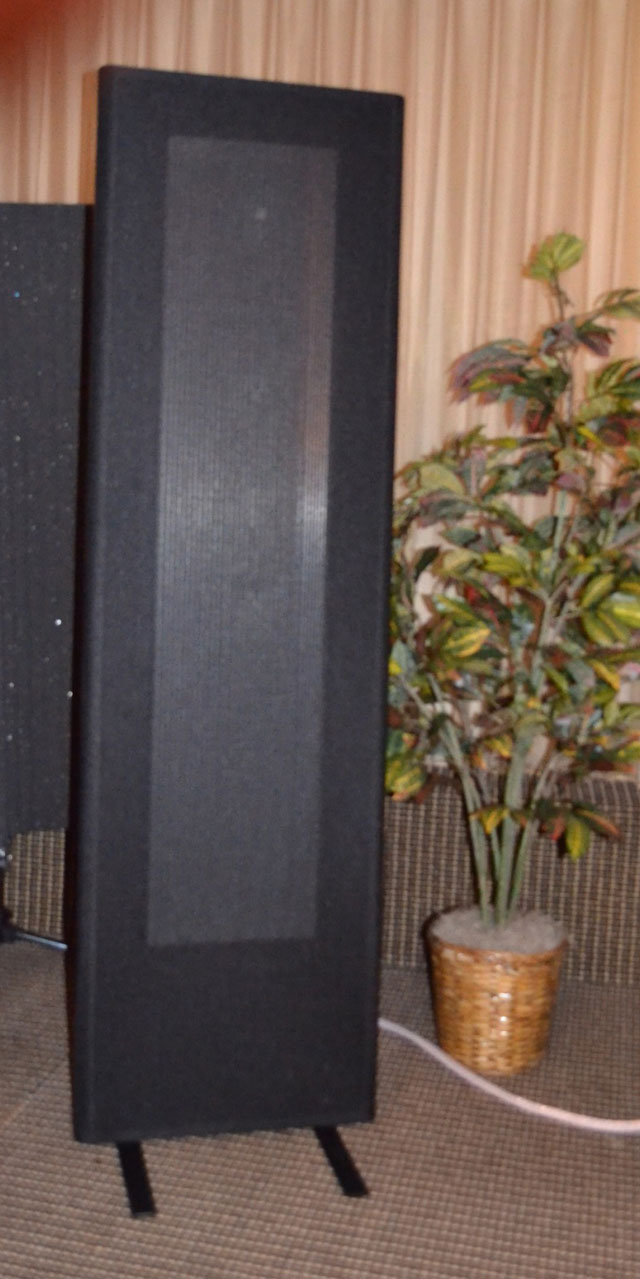 LKV Research had a pair of Magnepan 1.7 loudspeakers sweetly singing with their prototype LKV line stage preamplifier, 2-SB solid-state phono preamplifier ($2500), driven by a Conrad Johnson Premier 11 amp, with a VPI Classic 2 turntable on the front end. Sonny Rollins' Tenor sax was in the room and the bass was more than I expected from a pair of Maggies, having lived with a pair of 3.6s for many years.
Stereo Times Masthead
Publisher/Founder
Clement Perry
Editor
Dave Thomas
Senior Editors
Frank Alles, Mike Girardi, Key Kim, Russell Lichter, Terry London, Moreno Mitchell, Paul Szabady, Bill Wells, Mike Wright, Stephen Yan, and Rob Dockery
Current Contributors
David Abramson, Tim Barrall, Dave Allison, Ron Cook, Lewis Dardick, Dan Secula, Don Shaulis, Greg Simmons, Eric Teh, Greg Voth, Richard Willie, Ed Van Winkle, and Rob Dockery
Music Reviewers:
Carlos Sanchez, John Jonczyk, John Sprung and Russell Lichter
Site Management  Clement Perry
Ad Designer: Martin Perry