Blue Note LP "Spirit & Time" Volume 2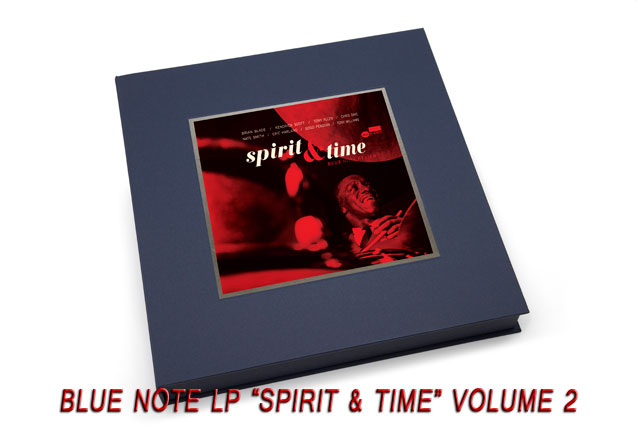 Volume 2 from the Blue Note Review limited edition subscription box set (limited to 2,000 copies) entitled "Spirit & Time," came my way prior to Christmas 2018 but holiday festivities and travel made it typically impossible to dive into. An impressive presentation, presented in a handsome matte black clam shell box 13" w x 13.25" h x 2.25"d, adorned with a tipped on red-tinted photo of Art Blakey and it's title in silver test along its wide spine. Boxed with great care, anticipation grew as I unpacked this prize, wondering what might be contained within.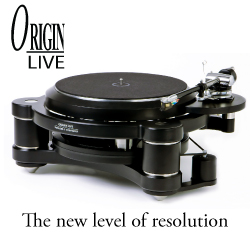 Flipping back the cover on this weighty collection revealed drool worthy contents: a postcard greeting by Don Was, president of Blue Note Records, atop a 180 gram double vinyl album of Blue Note artists, including numerous current Blue Note drummers, playing the compositions of Tony Williams (including Williams himself), appropriately titled "Spirit & Time," covering the six albums completed during his tenure at Blue Note from 1985-1992. The card says "Jazz! On behalf of everyone here at the Blue Note Review, welcome to Volume 2 – We put a lot of spirit & time into this one. Hope you dig it… [signed] Don Was." We're off to a great start!
Two oversized inserts, one titled "Spirit & Time: Jazz Drummers on Their Art" authored by Elissa Middleton presenting insights from drummers about their craft from interviews. A second a zine entitled "out of the BLUE," presents a collection of thoughtful pieces from a wide array of sources, edited by Middleton – i.e.: a portrait of Bud Powell's authored by Colleen Williams (jazz composer, vocalist and artist) entitled "Bud Powell: Interstellar Traveler," a Brain Blade-penned piece about the Tony Williams compositions included in this volume's double pressing, an illuminating cartoon titled "The History of Blue Note: Terrance Blanchard tells a Story About Art Blakey & Freddie Hubbard," among its subject matter. Very fun and informative stuff.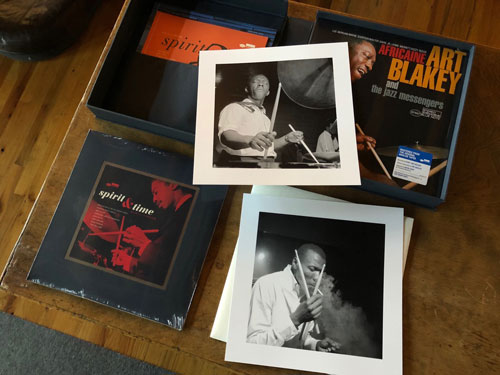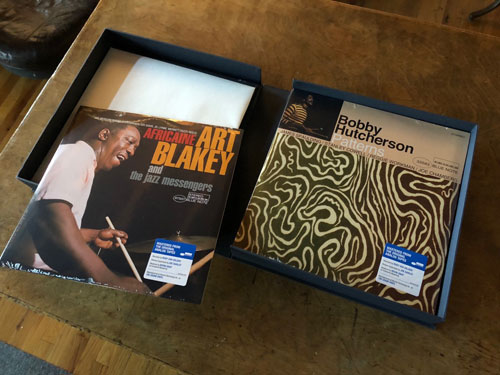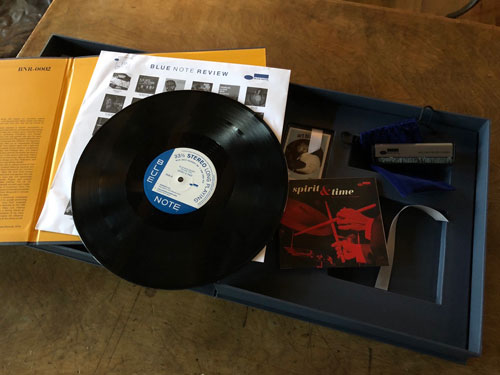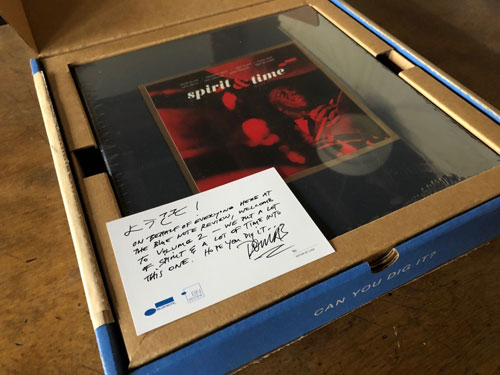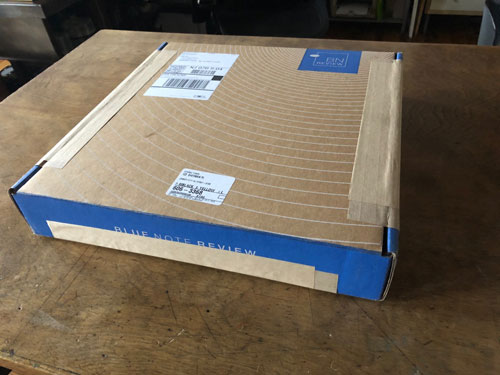 Lifting off the hefty jacket of "Spirit & Time" revealed an envelope containing two unreleased black and white Francis Wolff lithographs of drummers Art Blakey and Elvin Jones. Beneath the prints were two single vinyl pressings, Art Blakey and the Jazz Messengers' "Africaine" and Bobby Hutcherson's "Patterns," both reissued LP's were mastered from the original analog tapes by Kevin Gray at Cohearent Mastering and pressed on audiophile vinyl at RTI. For what makes their inclusion unique, read on.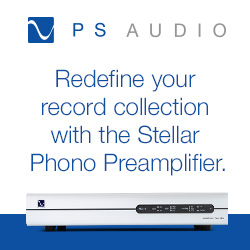 Placing these two pressings aside, three pockets came into view containing yet more interesting items – a CD of the same "Spirit & Time" Williams' celebration, a blue velveteen bag Blue Note branded carbon fiber anti-static record brush and a small plastic box housing a collection of Topps "trading cards" (one would never trade these!) celebrating 20 notable Blue Note artists with their 'stats' on the reverse. From Horace Parlan, Charles Lloyd, Lou Donaldson and Thelonious Monk to more recent stable mates as Robert Glasper, these Blue Note trading cards cover the range of instrumentation used in most traditional jazz, from piano to vibraphone, offering insight into each artist's ability, a few personal stats as we'll as notable selections from their discography. Thoughtfully, both the card box pocket and the CD pocket have pull ribbons to allow easy access to their contents. For example, on card #BN-1, Parlan's selected discography calls out selections from 1960's Movin' & Groovin; Us Three, Speaking' My Peace and 1961's Headin' South.
The first of the included Blue Note single vinyl pressings, Art Blakey and the Jazz Messengers "Africaine," is a collection of 1959 hard bop and post bop recordings that weren't released until 1981. From Wikipedia "The album features tenor-saxophonist Wayne Shorter in his first recording with The Jazz Messengers, trumpeter Lee Morgan, pianist Walter Davis, Jr. and bassist Jymie Merritt [Dizzy Reece on congas, tracks one and 4]." Regarding it's reception (again from Wikipedia) "Michael G. Nastos of Allmusic called this find, "a recording that shows a band fully able to fuse many exotically attractive elements into a unified whole of creative jazz music ecstasy".
The second single vinyl pressing of Bobby Hutcherson's "Patterns" is similarly unique – although recorded in 1968, the vibraphonist's post -bop album was not released until 1980. Recorded on March 14, 1968 at Van Gelder Studio, Englewood Cliffs, New Jersey, this album features James Spaulding on alto saxophone and flute, Stanley Cowell on piano, Reggie Workman on bass and Joe Chambers on drums, on tracks written by three of Hutchinson's bandmates. According to Wikipedia, A Time to Go was composed by James Spaulding as a tribute to Martin Luther King, Effi was composed by Stanley Cowell as a dedication to his wife, and the remaining pieces were composed by Joe Chambers.
To quote Joe Hartley, of Music Matters and Audioquest fame, who selected RTI for pressing, "We do not roll off the low end, boost the top or do limiting of any kind. We allow the full glory of the Blue Note masters to come through unimpeded!"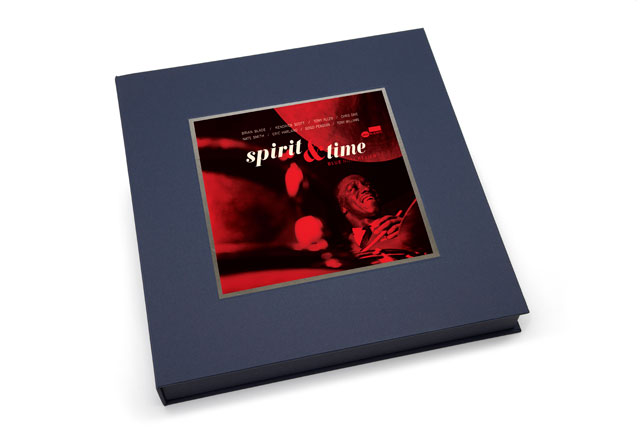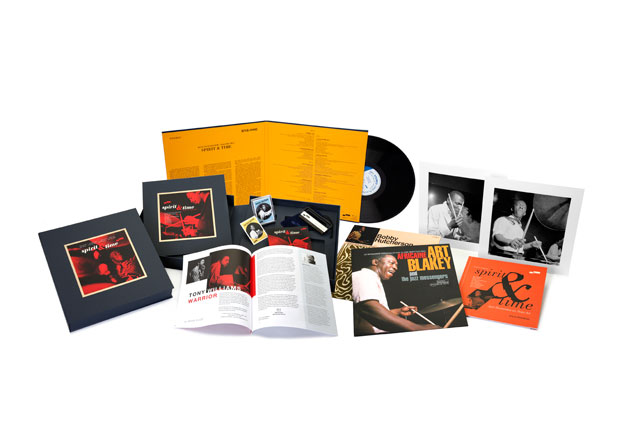 Let's Dig In
In order of appearance in the Review box, let's begin with the "Spirit & Time" Blue Note group effort celebrating the compositions of the incredible Tony Williams. The vinyl pressings and accompanying CD's content was performed by a wide ranging collection of past and present Blue Note musicians – Tony Williams, Brian Blade and the Fellowship Band, Eric Harland, Nate Smith, Joshua Redman, GoGo Penguin and others populate that project.
To familiarize myself with the recordings, I ripped the CD into my Laufer Teknik Memory Player Mini and brought the signal over to the main rig. During the first serious play through, my ears didn't really perk up until the 4th track "Native Heart," a lovely rendition by Chris Dave and the Drumhedz. Even one of our dogs got into the act, looking about the loft for the source of all those ambient sounds. Maybe it was added volume that helped my focus, or maybe it was the afternoon sun dimming in the loft, but something was different.
My interest continued unabated through Eric Harland's take of Life Of The Party and GoGo Penguin's Creatures Of Conscious – during the last handful of tracks, bass was locked in, rhythm and pace were far more infectious than when the play of the CD first began. The last music track, Tony Williams own rendition of Juicy Fruit (Live) certainly kept my interest – this was a great tune to include. The tight rhythms, punchy dynamics, playful energetic horns and great bass made me smile and my heart race like I just ate chocolate. As announced by Tony on the last track, the players were Wallace Roney on trumpet, Billy Pierce on sax, Mulgrew Miller on piano and Ira Coleman on t-h-e bass. What a great band and live track!
Art Blakey and the Jazz Messengers "Africaine" LP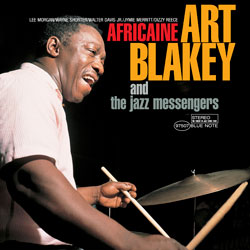 From the Blue Note website Blakey bio, covering the period under which "Africaine" was recorded, "[Most listeners] tastes were rooted in the core elements of "swing" and "blues," characteristics found in abundance in the music of the Jazz Messengers, the quintessential hard bop ensemble led by drummer Art Blakey." Continuing "Blakey continued to play in more or less the same bag he had since the '40s, when his cohorts included the likes of Charlie Parker, Miles Davis, and Fats Navarro. By the '80s, the evolving mainstream consensus had reached a point of overwhelming approval in regard to hard bop: this is what jazz is, and Art Blakey — as its longest-lived and most eloquent exponent – was its master."
Art Blakey and the Jazz Messengers "Africaine" reissued pressing spread nicely across the soundstage. It seemed competently recorded, warm and crisp. The majority of the action happened between the speakers – the drums had nice transients and the bass was front and centered, offering a modern balance to the soundstage with percussion spread across the stage ala ECM. There were drum dynamics galore showcasing Blakey's abilities. This is a fun platter and one I would play often.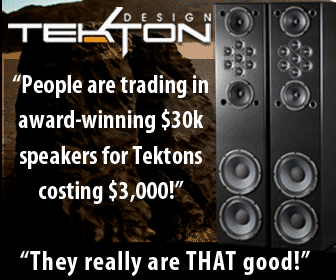 Lester Left Town offered another solid arrangement very well performed. Blakey's drums were dynamic, Morgan's horn crisp with a nice leading edge, Shorter's sax good and raspy and the bass work of Jymie Merritt full and grounded. This tune was quite holographic and offered everything I look in a quintet outing. There are a lot of percussive spacial cues in Blakey's playing they're all here. Moving on to the third track, Splendid delivered the same balance, energy and power as the previous song – a very analog feel and it's damn close to an audiophile pressing from a platter that's well mastered and competently pressing. Blakey really drove this band and kept the energy level up. Things roll back nicely and just leap forward. The same can't be said for ever tune on Hucherson's Patterns reissue.
Side two opened with Haina and offered space for a nice Blakey into. Walter Davis, Jr.'s piano was actually about as far back as the one was on Hutcherson's Patterns, but with more definition and color. Then again, is a Jazz Messengers album really about the piano? Instruments rolled back nicely on stage, Shorter's and Morgan's horns lunge forward out of the speakers, offering their commentary and then fall back again. Stellar performances all.
The Midget began as a trio, the horns enter shortly after a few faint pops off the vinyl reminded me of the deliver medium, but they were slight and not at all intrusive and may have just been dust.
Thru Celine, this quintet offers a full pallet of the melody and rhythms. Great players all. Blakey does not just keep time, he sculpts time into a living breathing thing on the stage – such an inventive leader and accompanist. In this company, that's really saying something!
Bobby Hutcherson's "Patterns" LP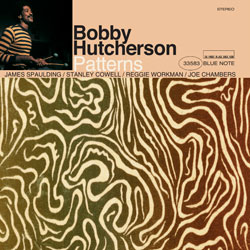 According to Blue Note's website, Bobby Hutcherson, who we lost in 2014, was "easily one of jazz's greatest vibraphonists, Bobby Hutcherson epitomized his instrument in relation to the era in which he came of age the way Lionel Hampton did with swing or Milt Jackson with bop. He isn't as well-known as those two forebears, perhaps because he started out in less-accessible territory when he emerged in the '60s playing cerebral, challenging modern jazz that often bordered on avant-garde. Along with Gary Burton, the other seminal vibraphone talent of the '60s, Hutcherson helped modernize his instrument by redefining what could be done with it – sonically, technically, melodically, and emotionally.."
Bobby Hutcherson's Patterns sounded good at first spin, with competent quintet work. Overall this pressing was very quiet with reasonably good imaging and sound stage – though some of it appeared to come directly from the speakers and not within their boundaries. The title cut's rhythm section was centered and strong and I particularly enjoyed the drummer's tempo changes in the first track.
With a few tracks, I had to increase my volume to compensate for somewhat low recording volume. Time To Go, was a quiet contemplative piece, with nice bloom to the bass that was center-focus. Hutcherson's vibes are back a bit on the stage and not too closely mic'ed or they might have sounded strident or metallic, but they could have been closer and more prominent. Percussion was at times quite far back – or being played with notable restraint.
On Ankara, the piano was a bit more frontal but a little muddled – instrumentation seemed a little too laid back. Still, Energy from the rhythm section kept driving with dominance, with the percussion delivering more of a sense of space than other instrumentation. The sax finally stepped out front and the drummer's rim shots, tom work and syncopation brought a touch more excitement. Vibraphone could've been mic'ed closer.
Effie, side two's opening track, had a nicely restrained drive. The bass player really did drive a lot of what went on here. The flute gave the track has a nice cerebral small club vibe. The vibes definitely do not dominate the stage but they're laying back allows the other instrumentation more focus. During the bass solo near the end I felt that the bass sounded a little wooly and soft.
With Irina things picked up with the vibes and saxophone playing more in unison. Again, the piano seemed a little too far back and not crisp. One of the things I love about listening to piano and vibes it being able to detect where the player's fingers or mallets are playing… difficult to do on this outing. It's not really audiophile quality; the music doesn't breathe – most of the time it failed to connect with this listener on an emotional level and, at times, felt a bit like I was sitting too far back (I wasn't). Great musicianship, just not as expertly captured as in other Blue Note works.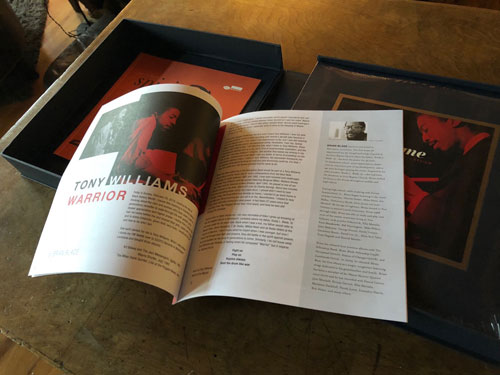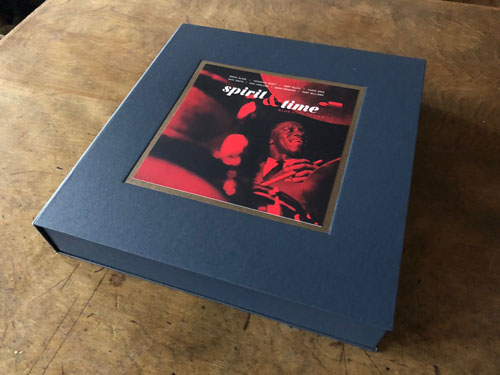 Comparing the "Spirit & Time" vinyl with the CD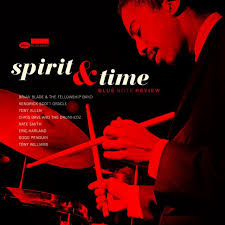 Switching over to my heavily modified Well Tempered Simplex table, more by of necessity than by choice. I settled in for a first listen to the "Spirit and time" double LP vinyl thru all tube electronics. Side A started off with a dynamic Brian Blade solo as Warrior revved up before a deep dive into nice Fellowship Band interplay. There was plenty to like here – dynamics, raspy horns, bouncy tight bass and PRAT. The drums or very special weapon a multitude of special acoustic cues, clicks and taps to entertain this man's ears. Civilization/Citadel, covered by the Kendrick Scott Oracle, was airy, well-grounded, dynamic and really cooked. As complicated as the arrangement became, the instrumentation held fast to solid ground.
As Side B started, City of Lights played by Tony Allen, came to mind as a Herbie Hancock style clavier groove – presenting a nice depth and width to the stage and solid imaging. Percussion was well recorded and the ensuing drum solo was fun, with decent width and depth. The LP set held my interest throughout over the the CD of the same material… maybe it was the system change. A slight tick-tick-tick entered between tracks but vanished as Native Heart began, the track that first piqued my interest by Chris Dave and The Drumhedz from the CD. It was tantalizingly, lush, deep and sensual, with pulsating rhythms, ethereal voicings and entrancing percussive flourishes on a big stage. This wide, enveloping soundscape delivered sounds far outside the boundaries of my speakers. An outstanding track!
Nate Smith's Life of the Party was just that – strong, forceful low end, persistent percussion and an infectious groove, on a stage of good width, this track feels like a jazz tap dancer's dream to hoof to. Continuing on with side C, Eric Harland's Takin' My Time was a bit of a respite – more contemplative and repetitive but with nuanced shifts in tone and texture. Focused imaging, a wide densely populated stage, dynamic and ever changing in complexity, it was the perfect piece to lead in GoGo Penguin's Creatures of Conscious, a crisp, rhythmic, insistent epic full of dynamics and drive. Bold bass, quick transients and rhythmic power reside in those grooves.
Tony Williams Juicy Fruit, rounded out this music of this set, excluding his ending announcing track, with Williams reminding us why this outing needed to be titled "Spirit & Time" – his undeniable spirit, swing and gorgeous sense of timing were captured nicely in this live recording, with the band's effort presented in home so very well. The ending drum dynamics were great. While the CD was enjoyable, the LP set was my preference.
The Wrap
Blakey's "Africaine" is the keeper between the two reissues and the double pressing of "Spirit & Time" was on par as well. While "Patterns" didn't seem to have the you-are-there-oh-my-God moments of an audiophile spectacular (I just didn't feel part of the performance), it was nonetheless an enjoyable spin. As I listen to Hutcherson's 2014 Enjoy The View with David Sanborn, Joey DeFrancesco and Billy Hart while writing these notes up, my foot's tapping far more than it did during the spin of "Patterns."
All in all, the Blue Note Review: "Spirit & Time" Volume 2 is a thoughtful and lovingly produced set with thoughtful extras. From start to finish I heard only a handful of light vinyl pops that offered no distraction from the music, more like dust than defect. This was a fun set to experience.


greg voth
– – –
Blue Note Review: "Spirit & Time" Volume 2
To order the $200 box go to bluenotereview.com. The boxset is now shipping.
Stereo Times Masthead
Publisher/Founder
Clement Perry
Editor
Dave Thomas
Senior Editors
Frank Alles, Mike Girardi, Key Kim, Russell Lichter, Terry London, Moreno Mitchell, Paul Szabady, Bill Wells, Mike Wright, Stephen Yan, and Rob Dockery
Current Contributors
David Abramson, Tim Barrall, Dave Allison, Ron Cook, Lewis Dardick, Dan Secula, Don Shaulis, Greg Simmons, Eric Teh, Greg Voth, Richard Willie, Ed Van Winkle, and Rob Dockery
Music Reviewers:
Carlos Sanchez, John Jonczyk, John Sprung and Russell Lichter
Site Management  Clement Perry
Ad Designer: Martin Perry