2015 Sound and Sight

AV Intelligence were exhibiting the Devialet Phantom speaker (just one) and their amplifier in the main hallway.



Not forgetting the portable crowd – in fact, quite a significant part of the show was dedicated towards portable gear and head-fi.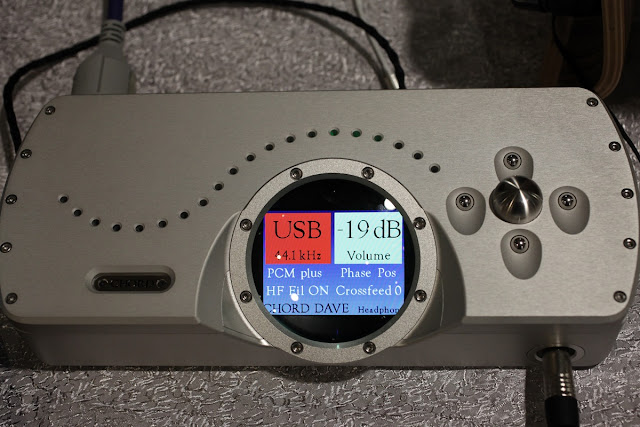 Chord Dave. If you have to ask how much it costs, you can't afford it.

Time to move to the hotel rooms upstairs.


First stop was to visit Audio Basic. Steven Cheah had plenty of goodies from Telos of Taiwan. Acoustic Energy was also back in the market with a big bang.


The petite Acoustic Energy 301 and the Reference 3 floorstanders.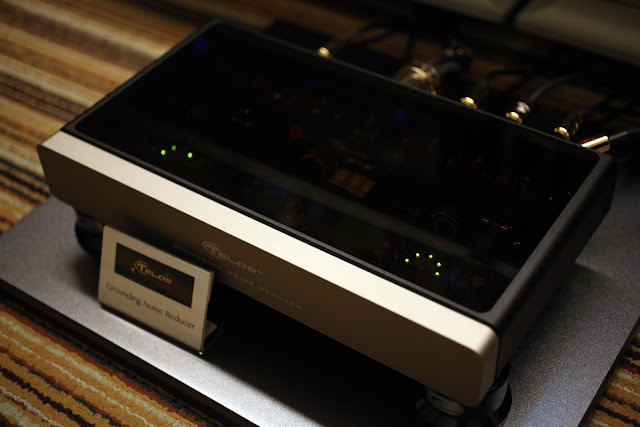 The Telos GNR or Grounding Noise Reducer – this is one of the most innovative products I've come across this year. I attended an earlier demonstration by Jeff Lin of Telos this year – keep an eye on this product.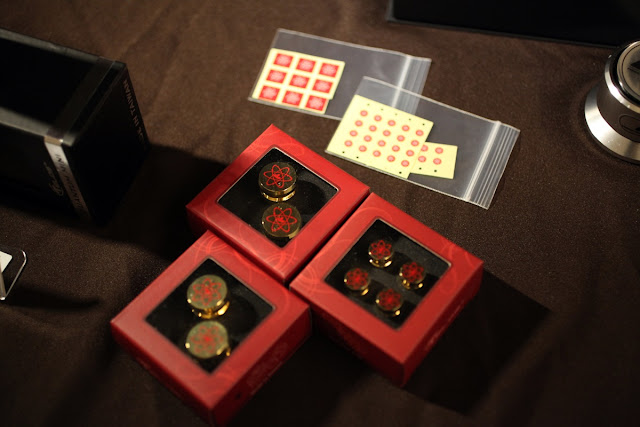 Telos Quantum caps and stickers. A separate review of the stickers will be out shortly.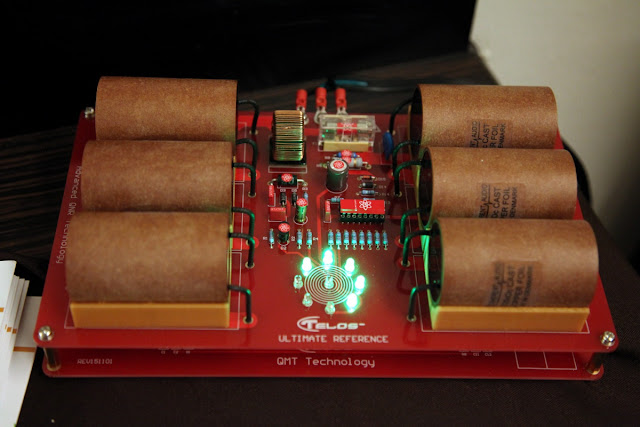 A very special product from Telos designed for the China market – all those Duelund caps are guaranteed to bump up the price tag to dizzying levels.

The Kubrick DCX turntable from Soulines of Serbia was definitely a talking point.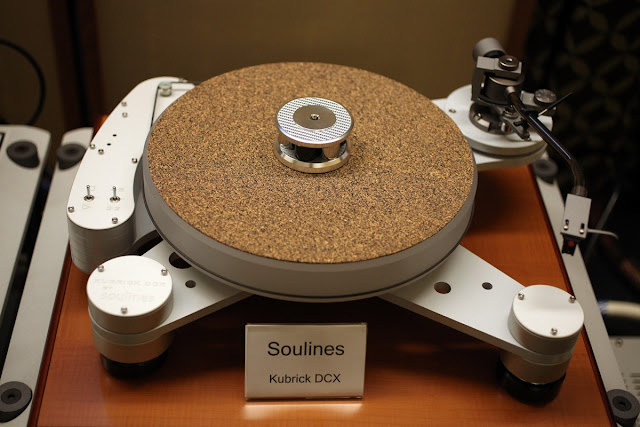 I love the styling and performance so much that I bought one earlier in the year.

Also on display were electronics from Aurender and Mizik.



Over to Audio Note's room. The digital source was an Audio Note CD 3.1X/II, while the analog rig was a Dr. Feickert Analogue Woodpecker deck (with Ortofon Cadenza Blue cartrdige) and Audio Note phono stage. The Audio Note Oto SE amplifier was hooked up to AN/J SPe Hemp speakers.



Audionote were showing off a pair of Devialet Phantoms in the next room. They placed a bottle of water on top and cranked it up very loud, to demonstrate how little vibration the cabinet had.




Horizon Acoustics always put up a good show, and this year was no different. I felt right at home with the Total DAC Dual with reclocker front-end, and Nola Studio Grand Reference Gold speakers. Great control, dynamics and a very balanced sound. This was in part helped by the massively powerful Grandinote Shinai amplifier with the astonishing power output of …… 37 watts ! Power conditioning was handled by a Plixir Balanced AC transformer and High Fidelity's Ultimate Reference Wave Guide. Cables were a mix of High Fidelity and Verastarr.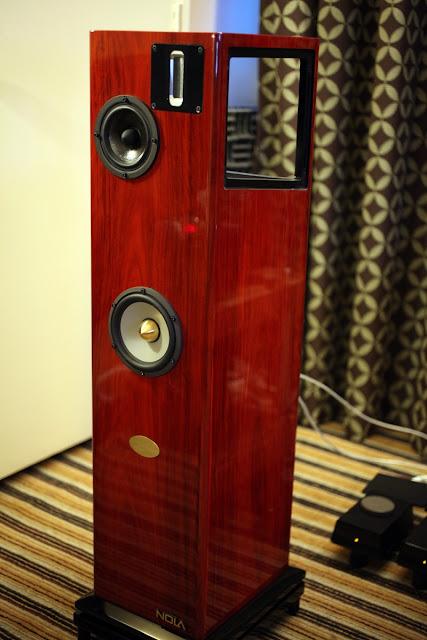 Nola Studio Grand Reference Gold speakers. Check out that gloss !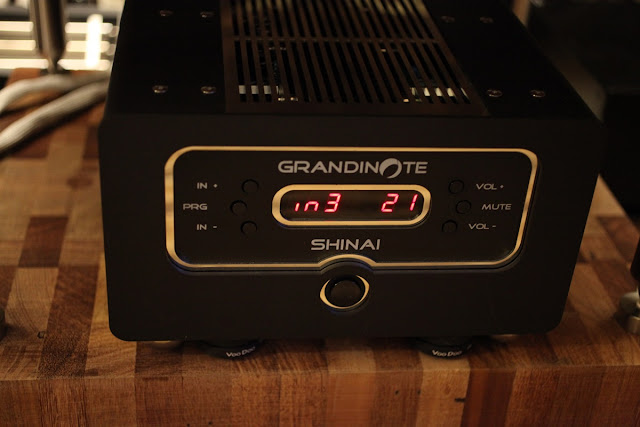 Grandinote Shinai amplifier. A big sound that belies its low power output (37 watts).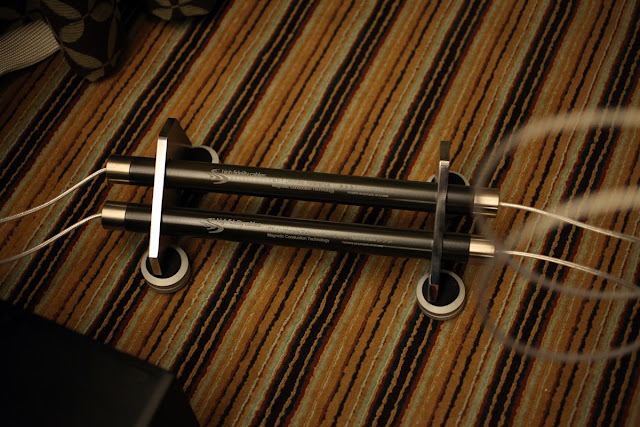 High Fidelity cabling. Their power conditioner was hiding behind the rack.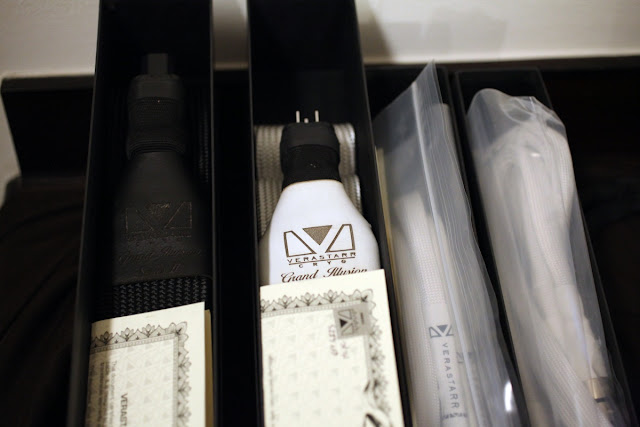 Verastarr cables.


E-Mu Systems Pte Ltd had a wide variety of desk-fi and head-fi equipment on display. The most interesting products were two new headphones with gorgeous wood cups. The larger model sported teak cups, and the other model, walnut. Suggested retail price of the teak model was S$ 1,280, and $199 for the walnut model. The project team director, Mr. Chan explained the development of these two models and beamed with pride like any new father would. I took a brief listen and they do sound quite good. The walnut model seemed like particularly good value.


Each cup is carved from a solid block of wood and hand matched for grain appearance.
Stereo Times Masthead
Publisher/Founder
Clement Perry
Editor
Dave Thomas
Senior Editors
Frank Alles, Mike Girardi, Key Kim, Russell Lichter, Terry London, Moreno Mitchell, Paul Szabady, Bill Wells, Mike Wright, Stephen Yan, and Rob Dockery
Current Contributors
David Abramson, Tim Barrall, Dave Allison, Ron Cook, Lewis Dardick, Dan Secula, Don Shaulis, Greg Simmons, Eric Teh, Greg Voth, Richard Willie, Ed Van Winkle, and Rob Dockery
Music Reviewers:
Carlos Sanchez, John Jonczyk, John Sprung and Russell Lichter
Site Management  Clement Perry
Ad Designer: Martin Perry
No portion of this website may be reproduced without the prior written consent of www.stereotimes.com All rights reserved