2015 Sound and Sight



High End Research had the all-new Audio Research Ref 6 on display. An EMM Labs XDS-1 was spinning optical discs, with a Goldmund Mimesis 32.5 Processor and Logos Anatta active speakers.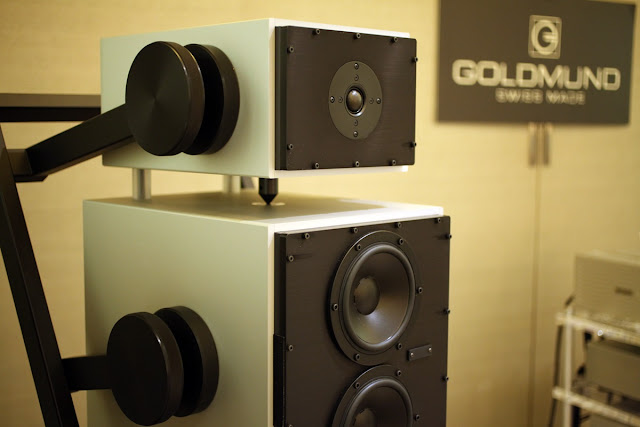 Goldmund Logos Anatta active speaker.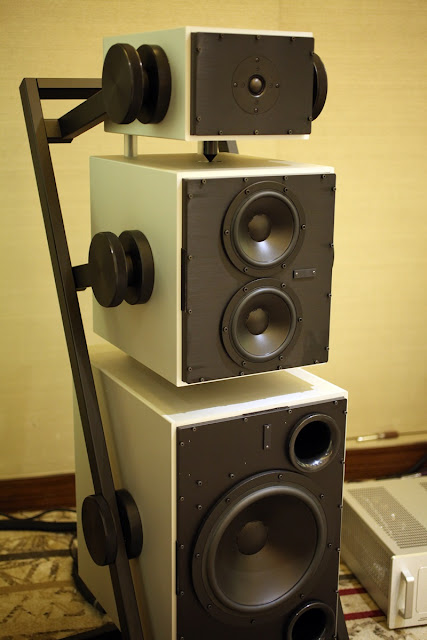 It's robot-like looks actually grow on you.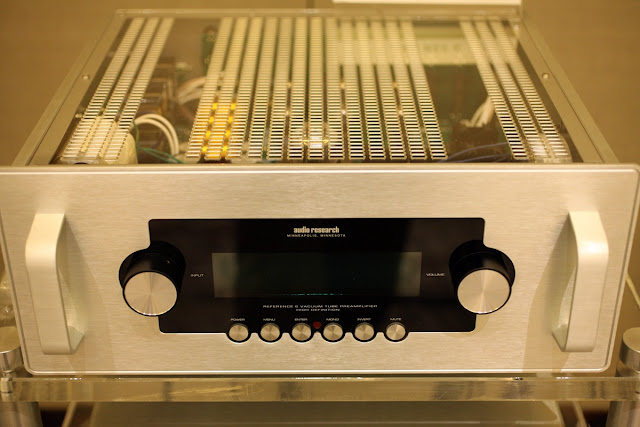 Fresh from the oven – Audio Research Ref 6 preamp.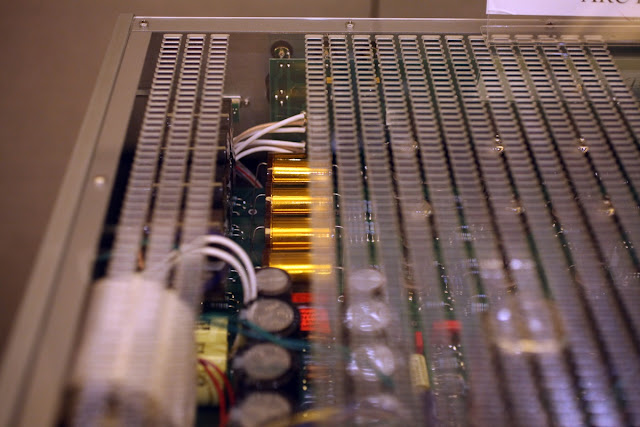 A view of all those goodies inside.


The stunning Sonus Faber il Cremonese speakers were also on display, together with electronics from Wadia.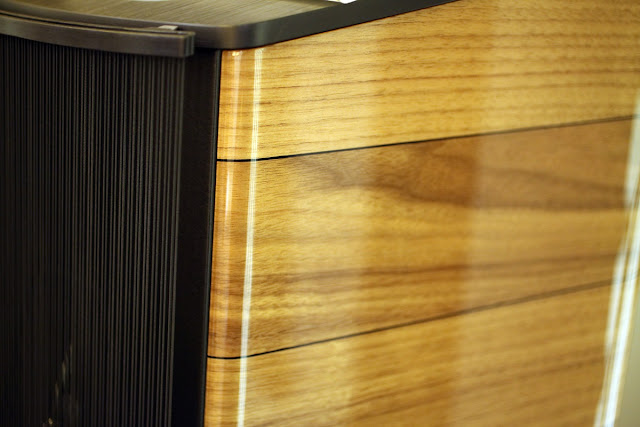 Sonus Faber il Cremonese speaker – these also double up as fine furniture for the discerning.

AudioSound Pte Ltd are a new player in the industry. They were exhibiting some very interesting equipment, including Lampizator's Big 7 DAC, Audionet electronics and the Giussani Research Delta 4 R10 speakers. The Giussani speakers are a hybrid design with twin 12 inch woofers, and a long vertical array of planar magnetic panels covering three different frequency ranges. A Melco N-1A (on loan from Sound Affairs Pte Ltd) was streaming music via USB to the Lampizator.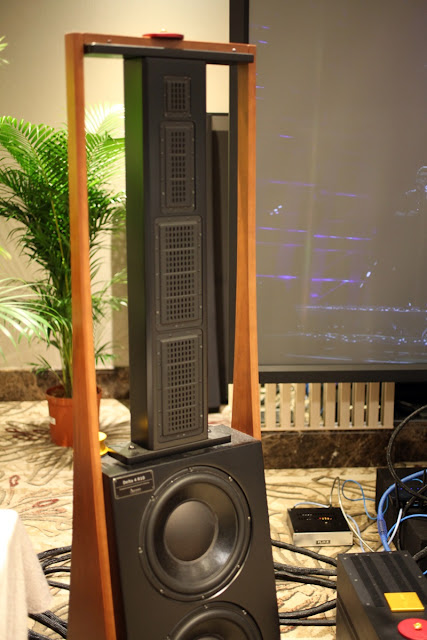 Giussani Research Delta 4 R10 speakers.
A closer look at the Lampizator Big 7.


I also encountered some interesting devices from a Taiwanese audio company, Acuslik Labor. Mr. Lin showed me some of his tweaks that tackled equipment resonance, and room acoustic issues, as well as some of his cables. The products were very reasonably priced.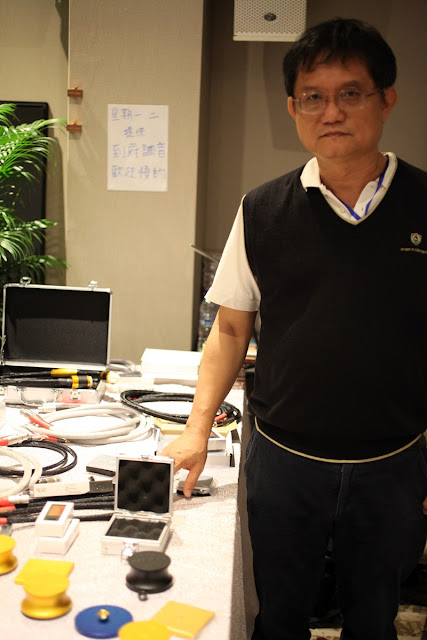 Mr. Lin of Acuslik Labor. The room and equipment were treated with his products.
A close-up of his resonator tweak – at prices that most audiophiles can afford.


Sound Decisions Pte Ltd were showcasing a stunning new Sony 4K projector – this distracted me momentarily from the audio setup. The MERGING+NADAC DAC immediately caught my eye. Sammy Low walked me through the rest of the setup, with a VTL TL7.5 Series III Reference Preamplifier and MB-450 Series II Monoblocks. paired with German Physiks HRS-130 speakers. For vinyl lovers, the analog included an Avid Acutus Reference turntable, SME V arm and Ikeda cartridge. An Avid Pulsare phono stage completed the picture. Cabling and accessories were from Synergistic Research.



This system had good potential but careful evaluation was difficult with the nearby home theater demonstration rooms blasting away.

AVP Sound Vision had on display a rather imposing looking speaker from Sigma Acoustics. The front end was an Atoll CD player, paired with a Synthesis integrated amplifier. Cabling and accessories were courtesy of Nordost.





Alpha Audio were pairing Music Fidelity Nuvista electronics with a Tannoy DC10T. Straightwire cables were being used. Cambridge Audio electronics were also on display.


Stereo Times Masthead
Publisher/Founder
Clement Perry
Editor
Dave Thomas
Senior Editors
Frank Alles, Mike Girardi, Key Kim, Russell Lichter, Terry London, Moreno Mitchell, Paul Szabady, Bill Wells, Mike Wright, Stephen Yan, and Rob Dockery
Current Contributors
David Abramson, Tim Barrall, Dave Allison, Ron Cook, Lewis Dardick, Dan Secula, Don Shaulis, Greg Simmons, Eric Teh, Greg Voth, Richard Willie, Ed Van Winkle, and Rob Dockery
Music Reviewers:
Carlos Sanchez, John Jonczyk, John Sprung and Russell Lichter
Site Management  Clement Perry
Ad Designer: Martin Perry