Classical Epiphanies - Spring Concerts and Gem Recordings
June 2011
The infant Bacchus was throwing a laughing glance from across the balcony. (Bacchus is the Roman adoption of the Greek God, Dionysus, the God of wine, merriment, music making and, on a more serious note, the force that frees one from self-conscious fear; the "God of Epiphanies" and flashes of genius and insight). This particular laughing Bacchus was being held aloft by a Fawn within one of the sixteen replicas of Greek and Roman sculptures that line the architectural niches on the upper level of Boston's storied Symphony Hall. On this spring evening (as the azure blue night sky glowed behind the high oval windows of the Hall), a capacity audience gathered to celebrate the genius of Beethoven and Stravinsky, two composers struck with many of Bacchus' Epiphanies in their lifetimes. Tonight's program included Beethoven's crowning Ninth Symphony along with Stravinsky's Symphony of Psalms performed by the Boston Symphony Orchestra ("BSO") conducted by their Conductor Emeritus, Bernard Haitink. This was the last weekend of concerts at Symphony Hall in the BSO's 131st season before the orchestra's annual migration to its leafy summer home at Tanglewood. [The BSO celebrates the 75th anniversary of Tanglewood this summer and the celebration will be one not to be missed. There will be a stellar cast of guest artists joining the BSO; eight world premier performances; John William's 80th birthday celebration and a replication of programs from Tanglewood's first season in 1937. For those who cannot travel to the majestic Berkshires this summer, the BSO is making available international radio broadcasts, including 75 free digital streams of performances (available for purchase after a 24 hour period). All information can be found at www.tanglewood.org].

As the infant Bacchus continued to grin from his perch, members of the Tanglewood Festival Chorus, (under the direction of their founder, John Oliver), took to Symphony Hall's stage ready to join the orchestra on Stravinsky's contemplative journey in his Symphony of Psalms. The piece opened with an intensely yearning section for flute and oboe that evolved into a quiet meditation joined by string bass, tuba and low ghostly trombone notes. Then the chorus entered ever so slowly, building steady blocks of flowing harmonies that contrasted sharply with sudden flares from a lone trumpet and strikes from the dual pianos. Such strange and fresh orchestral combinations were analogous to a young Mohammed Ali and his brilliance in the boxing ring- "float like a butterfly and sting like a bee" - where Ali invented new, unheard of combinations of dance, prance and jab. Similarly, Stravinsky designed his Symphony of Psalms around a uniquely scored orchestra (including that dual piano, tuba combination) to which he added the sparring partner of a huge chorus, to create new sparkling (and startling) combinations of musical sounds, colors and textures. The hundred-plus voices of the Tanglewood Festival Chorus produced a huge wave of vocal color painted against sharply defined and defiant woodwind passages, string pulses, dual piano runs and the blurt of brass and tuba. With these unusual concoctions of sounds and textures, the piece radiated with a feeling of both contemplation and unresolved inquiry. Its hymnal ending was formed from a repetitive choral line rising and falling in shadowy recessive presence next to glowing string chords, moving from minor to major chords and then fading into silence. To achieve this beautiful ending, Maestro Haitink raised a lone finger (and then lowered it ever slowly), gesturing a close to the lingering sounds as they decayed softly into silence.

As several writers have opinionated, the First Movement of Beethoven's Ninth Symphony deals with this movement from silence to evolving light and life. Tonight's bountiful performance of the Ninth was highlighted by something new to explore in every nook and cranny of Beethoven's craggy mountain of a symphony. The BSO sounded superb at every turn, delivering a combination of warmth with a lucidity of textures and colors. There was an impeccable touch to each note that heightened the unfolding drama. Haitink led the orchestra with a nuanced hand, letting the BSO lead the way with their own artistry and trusting fully their sense of direction. Ripples of energy galvanized the First Movement, with strings and woodwinds light as air dancing next to the lone trumpet call. The buoyancy and lift of the strings was a thing of beauty. The Second Movement scherzo was highlighted by the astonishing work of the BSO's timpanist, Timothy Genis, who coaxed contrasting timbres and textures from a single, staccato pounce on his instrument; accentuating the sharpness of every whirl of counterpoint dance in the strings and woodwinds. In the singing Adagio of the Third Movement, the BSO's Principal Clarinetist, William Hudgins, was superb in his solo as it swirled in light, woody charisma next to the long-breathing strings; until stopped in his tracks by the stern, clarion calls of the brass. In the final movement, the choral finale was filled with bursts of Bacchanalian vocal delight beginning with Austrian bass Guther Groissbock's vigorous introduction. His ardent calls led into the chorus' crying "Freude!" – "Joy"- followed by towering proclamations by soprano Jessica Rivera, contralto Meredith Arwady and tenor Roberto Sacca. This intertwining vocal passage led to the soaring journey of song to reach the mountaintop: the jubilation of the Ninth's coda. Haitink led this upward procession with nuanced and simple gestures: a rumbling left hand left wavering in the air for more string forte; a full left arm plunging from a height to quiet the brass; a light trace of a line by a finger to accent the woodwinds to come forward. Haitink clearly has a special relationship with the BSO. They wordlessly communicate the most profound and intimate musical connections. As the audience stood to cheer at the conclusion of this inspired performance, I glanced over and thought I saw the infant Bacchus' ancient grin grow ever wider.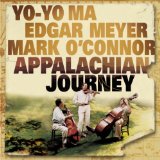 Such moments of Baccanalian insight and joy can also be found on a new recording by a group of BSO players who call themselves the "Concord Chamber Music Society" ("Concord Society"). Their self-titled CD [Reference Recording RR-122] comes gift wrapped with two very special ribbons. First, the performance was recorded in the angelic space of Mechanics Hall in Worcester, MA. where many a great recording has been made, including those special sessions produced by Stephen Epstein on Sony Classical with Yo-Yo Ma, Edgar Meyer, Mark O'Connor, Kathery Stott et. al. on their recordings Appalachian Journey [SS 66782] and Paris La Belle Epoque [SK87287]. Secondly, the recording was produced by Keith O. Johnson and the Reference Recording team, who we all know have been struck by Bacchus' epiphanies on so many of their past recording sessions.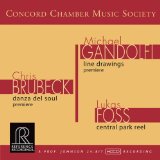 The Concord Society recording offers the fresh compositional voices of Chris Brubeck, Michael Gandolfi and Lukas Floss in a superb recording where a cornucopia of sounds are captured within the layered and vibrant acoustic space of Mechanics Hall. First off is Brubeck's composition, "Danza del Soul," which begins with a whimsical solo by Thomas Martin on his woody clarinet that cascades and illuminates the Hall's cavernous space. This is followed by a call from Wendy Putnam's violin, (cloyingly beckoning from the boundary of the stage), until she moves onto center stage to join Martin to begin the First Movement, aptly entitled "Flirtations." Spirited plucks from Owen Young's cello and Lawrence Wolfe's bass then join the fray. The entwining dance concludes with an exuberant Latin jazz rift, glowing from piano strikes, frolicking string flights and the crackle from drum sticks and tambourine accents. Brubeck's second movement moves in graceful melody with Vytas Bakays' spare and evocative piano notes spreading the table for a slow, radiant feast of violin and clarinet dialogue that ends with the faintest of bell shimmer and decay. The final movement, "Celebracion de Vida" begins with a pungent attack of resonant drum hits that permeate to the recesses of the Hall. This ignites a crisp interplay of the Concord Society players in a jousting match pitting clarinet, violin and piano in contrapuntal snatches of Latin melody and swashbuckling flavors. Jazz and classical melodies gnash and melt together in this prickly collaboration. Such fresh, acoustic music (played in a beautiful, natural acoustic space) never sounded so true, joyful and effortless.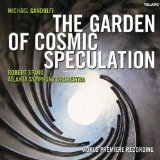 It is hoped too that you have caught and enjoyed the performance of the Atlanta Symphony Orchestra conducted by Robert Spano in performance of composer Michael Gandolfi's sparkling composition, The Garden of Cosmic Speculation, [Telarc SACD 60696 or CD] previously reviewed in these pages. The evolution of Gandolfi's fascinating oeuvre (bringing unexpected meters, instrumental colors and endless melodic inquiry to his palette), continues with his composition, "Line Drawings", buoyantly brought to life by the Concord Society on this same Reference Recording disc. Each section of Gandolfi's creation brings fresh ideas and irrepressible surprises. There is the lilting, quietly glowing "Obbligato Aria" (with its wisps of impeccable touch from piano and violin); the geometric modeling of "Hidden Variable"; and the cacophony of "Chickens," with its staccato clusters of string and clarinet runs all gnashing up against piano chord fencing. Nothing escapes Gandolfi's reach: from pointillist textured bursts in "Canon, Cut and Paste" to his deeply purple Blues-tinged melody in "A Farewell To Old Friends." The lyrical and harmonic exuberance of Gandolfi's compositions is shared as well by his compatriot, Lucas Floss, whose "Central Park Reel" closes this recording. Floss' composition is like a colorful whirligig. Each section of this duet between Putnam on violin and Baksys on piano brings new ideas, as Foss' whirligig spins and churns in multiple musical directions on its creative wind; all built on the foundation of a beautiful Americana hymnal. Once again, this recording superbly captures all of this drama and artistry within the confines of Mechanic Hall's special clarion space that suffices a natural crispness to every pluck and internal piano string breeze.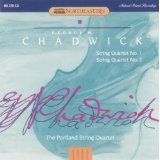 Speaking of Americana hymnals, are you familiar with the music of George W. Chadwick (1854-1931) that most artful and buoyant American composer who bridged the era of romanticism with forays into modernist experimentation with such panache? If not, the vital and radiant recordings of Chadwick's four String Quartets performed by the Portland String Quartet ("Portland") [Northeastern Records NR 234 and NR 236] are a must to check out. (Both discs include stellar linear notes from Steven Ledbetter, who is a champion of Chadwick's works, the BSO and the Concord Society). These recordings were made in 1985 and 1987 by the Portland in the confines of Houghton Memorial Chapel at Wellesley College, MA. and deliver all of the wonderment of these compositions (and the artistry of these players) in a crisp and articulate space. The compositions of Chadwick are delectable creations. They are filled with unfolding melodic Americana themes; surprising comic twists and staccato turns; sparkling, propulsive action and moments of quiet contrapuntal grace. Ledbetter documents the friendship between Chadwick and Dvorak and it is interesting to explore Dvorak's influence for interweaving native folk melodies into his compositions and how this shaped Chadwick's own musical tapestry in creating his string quartets that evoke a distinctive Americana vision.

The Portland's spirited performance of Chadwick's String Quartet No. 1 (on NR-236) illustrates all of these qualities in their early, spirited forms. This is a performance of great verve and energy., A spirited Americana melody begins and ends the piece, played with soulfulness by the low string players, Julia Adams on viola and Paul Ross on cello. After this rapturous theme is a First Movement filled with braided chromatic variations, propulsive colors and contrasting textures. The slow Second Movement flows with hymnal sweetness as it unfolds on the meandering high registers of Stephen Kecskemethy and Ronald Lantz's violins that wash against the undertow of viola and cello deep bowing and pizzicatos. Then the youthful Chadwick brings us a plucky Third Movement, all strutting with vivacious energy and the hope of springtime, beautifully unearthed in sparkling string turns nestled in short, deft strokes. It might be that this Northeastern Recording is a bit on the dry or astringent side of string tone, but the tactile crispness of the recording adds to the ability to hear every inventive inflection and gesture in this Third Movement, as the Portland lean in with keen attention to every pluck and quick pause. The Portland's unerring touch also creates a final movement of crackling angular force, (reminding a bit of a predecessor to the aforementioned "Chickens" movement from Gandolfi) with its prickly and comic string calls (like geese cackling in a barnyard). At its end, Chadwick throws us a surprise pause and then a recapitulation of the graceful melody from where we started this spirited journey.

Likewise, the Portland's performances of Chadwick's String Quartets Nos. 4 and 5 (NR-236) deepen an appreciation for how Chadwick brings an approachable, yet effusively challenging, musical fervor to his vision. The Third Movement of Chadwick's String Quartet No. 4 is particularly delightful, as Chadwick ramps up a scherzo into dizzying heights of fiddle finesse, only to cushion its tigerish attacks with a sudden hymnal change of pace as deep bowing from viola and cello act like a sunflower turning towards the Sun. This mastery of meter shifts and the bladelike articulation closing around softness of tone and color is wonderful to behold. Catch Chadwick and hold him in your ears; there are many facets to his compositional genius and these ebullient performances by the Portland bring out every shifting angle and glint of epiphany shining forth in Chadwick's creations.

We welcome any suggestions for audiophile recording gems. Please write to nelsonbrill@stereotimes.com.