CES 2005 Clement Perry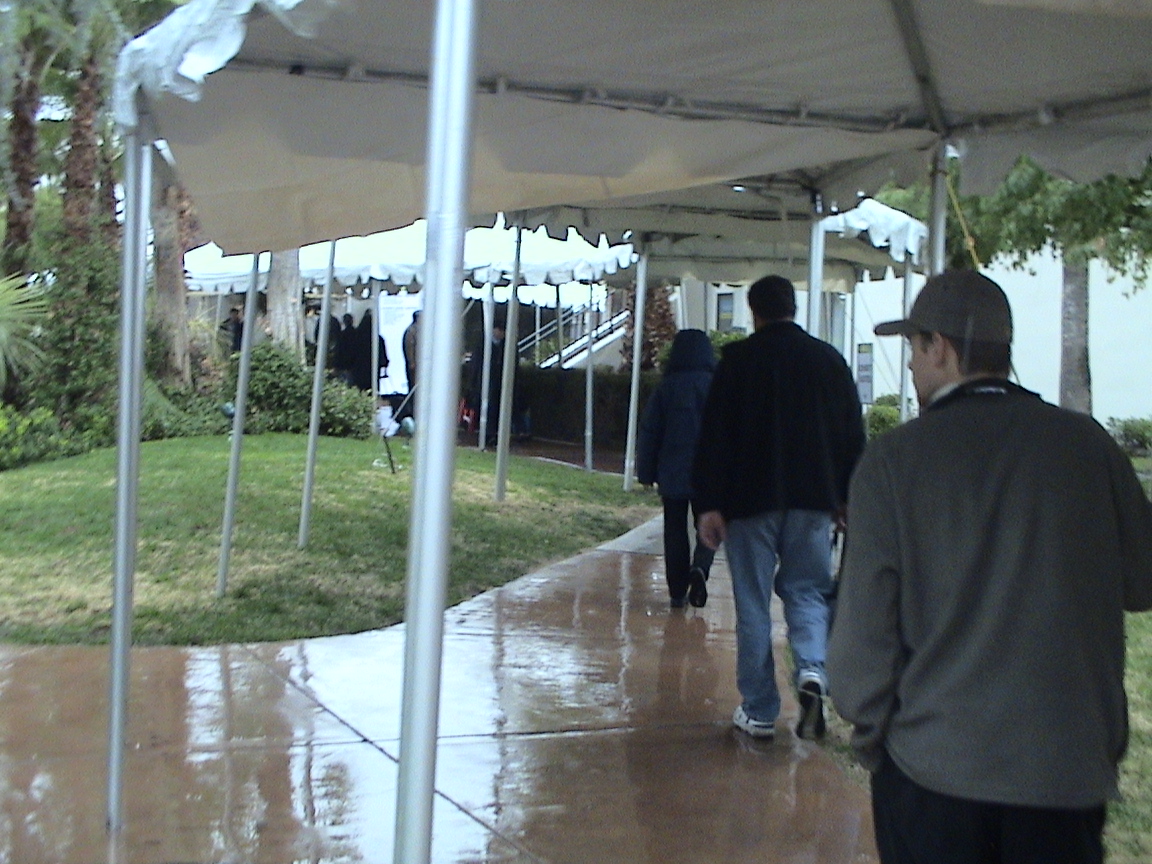 CES 2005...Thoughts

Lost Wages, Nevada.
As previous shows held under Nevada's warm desert sun offered a great escape for those living on the cold eastern seaboard this time of year, this event proved quite different. First, it rained! Then, right here in the middle of the desert, it snowed! Right after one of the worst natural disasters in history took place on the day after Christmas, we, over here, gathered ourselves, regained our composure (even as the the death toll grew), and in less than two short weeks flew off for CES 2005. As a personal survivor of 9/11, I felt a sense of guilt. But, at the same time, I've since learned, as callous as it may appear, moving forward, staying active and sticking to appointments is one of the best forms of therapy and thus recovery. We really have no choice except to go on and do the best we possibly can.
However in a strange sort of way the weather served as an ominous reminder. For me, as well as everyone I spoke with, it served as a constant reminder to keep things in their proper perspective. Life, just like the weather, can be cold, wet and dreary... right here in the middle of the desert too.
Gratitude restored!
My hunch is the gang made it there and back with everything intact except their bill folds. I know I lost again at the blackjack table in what only seemed like a matter ofminutes. I told myself I wasn't going to gamble again (lost quite a bit last year too!), but I just had to give it a another try. I mean there's got to be more to life than just going to 'Vegas and chasing behind exotic electronics. Yeah, lose money and then chase behind exotic electronics.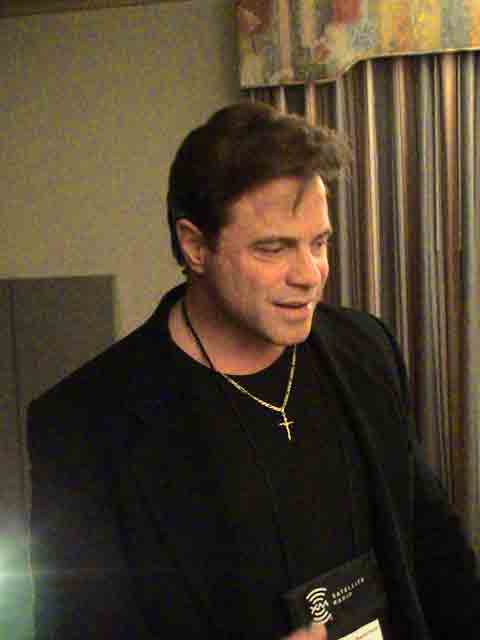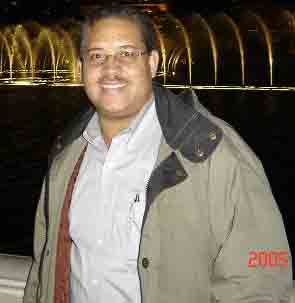 CES 2005 got serious ST coverage from Dave Thomas, Frank Peraino (above center), Dan Dzuban, Key Kim (left), Mike Wright, Ron Nagle, Courtenay Osborne (right) and yours truly. Besides Key Kim everyone lives quite a bit away so it was nice seeing them all under one roof.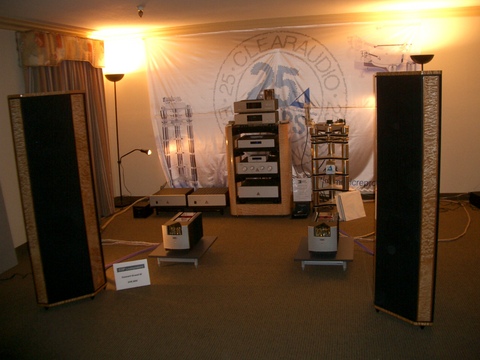 Frank Peraino couldn't keep his eye on the camera for good reason: he was smitten by the looks of the new Clearaudio AMG Reference turntable nestled behind a beautiful pair of ESP loudspeakers located in the Musical Surroundings room at Alexis Park.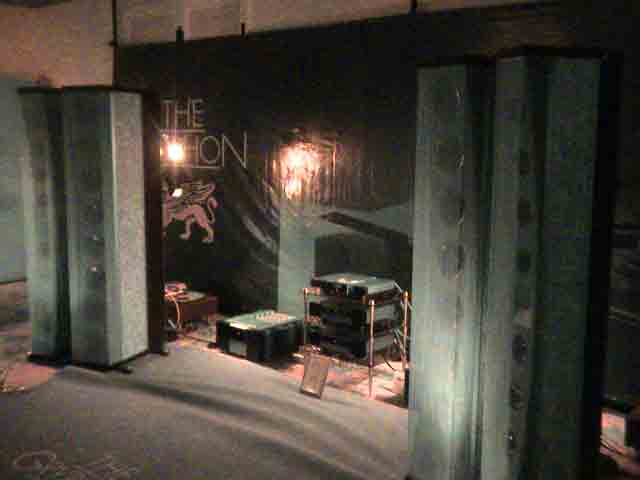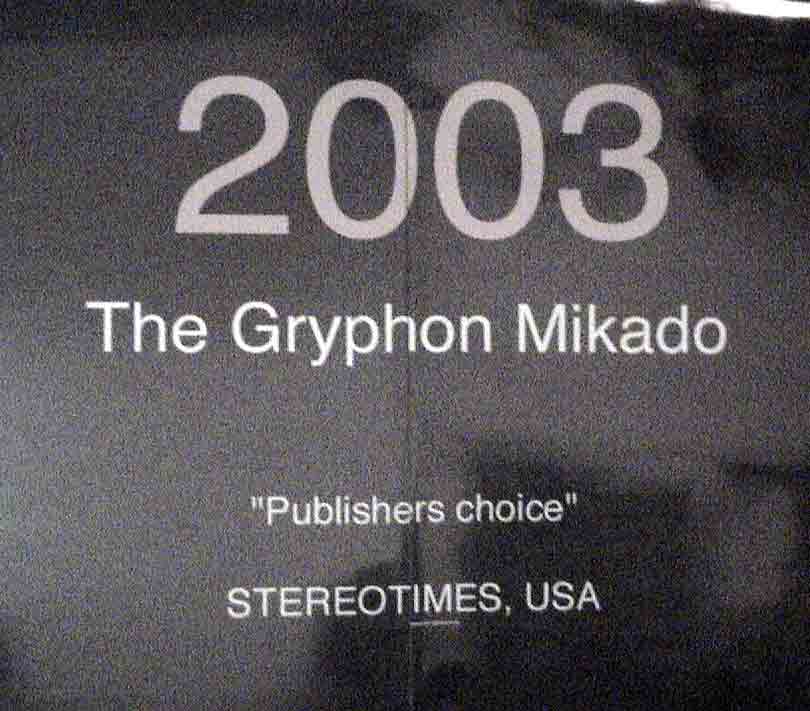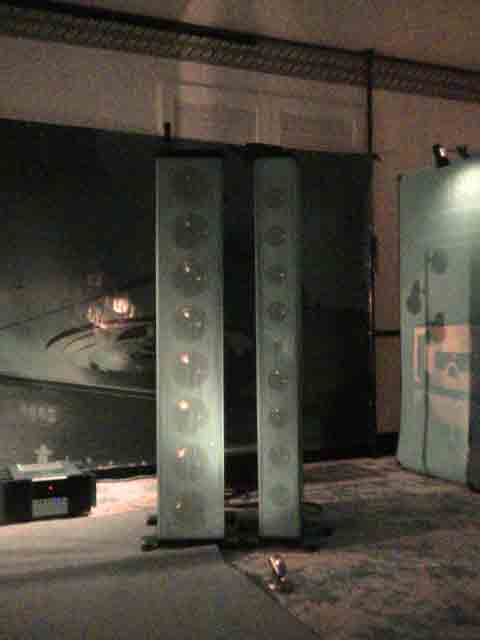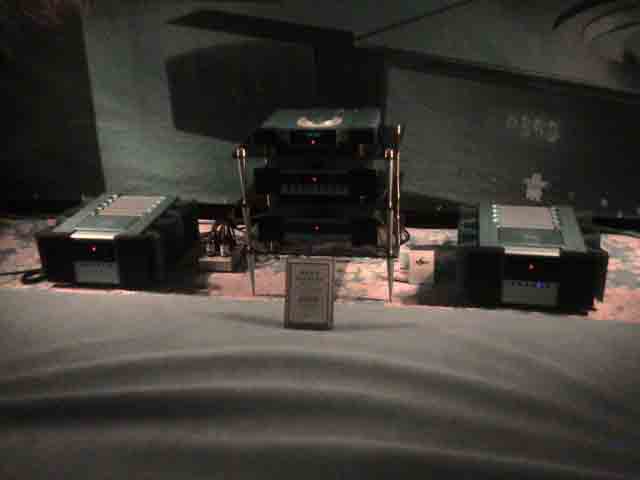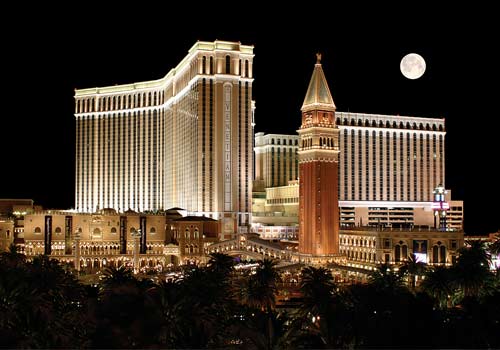 Celebrating 20 years of high-end audio designs, Gryphon Audio put on a hell of a display at T.H.E. Show. Gryphon has garnered favorable reviews the world over. They displayed all the accolades received over a 20-year span along a huge wall. Considering I've lusted after this product line since 1995, it was quite humbling to admire Stereo Times' Publisher's Choice! among those magazines quoted (above right).
Showcased this year was the awe inspiring Poseidon Reference loudspeaker ($130,000). Standing 6 1/2 feet tall and weighing more than 850 lbs per side the sound these loudspeakers produced via some help from a pair of relatives in the Gryphon Antileon monoblocks ($50,000), and preamplifier, the Sonata Allegro ($12,500) was absolutely stunning.
This four-way twin-tower-of-power loudspeaker boasts special features such asConstant Phase crossover for perfect phase at all frequencies at all times; System response 6 – 40,000 Hz, + 3 dB (depending on Q setting and room size); Separate active crossover network for each channel isolated in bass tower; and lastly, a remote control for Q setting, Bass Level and Low Cut.
I customarily use some of my favorite jazz music burned to a single CD and sitting in the sweet-spot listening back through Flemming Rasmussen's latest and most auspicious design only reaffirmed my initial thoughts and fears: it is virtually impossible to get this fidelity of sound from a simple two, three or four-way loudspeakers. The sound that came from these loudspeakers was so huge in terms of volume of air, so rightfully accurate in terms of instrument size and so utterly easy on my ears, I realized again, as I did before in previous years listening to the huge VR11s ($125,000), and 2003's show that featured the Wisdom Audio loudspeakers ($250,000), that in order to get this type of freedom you need space and lots of green paper.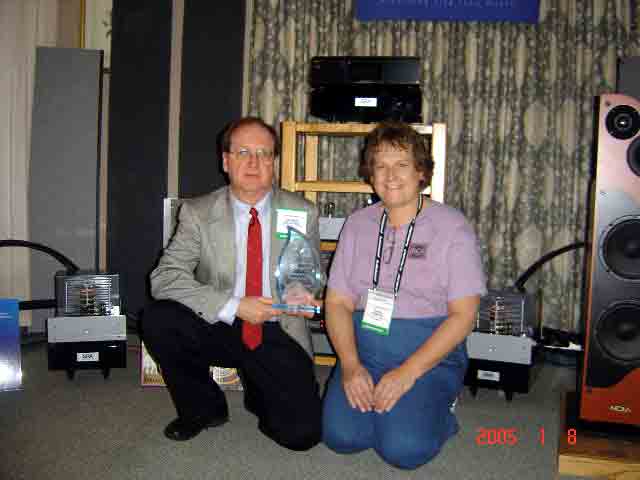 deHavilland's designer Kara Chaffe (right) and marketing director George Kielczynski proudly displayed their Editors Choice! 2004 Most Wanted Award. Using the new 30-watt 845-G amplifiers and an antique (circa 1963) Ampex reel to reel tape deck strapped to a pair of Nola Viper loudspeakers. God only knows how Kara came up with all the pre-recorded music but somehow she did. I was surprised to see and hear Jimmy & Wes - The Dynamic Duo on one of those spools of tape.
The room, using PranaWire from stem to stern, sounded delightfully open and considering the loudspeakers, a far cry from the setup last year featuring a pair of Alon Pegasus loudspeakers. Thank God, Kara set this room using an unusual approach of both adjoining front and sidewalls. BTW, What's Alon spelled backward? Nola, the name of Carl Marchisotto's new company.

Further thoughts...Tact Audio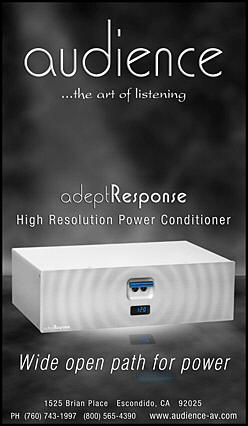 It was a quite a nice surprise to see Tact Audio back in the Alexis Park high-end habitat and away from the convention center. Tact's chief designer Radomir Bozovich (back right) takes time out to pose for a photo with devoted Tact users John Hsu (right) and Key Kim (behind me). This was indeed a special occasion for it was the unveiling of Tact's all new "Boz" reference line of multi-channel digital amplifiers shown below (price TBA).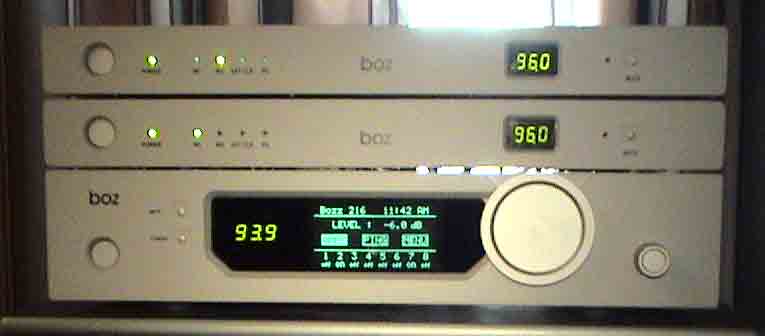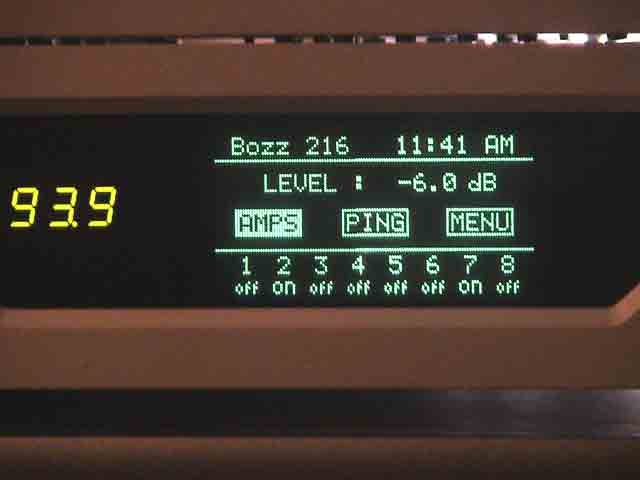 This very well laid out, dual-chassis design, boasts separate 110/220 V module with its own line conditioning; a totally new design based on LVDS (low voltage balanced signal technology). Sporting the latest Texas Instrument floating point DSPs for computer-less crossover design this new statement in digital design purports frequency resolution at the equivalent of 1 Hz and internal crossover versatility from 10 Hz and 24 KHz. This sophisticated crossover filter package offers low-pass, high-pass and band-pass design with filter slopes of 6 to 60 dB/octave. Band-pass filters can be designed with different slopes at the low and high cutoff frequency.
Upgradeability of up to 16-channels of sophisticated digital amplification, rated at 200/watts, has finally arrived (ever heard of 11.5 surround sound? Neither have I, but if it does show up, Tact will be ready). Other features include external clock sync capability (Big Ben owners rejoice) and one-touch-channel identification in case the "Boz" sees duty in a multi-channel, multi-driver setup you can immediately identify where each amp is connected through the touch of a button located on the front panel. Though slender in size the weight of each module is about 75 lbs due to separate specially wound, heavy duty torodial transformers for each channel.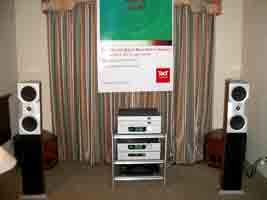 I sat in the room and heard briefly what I thought was a decent sounding setup using the Tact Audio MH1 loudspeakers made by DALI. Tact subwoofers are loaded into each corner of the room and work quite well in that position when room corrected. Decent sound may be good to some folks but based on what I have learned and know, Tact audio can sound world-class. I find it truly a statement grade product when properly setup.
I think the room promoted more of what Tact does as a room correction device rather than as a music-reproduction product.
On my soapbox..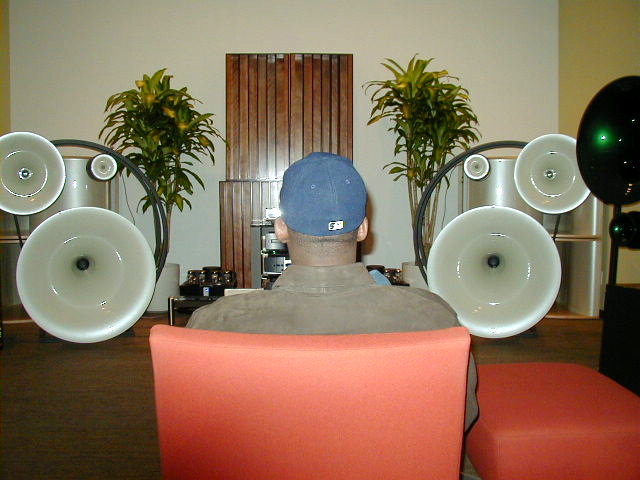 I look forward to the day when Tact Audio will be shown alongside well established companies that make high-efficiency loudspeakers. Avantgarde loudspeakers come to mind or how about a nice pair Rethm loudspeakers? I sat at length in the Rethm/Art Audio/Stealth Audio room at Alexis Park and was captivated by the musicality of these lowther-driven loudspeakers. Designed more for the musical than the visceral, these little sweethearts had me wondering aloud "why on earth isn't Tact using loudspeakers like these?" I say this because most folks that don't own Tact, or listen to all the hearsay, feel this is just another typical digital [read: lacking musicality] amplifier. That's not true. The Tact, like many horn and lowther based designs, are built around their purity rather than their power rating. 150 watts per channel is not really a lot of power in the digital scheme of things. Especially when you consider the 350 to 1000 watts-per channel ratings of some other designs claim. This is why I say in the world of digital amplifiers the Tact is the S/E equivalent. As a matter of fact, the trend of switching from S/E tube based amplification to Tact digital has actually begun in France. Want proof? Okay...
On my recent trip to Paris back in the fall of '04, Franck Tchang, designer of the Acoustic Resonators asked Key Kim and I if we were interested in listening to a system that was truly "price no object" and of course you know what the answer to that question was...Hell Yeah!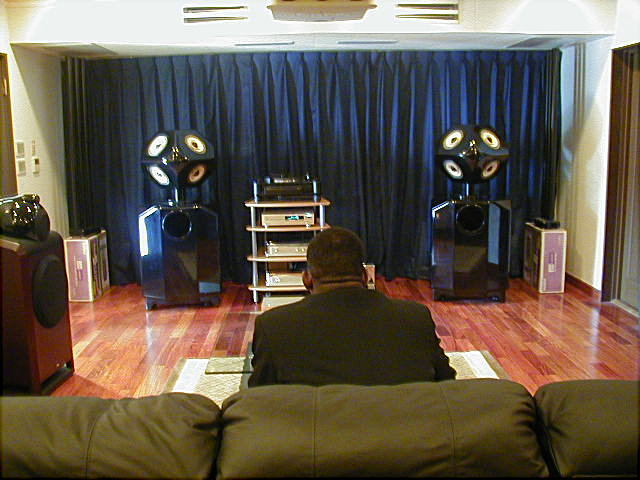 First off, my experience in listening to a wide variety of systems has grown considerably over the years with all the traveling I've done and setups I've personally helped install or simply sat and evaluated. From Sea Cliff, NY (the home of Harry Pearson) to the seashore in Aarhus, Denmark (home of Peter Lyndorf of Tact Europe) to Osaka, Japan to hear the Zanden Audio/Tutankhaman loudspeaker combination (photo right). It doesn't hurt to have a dozen or so writers, friends and audiophiles that live nearby who seem always in dire need of a second opinion.
That said, nothing could have prepared me for what I heard in the south of France at the home of Jean-Yves Kerbrat.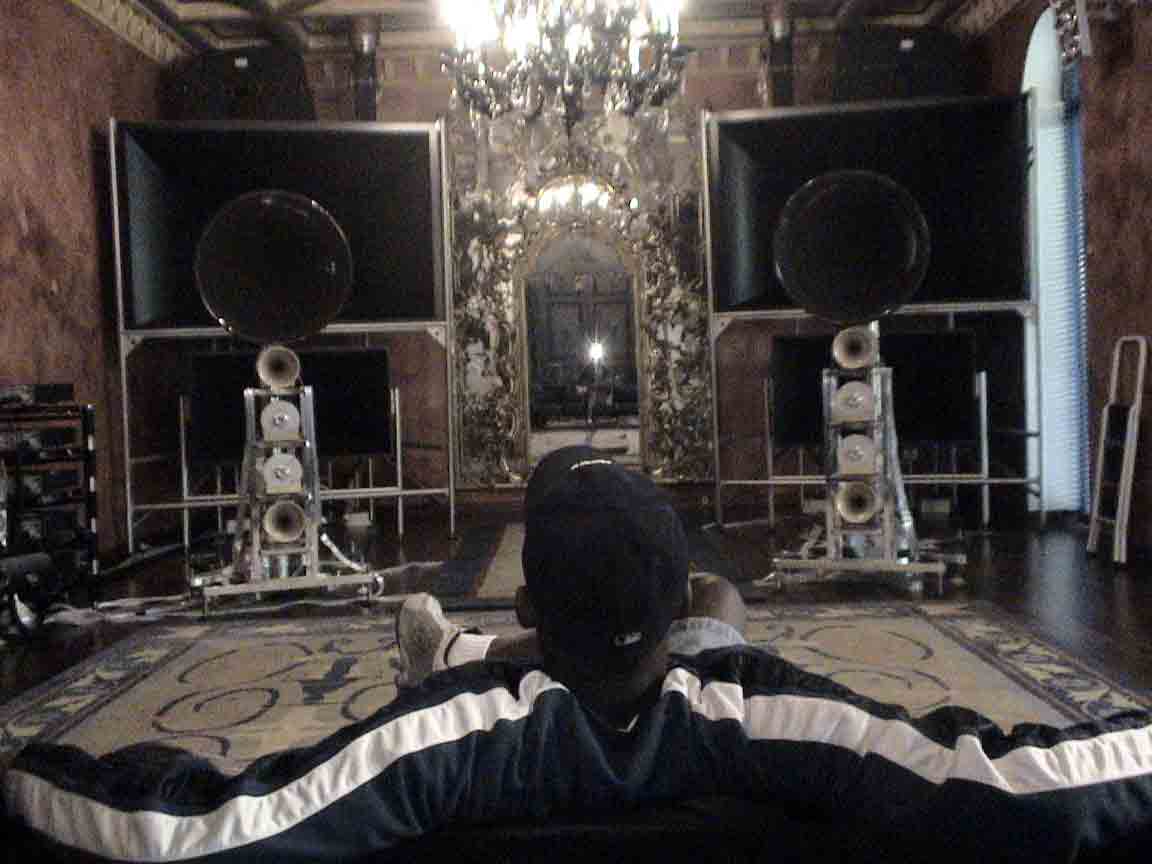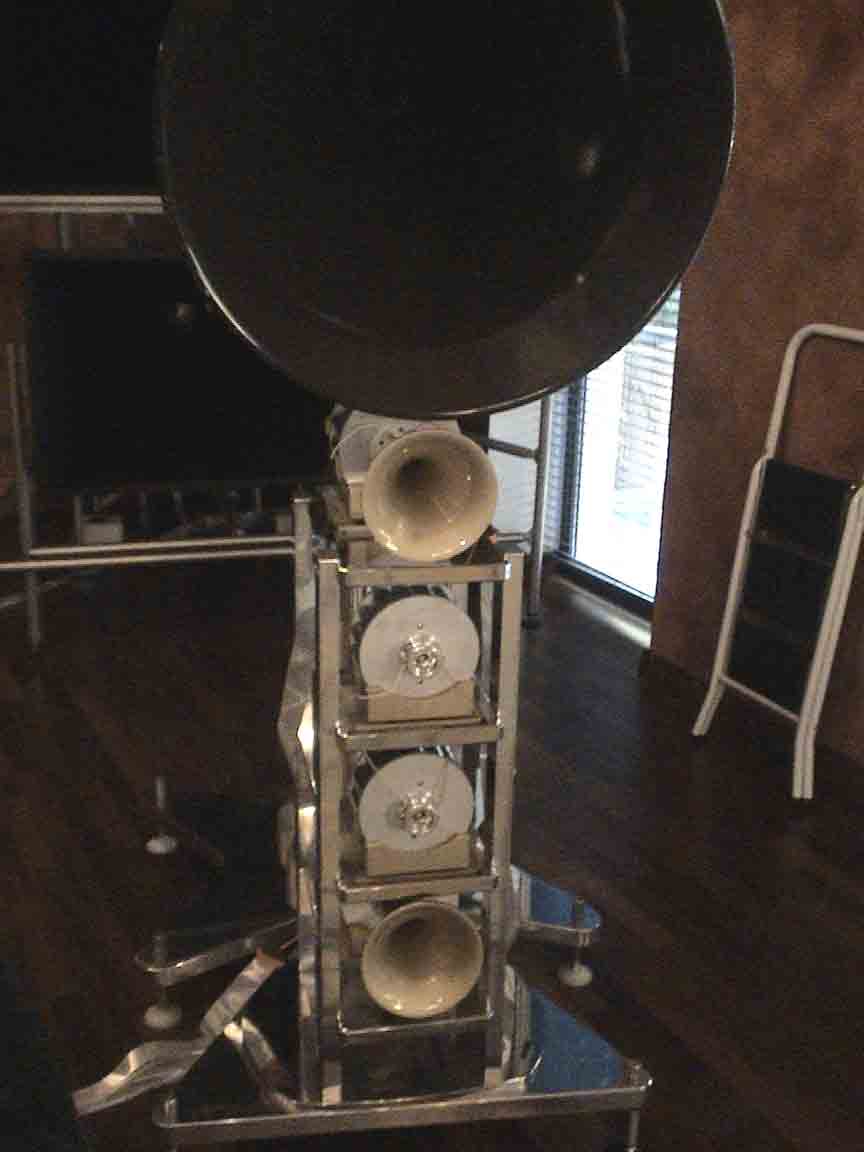 The loudspeakers were custom made and the first I've seen or heard that uses five-way high-efficiency drivers and horns exclusively. Each driver, made by a company called Goto and probably the most expensive in the world, were mounted on a custom made rack designed by Jean-Yves himself. Both design and build quality was impeccable. Most imposing was the ALE Bass Horn, ALE 160D driver (weight 100 kg). These monsters are rated to go down to 20 Hz easily and are the biggest subwoofers I have seen. They literally went all the way up to Jean-Yves' ceiling.

Five Tact 2150 amplifiers were used to drive each pair of Goto drivers independently using digital crossover slopes selected from the Tact 2.2x preamplifier/room correction device. All cabling was ribbon stranded and all A/C power cords used were Shunyata Research Anaconda Vx. A number of Shunyata Hydras graced the room while in a separate building housed more A/C products from Accuphase. Granted, there was a great deal of modifications that were done to both the Tact 2.2x's as well as the amplifier's power supply, digital input receiver along with swapping out certain capacitors for better Blackgate types. However, from what I was told, in stock form the Tact proved their worth and ended up replacing a super expensive set of monoblock amplifiers (4 pair!). In terms of digital front ends, this was probably the most sophisticated I've ever had the pleasure of seeing together linked to one system.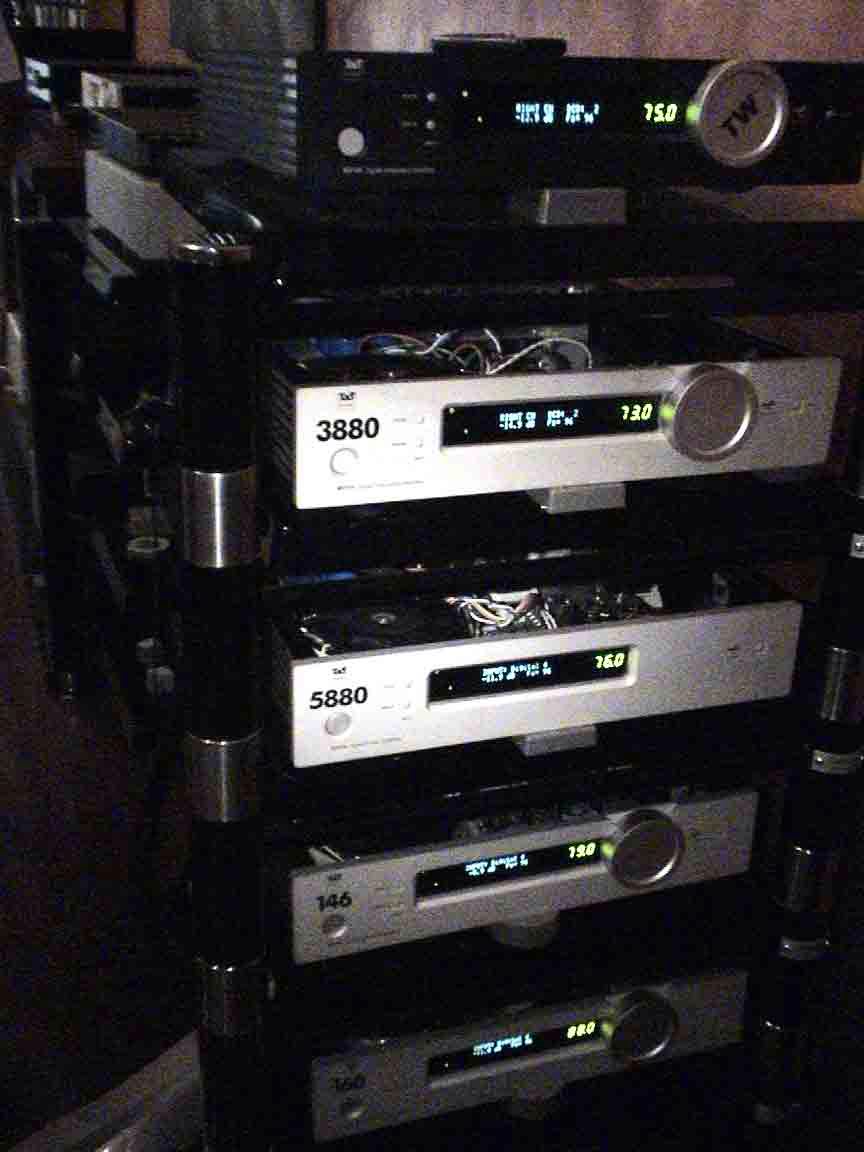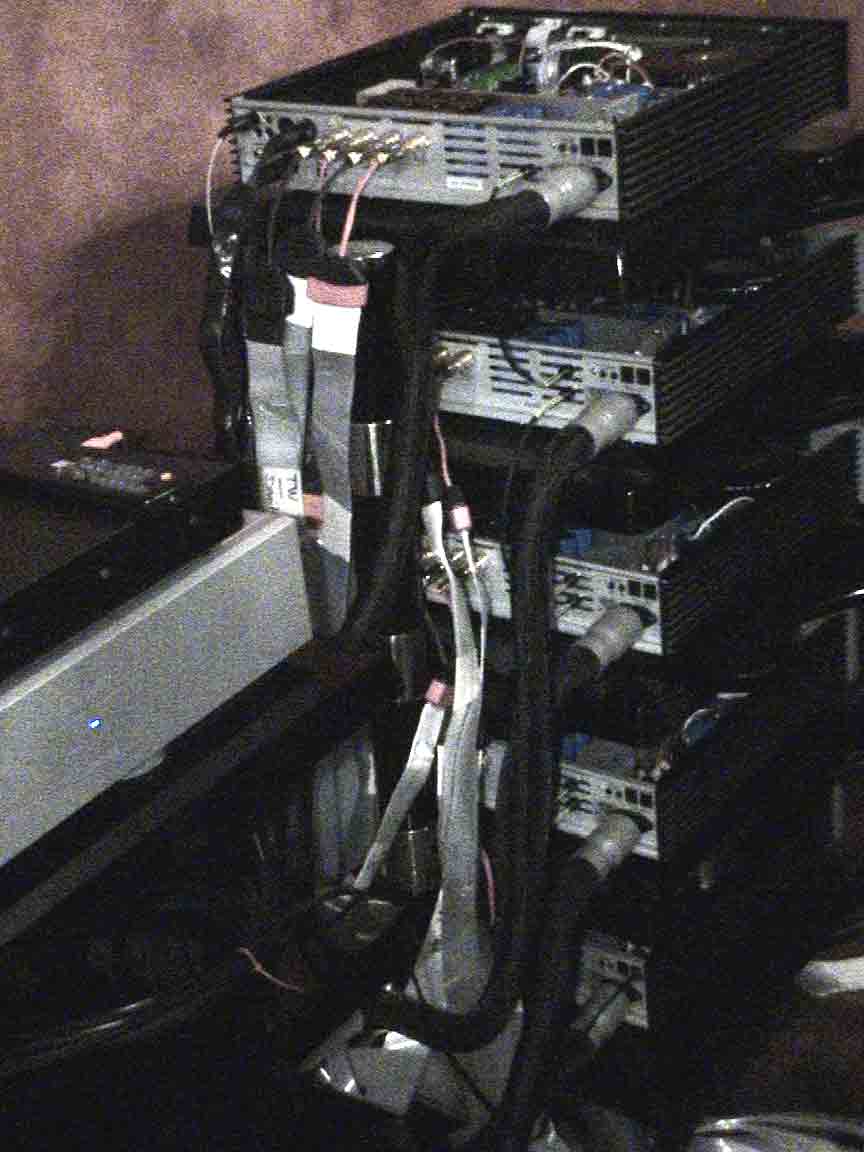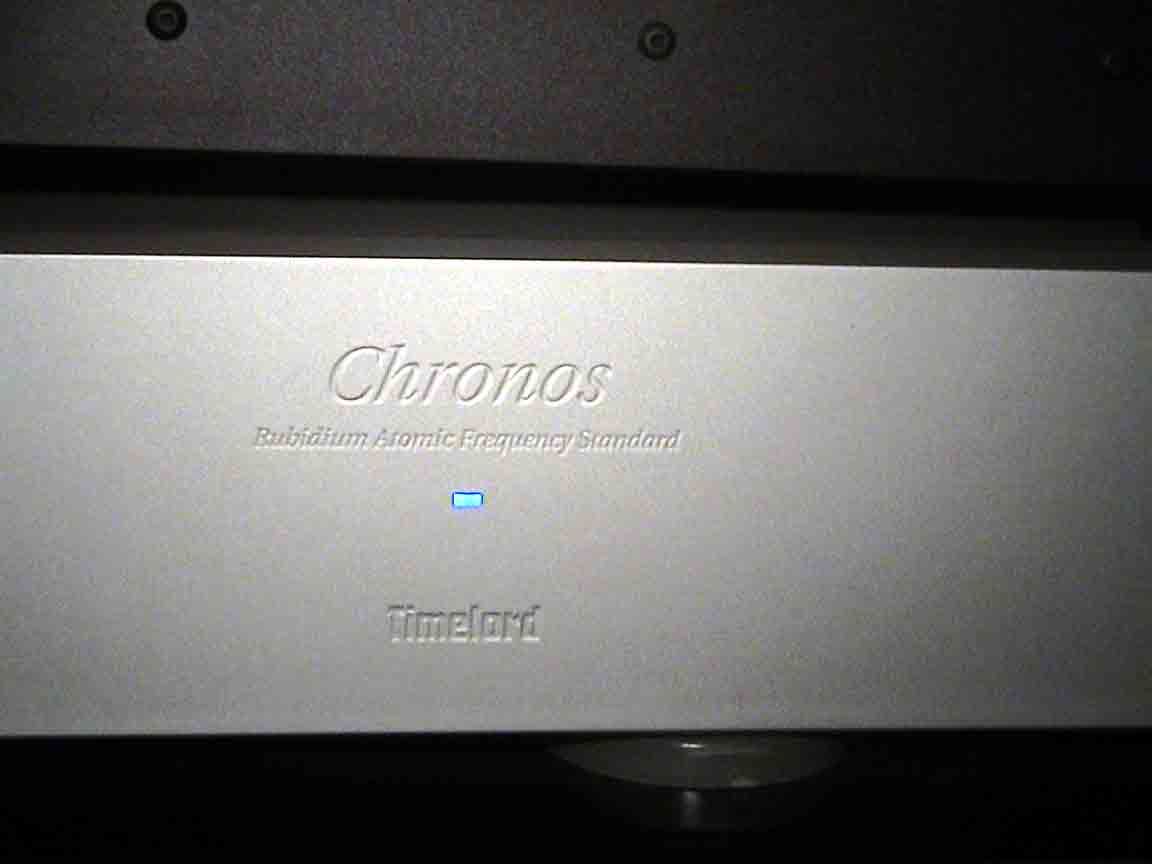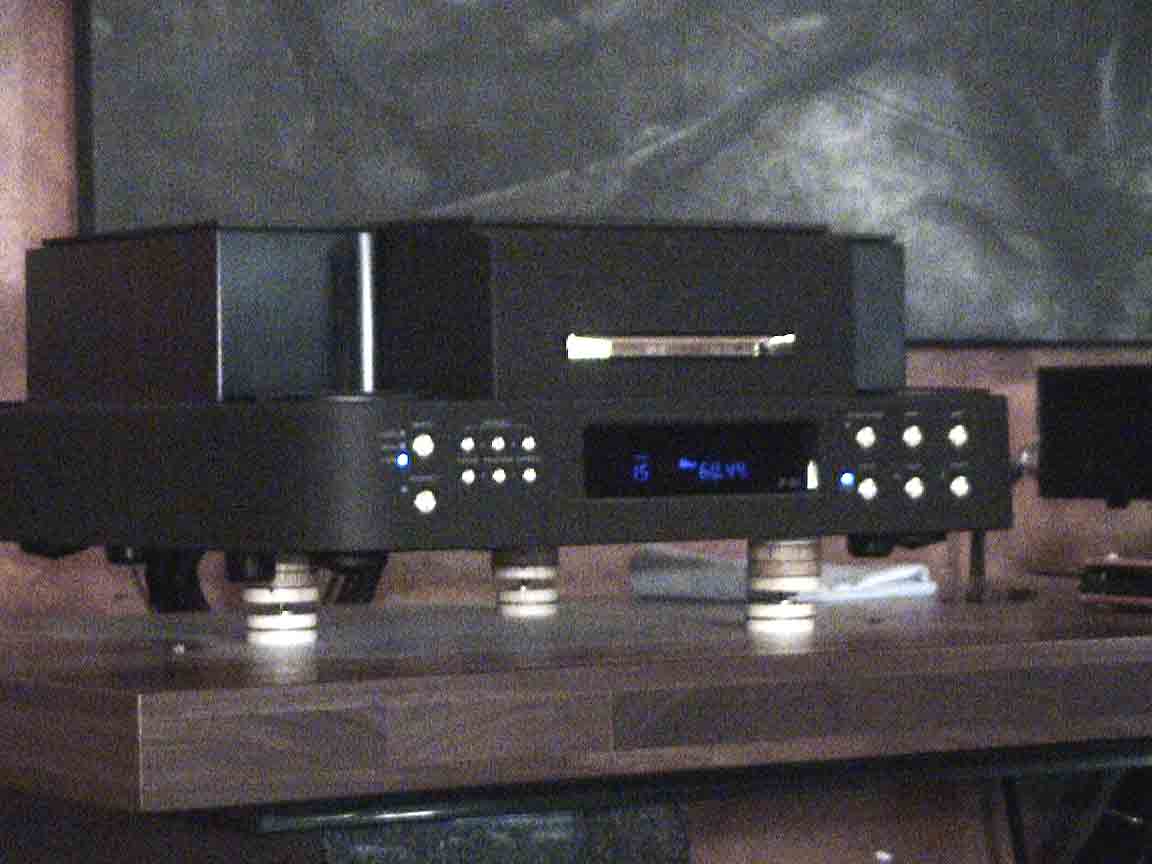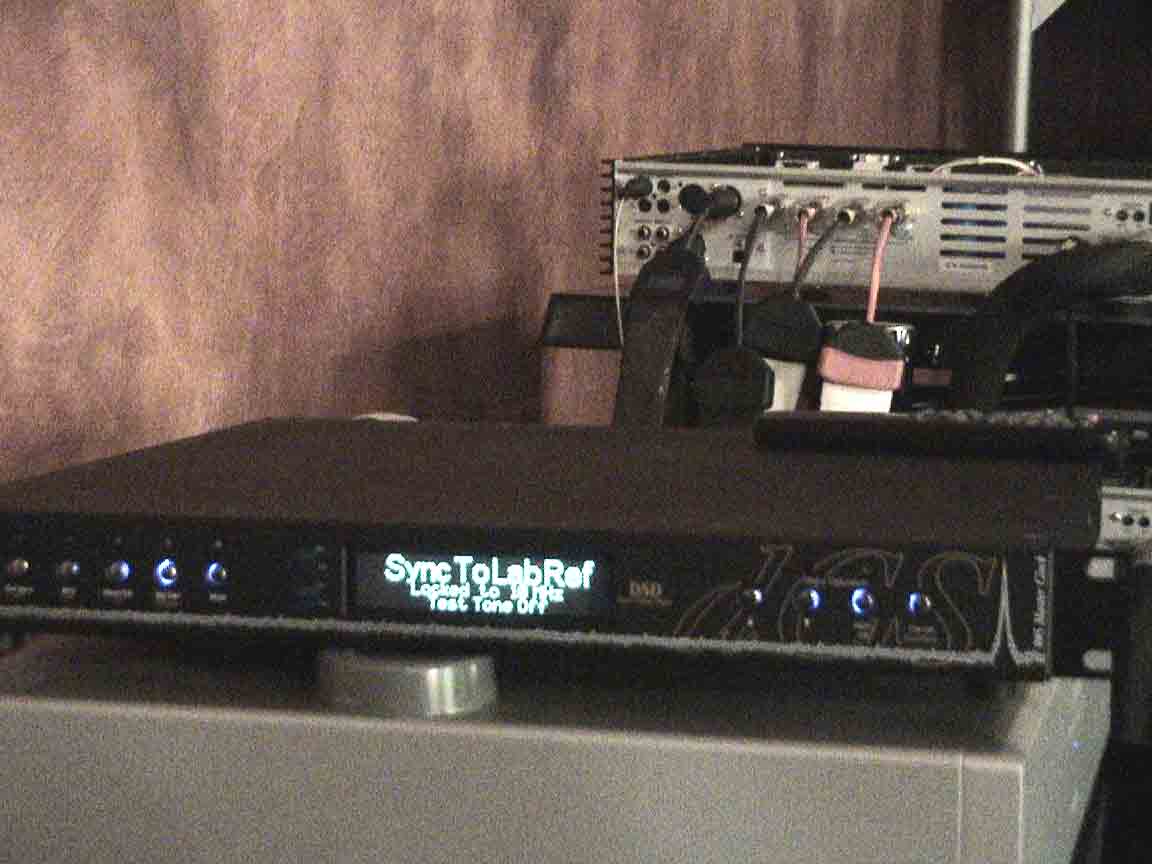 More importantly, I heard a all digital setup that was the best sound I had ever heard. I realized right then and there that digital is the future and I was delighted to be a part of it.

Off the soap box.

This is the first time I've seen or heard the Esoteric P0s. As good as it is said to be, it was slaved to a Timelord Chronos external clock built by dCS for their pro series. There was also an audiophile grade dCS 995 Upsampler sending pure unadulterated 96 kHz signal to the modified 2.2x. In terms of setup, attention to detail and overall impression, I was left dumbfounded before the first song came on. There was simply nothing left to question...except that is how it sounded.
Never in my audiophile experiences have I seen a setup of such proportions. As an aside, very seldom, if ever, can you hear an excellent sounding audio system in a wealthy person's home. Usually when you're this successful there's little time to sit and listen to your stereo much less tweak. It's too easy to drop a nice piece of change on something super expensive and expect it do what exactly what a reviewer said. Fine tune? Tweak? You've got to be kidding. Not here.
From the first track Jean-Yves played I knew I was listening to something uniquely special. This wasn't some rich guy experiment gone awry. I was sitting before something grand indeed. Something that I could not immediately identify. There was an exquisite sense of beauty to the music that I could instantly identify with but will admit have never duplicated in my, or anyone else's space. There was a rightness to the sound, a freedom of colorations all box speakers emit, that through some classical songs sounded like the instruments were really in the room. To such a degree that for the first time in my audiophile career I felt sick in my stomach. Can't describe it but there is such a thing as something so good, so magnificent, so beyond what you thought was physically possible, that you can actually have a physical reaction. I had this reaction only once before and it was the first time I heard a high-end system. That experience so changed my life that I literally went home and unplugged my Bose 901's, Carver preamp and Phase Linear amplifier, put them in their original cartons and sold them immediately at a store that was recommended. I didn't go home after my trip and throw a fit. I realized that my system is pretty well along and couldn't possibly sound like what I heard in the south of France. It was just physically impossible.
Ascendo/CAT/Virtual Dynamics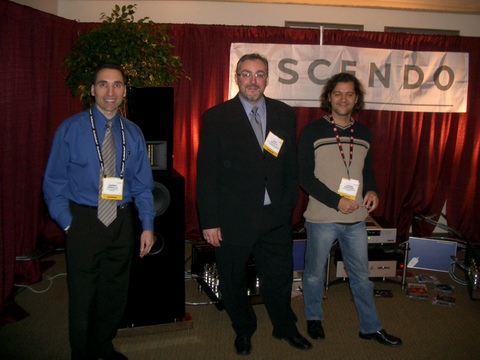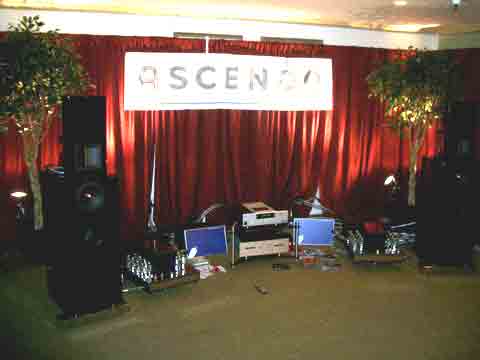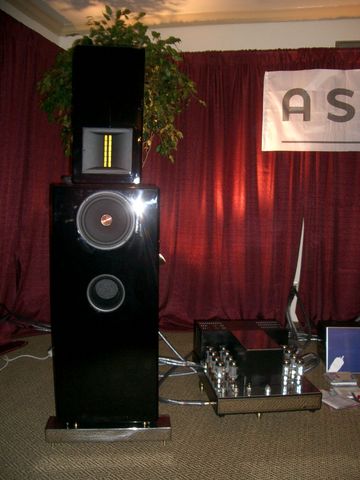 The Ascendo System M ($45K in chrome stand) flanked by a beautiful pair of CAT JL-3 monblocks ($30K) was eye-catching to say the least. Centered on a Sistrum platform was the legendary CAT Ultimate pre ($7K) and the up and coming Harmonix Reimyo CD Player ($14K). The room was put together by Avatar Acoustic's prez, Darren Censullo (left). Standing next to Darren is none other than Virtual Dynamics guru himself, Rick Schultz and to the right of Schultz is none other than Antonio Bandaras' twin Jurgen Scheuring of Ascendo GmBH.
The room proved to excel dynamically while never relinquishing its luscious midrange and wonderfully open soundstage (tubes? you bet!). Now the System M loudspeaker is a show-stopper based on its exotic stand and hovering tweeter section. I personally own a pair of System Ms and find their sound quite remarkable when paired with Schultz's new top-of-the line VD Revelation Series cables. These cables were used here throughout as well and the results were what I would have expected: full of life with a tactile sense of image specificity. Bravo!


Luminance/Virtual Dynamics/Sistrum/Acoustic Systems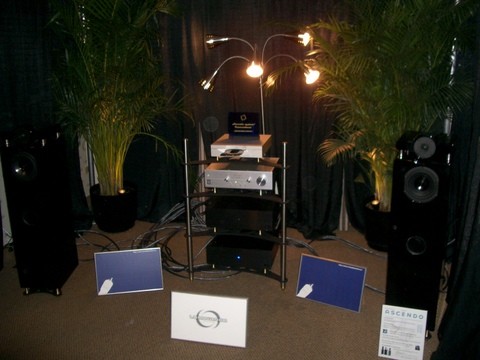 This room boasted yet another design from yes, that's right Rick Schultz in theLuminance Audio Threshold amplifier ($3K). Luminance is a spanking new amplifier company co-founded by Schultz of Virtual Dynamics and Steve Kaiser, formally of B&K (he and John Beyer designed the famous B&K ST-140). The newly designed Threshold (rated at 150/w per channel) incorporates Schultz's Speed of Light technology (SOL) and Kaiser's sophisticated circuit design which claims very high input integrity and purity. What's interesting is the design is analogue through and through. No Tripath, ICE or anything remotely digital is used. Speed, accuracy and integrity, based on circuit design and SOL are said to set new benchmarks according to Schultz.
Considering the size of this room and the size of the music, I would have to say this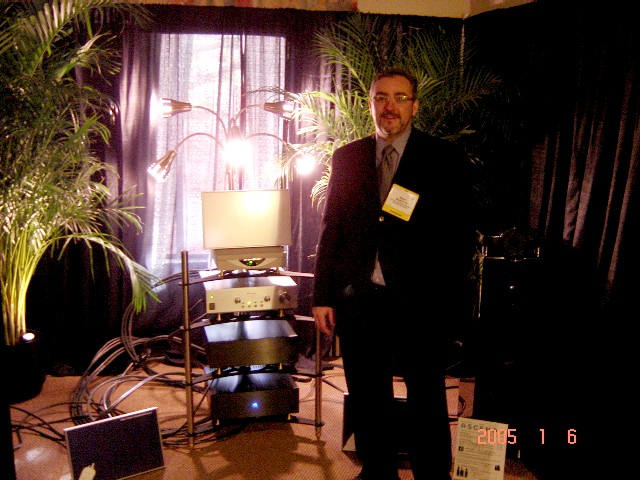 room was absolutely stellar sounding. The Ascendo System E ($12K), actually sounded quicker and more surefooted than the room boasting the System M. It didn't hurt that a Linn CD12 was playing host to all CDs while a Reimyo preamplifier controlled the output (and knowing Schultz, you know the Linn and Reimyo were both tweaked). All rested free of ground resonances by virtue of the Sistrum Isolation 4-tier platform ($3k). Lastly, Acoustic System's Franck Tchang, blessed the room with his Acoustic Resonator treatment.
We could argue all day as to which is more musically involving because the CAT/Ascendo M setup was no joke either strapped to those CAT monoblocks. But I liked the speed of this room. I also liked the overall control factor as well. The sound was neater, tighter and more intimate due to it being a smaller venue. Bravo to Rick for a marvelous setup and a excitingly good and affordable amplifier.
Isophon/Acoustic Signature/Li Ko Design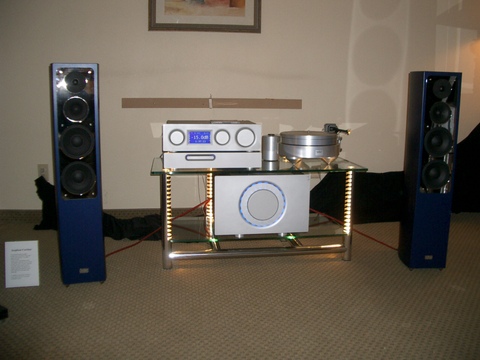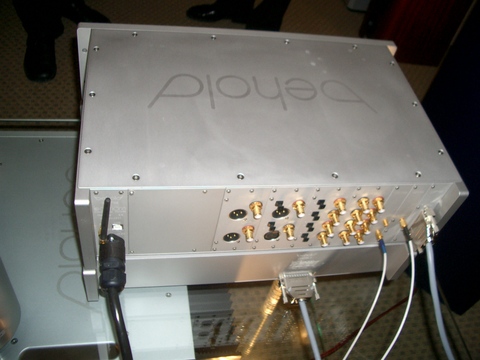 There was great anticipation in what the Behold and Isophon setup would sound like considering it totally blew me away at last year's Munich High End Show. I came home excited telling everyone who would listen what an incredible sounding setup this proved considering I already own the Isophon Europa MKI. I NEVER heard them sound this good and chief designer Dr. Roland Gauder assures me that the MKII version is a better one (don't you just hate that?). Well, that may be true but I've got to say that neither I, Don Dixon or Robert Jorgensen were prepared for this level musicality coming from such newcomers. This time around, the sound came via a stereo Behold amplifier ($30K) and a smaller, less expensive line of Isophon loudspeaker called the Corvara (price TBA). In addition, Behold also debuted their new prototype transport that looked more like an extra preamp chassis with a CD slot due to it being devoid of buttons or controls. The remote however is one slick son-of-gun that uses Bluetooth technology (more info please Munich HE above). There are few things I lust over anymore with the exception of the Behold line.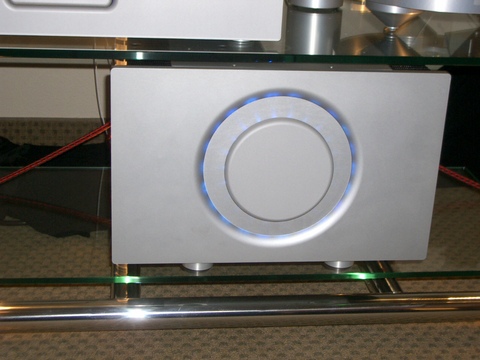 Here once again, the music did not disappoint. No, the room wasn't nearly as large, nor was the setup as elaborate as back in Munich. But that didn't seem to stop the music from flowing through totally unimpeded. I played my jazz sampler CDs and was quite impressed with what I heard once again. The sound of this combination was as quick, tonally centered - especially around voices yet didn't give way at the extremes, just as wonderful sounding as I remembered in Munich last spring.


Von Schweikert Audio/DarTZeel/EMM Labs/Jena Labs


Monte Carlo Ballroom, T.H.E. Show

Importer/Distributor Jonathan Tinn of Blue Light Audio in Portland, Oregon, put together a multi-channel package of components believed as the finest sounding system available. All of these components have one thing in common: they were statement pieces attempting to bridge the gap between hi-fi and live music. In the case of Albert Von Schweikert's new $60k loudspeaker design, the Virtual Reality-9ES (his moniker for a set of design standards that can closely replicate live musical waveforms). Let me say this, the VR-9SE sounded very close to "live" and in comparison to more expensive loudspeakers I heard perusin' round the show, this latest effort must be considered a bargain. [Consider this, Von Schweikert showed secret drawings of his new VR7 prototype, which looks very much like the VR9SE's minus a powered sub, that will retail for about 30k and slated to debut this spring.]

Von Schweikert - the man, as well as his machine - blessed showgoers by unveiling two pair of the mid-sized VR-9SE's in a four-channel format in gigantic 24' x 34' ballroom. Employing the impressive multi-channel EMM Labs Switchman preamp ($8K) and SACD transport/DAC ($16k combo) rested upon the attractive and functional Craz Reference isoRack from Silent Running Audio ($7k). Four Swiss DarTZeel ($13K/ea) 100-watt amplifiers drove the VR-9SE's in a vertical bi-amp mode, using Jena Labs woven copper cables (price TBA). A variety of SACD multi-channel recordings were used to demonstrate how recorded sound can approach a live concert performance. Bravo, Mr. Von Schweikert, you've done it again! Von Schweikert, once again gave me the scoop on how he and his design team, led by Kevin Malmgren, VP Engineering at VSA (photo left), were able to design yet another ground-breaking system. Chew on these VR-9SE factoids that Von Schweikert spoke quite matter-of-factly into my Sony voice recorder:
Bandwidth: 10Hz to 100kHz (claimed to be a "first" in a reasonably sized system).
Distortion: Less than 0.7% at 100dB (that's the lowest distortion around, folks).
Sensitivity: 96dB (this amount of dynamic range will leave you with goose bumps on a daily basis).
Output Level Capability: 127dB with less than 3% distortion (Is it Live or is it VR-9?)
Drive Units: 1-15" powered subwoofer, 2-9" midbass, 1-7" midrange, 1-1.5" Dual ring tweeter, and 1-5" ribbon super tweeter (front), 1-5" ribbon rear-firing Ambience Retrieval driver.
Amplification: Built-in 1,000-watt Class D amplifier used to drive the rear mounted 15" sub exclusively.
The Von Schweikert Audio VR-9SE is a scaled down version of their flagship $125k VR-11SE, considered by many as one of the most accurate transducers in the world. Unfortunately, the VR-11SE stands nearly eight feet tall and at a ½ ton in weight, many potential customers demanded a scaled-down "real world" version. From the front, the VR-9SE is not particularly intimidating, being only 50" tall and 11" wide in front. However, the 350 lb. weight per side curb-weight and 30" depth makes you realize this isn't your average floor-standing speaker.


A handsome two-piece stacking system, the "L" shaped bottom and top pieces
interlock together and "float" on rubber pucks designed to reduce vibration. The woofer section houses twin 9" Excel magnesium-coned front-firing woofers to handle midbass down to 40Hz, while a 15" rear-firing Diamond woofer provides infrasonic bass depth Von Schweikert states is "equalized to 10Hz."
The split woofer system, using a large infrasonic driver and the smaller midbass drivers, enables the VR-9SE to have both huge output at extremely frequencies and very high speed in the midbass;/lower midrange frequencies. You get the weight and power from the fast 15" and the clarity from the 9" midbass drivers - "minus the VR-11, if there is anything out there that can top this design, I haven't heard it" boasts Von Schweikert.

But bass isn't everything, the midrange is where the majority of the magic lies, of course, and of course "that's the real strength of the VR-9SE" says Von Schweikert. Due to the suspended upper cabinet and sophisticated drivers; four of them for the frequency range between 200Hz to 100kHz, the human voice is said to be absolutely dazzling. To begin with, VSA uses "Aerogel," a proprietary midrange cone material made in France. Composed of carbon powder, Kevlar threads, and a composite of ceramic liquid and paper pulp, this cone is amazingly thin, rigid, and light in weight. Albert says this midrange driver (in its sealed labyrinth enclosure), is a close match in clarity to his legendary FPS planar magnetic Japanese ribbon drivers; the first driver Von Schweikert claims beat out his Quads in transparency. However, the VR-9's cone midrange driver has 100dB of sensitivity, four times the sensitivity of the FPS planar or Quad electrostatic, enabling extremely high dynamic range and "punch" far exceeding any planar driver or cone driver on the planet. The human voice, trumpet, or piano, being very difficult to reproduce in a convincing fashion, is handled with incredible delicacy by the VR-9, perhaps the best midrange reproduction of heard from a Von Schweikert debut.

However, it is in the treble range where many high-end contenders stutter, and where the VR-9SE speaks volumes. Since the treble range spans from 2kHz to 20kHz (with some evidence that sounds up to 100kHz are "felt" by human listeners), Von Schweikert and crew split up this wide range between two different types of tweeters. The lower treble range is handled by a 1.5" Dual Ring Revelator, while the upper range is supported by a 5" aluminum foil ribbon up to 100kHz. Note that the two tweeters are Time Aligned mechanically to the midrange and midbass drivers, and are arranged on a very narrow baffle, enabling wide dispersion without baffle diffraction. The lower treble, crossing over from the 7" midrange driver into the 1.5" Dual Ring Radiator, sounds very thick and rich in harmonics, and is very lush, almost velvety. The top-end air, like the vertically rising sound from cymbals, is handled very delicately by the ribbon super tweeter, perfectly complementing the larger, lower frequency tweeter. The combined sound of these two units sounded quite wonderfully blended, with great power handling and extremely low distortion. Naturally, if you are familiar with Von Schweikert's design theories, you know that his Ambience Retrieval System adds the concert hall depth that most box speakers gloss over. Albert designed his original VR-4 speaker to behave like a microphone in reverse, to achieve that omni-directional microphone spaciousness heard in classical recordings. The new VR-9 uses a 5" rear-firing ribbon driver and Ambience Retrieval Extraction network to reproduce the out-of-phase information that the rear of the omni-mic would pick up; this reverberant sound gives the VR speakers a unique depth and huge sound stage. This ambience system enabled the VR-9's to fill the huge ballroom with an airy, dimensional soundstage very close to a live orchestral performance. In fact, this may be the VR-9s secret weapon.
However, as we all know, even the best sounding speakers in the showroom often fall flat in our own listening rooms, due to a variety of reasons like lesser equipment, cables not properly matched, poor recordings - in short, poor synergy. To combat these problems, Von Schweikert and crew put on their thinking caps and provided the VR-9SE with tone controls. "Wait, don't laugh, responded Von Schweikert, these are not simple volume knobs withdistortion." VSA provided extremely expensive Autoformers; each with individual windings for twenty different volume level settings. Von Schweikert says "these don't add distortion like cheap controls, so they're a real help and not a hindrance." Both the lower and upper range tweeters are fitted with these controls, and along with the amplifier controls for the 15" subwoofer, enable the VR-9SE to be fine tuned to any room issue or equipment scenario. It was obvious that the VR-9SE's were fine tuned by Von Schweikert's crew for that large ballroom; although the bass was dramatically deep, loud and powerful, it was also highly controlled and incredibly tight. And the treble, what can I say? When you can relax to the sounds of massed violins and not cringe, the world is a happy place. Either the level controls, or hyper expensive tweeters, or perhaps the high quality of the electronics and cables, were the perfect match for the VR-9's. Or maybe Von Schweikert is on to something, and this idea of adjustable ribbon tweeters is the wave of the future?

Clement Perry